SIC Archery Team Wins Gold Medal Count in Alabama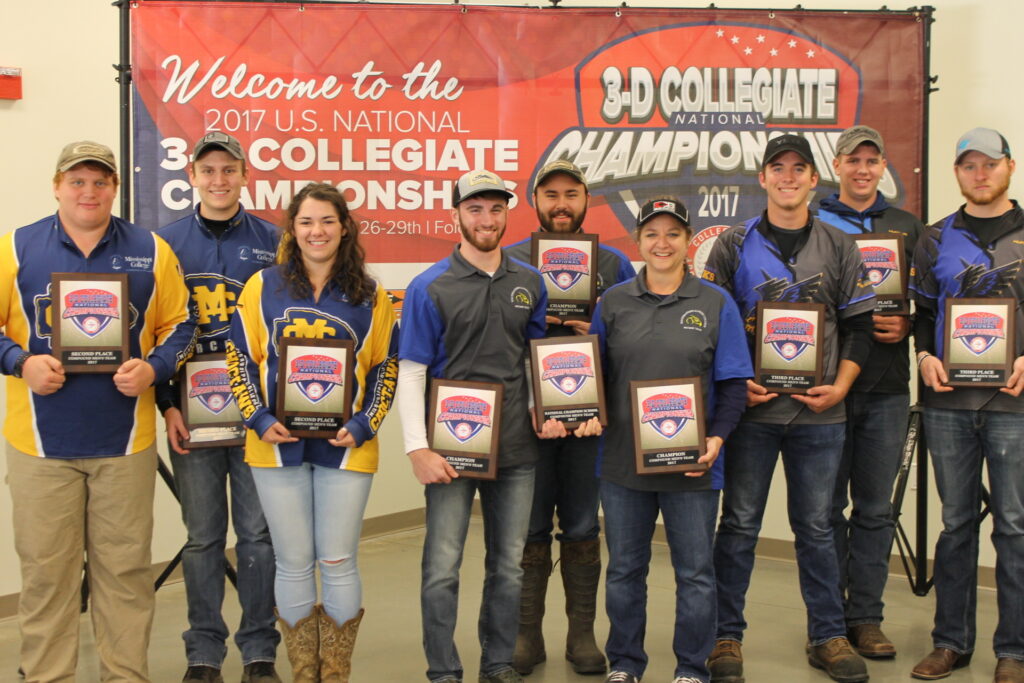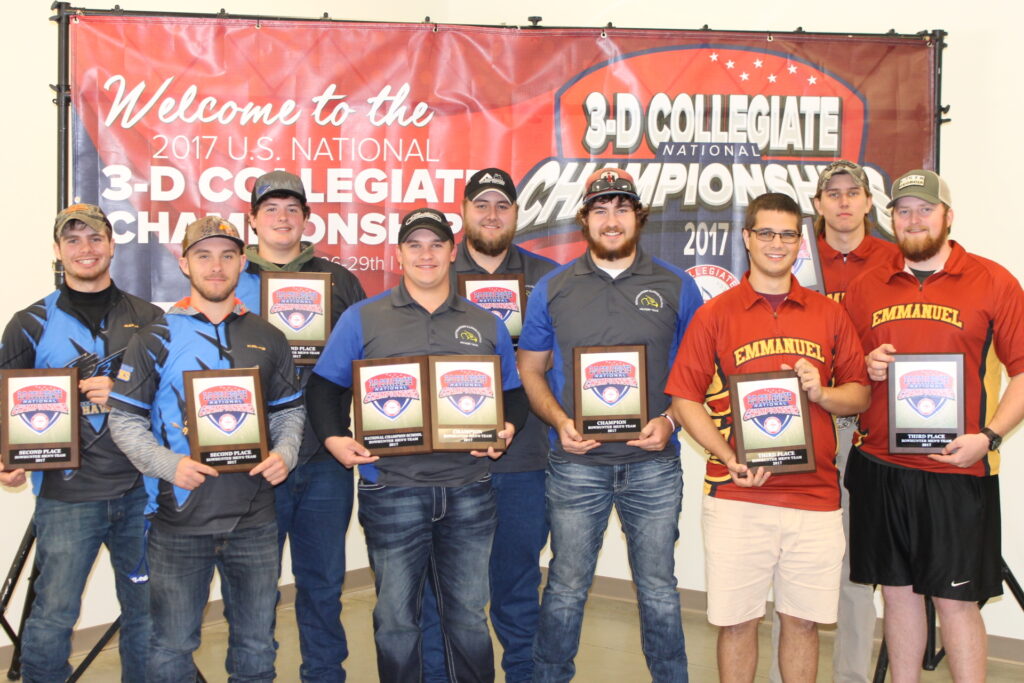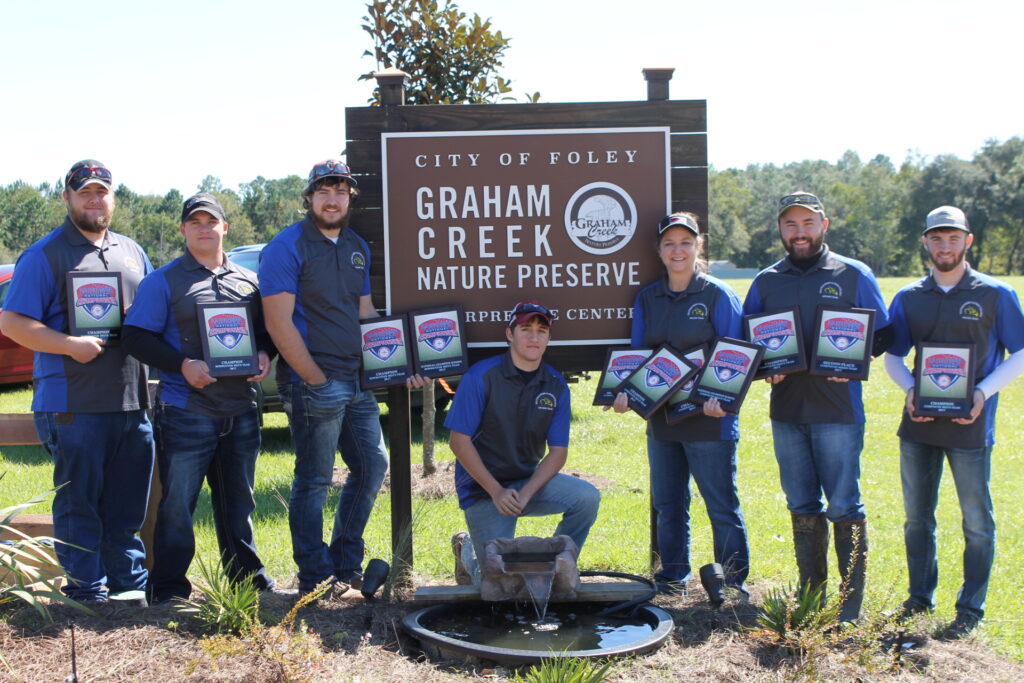 Thompsonville's Eli Bond and Arthur's Stephani Poe crowned USA Archery collegiate champions
After a disappointing start to the 2017 collegiate archery season in early October, the Southeastern Illinois College Archery Falcons finished the month with a vengeance by capturing four gold medals at the USA Archery Collegiate 3D Championships in Foley, Alabama.
Emmanuel College in Georgia finished in second place with three gold medals, while Hocking College in Ohio and Mississippi College tied for third with two gold medals each.
Division I varsity teams as far away as Texas, North Carolina, Georgia, Alabama, New York, Pennsylvania, Virginia, Mississippi, Michigan, and West Virginia competed over a grueling two-day period in the hunt for individual and team medals in various divisions, including bow hunter, compound, Olympic recurve, and bare bow. In addition to its four gold medals, Southeastern won a silver and a bronze.
Eli Bond from Thompsonville, Illinois won gold medalist honors in the men's bow hunter division, ranking him #1 in the nation in USA Archery 3D collegiate competition. Stephani Poe from Arthur, Illinois captured the gold medal in the women's compound division, securing her #1 national collegiate ranking.
Rounding out SIC's gold medal count were the men's bow hunter team of Eli Bond, Hunter Chowning from Covington, Indiana, and Matt Horton from Thompsonville and the men's compound team of John and Tristan Whalen from Boonville, Indiana and Stephani Poe, who qualified to shoot on the men's team under USA Archery rules.
The mixed compound team of John Whalen and Stephani Poe won a silver medal, while Whalen finished in third place in men's compound for the bronze.
SIC head archery coach Alli Armstrong was elated.
"I think the US Collegiate Archery (USCA) national tournament earlier in the month was a wakeup call for our shooters," said Armstrong. "We knew we could compete at a high level against the best college teams in the country, and we did just that at the USA Archery Nationals in Foley."
Especially satisfying to the Falcons, and in particular to Eli Bond, was that he defeated the #1 ranked USCA bow hunter in the nation, James Childress from Hocking College. Bond finished with a score of 410 to Childress' 390.
Southeastern's president, Dr. Jonah Rice, had similar accolades for the team.
"We are so proud of the amazing accomplishments of our championship archery team. As a national leader in collegiate archery, our team and coaches consistently defy the odds in bringing home the gold. They are a legacy in the making," said Rice.
Armstrong noted that Norris City's Bradford Sauls, who won the gold medal in men's compound for Mississippi College, is a past member of Southeastern's archery team, as is Emmanuel's gold medalist in women's bow hunter, Katie Davies from Marion, Kentucky.
Universities and colleges competing in this year's USA Archery 3D Collegiate Nationals included Alfred State College (New York); Mississippi College; Georgia Institute of Technology; Hocking College (Ohio); Emmanuel College (Georgia); Appalachian State University (North Carolina); Pennsylvania College of Technology; Michigan State University; West Virginia University; Lamar University (Texas); James Madison University (Virginia); and Augusta University (Georgia).
USA Archery is the national governing body for the Olympic sport of archery and is the organization recognized by the U.S. Olympic Committee for the purpose of selecting and training men's and women's teams to represent the U.S. in the Olympic, Paralympic, and Pan American Games. USA Archery also selects teams for World Championships, World Cups, and other international competitions annually.
For more information on SIC's Archery program and the new Indoor Archery Center, which is now open to the public, please visit www.sic.edu/archery.
###