Dad's BBQ Applies Flexibility as Survival Tool for COVID-19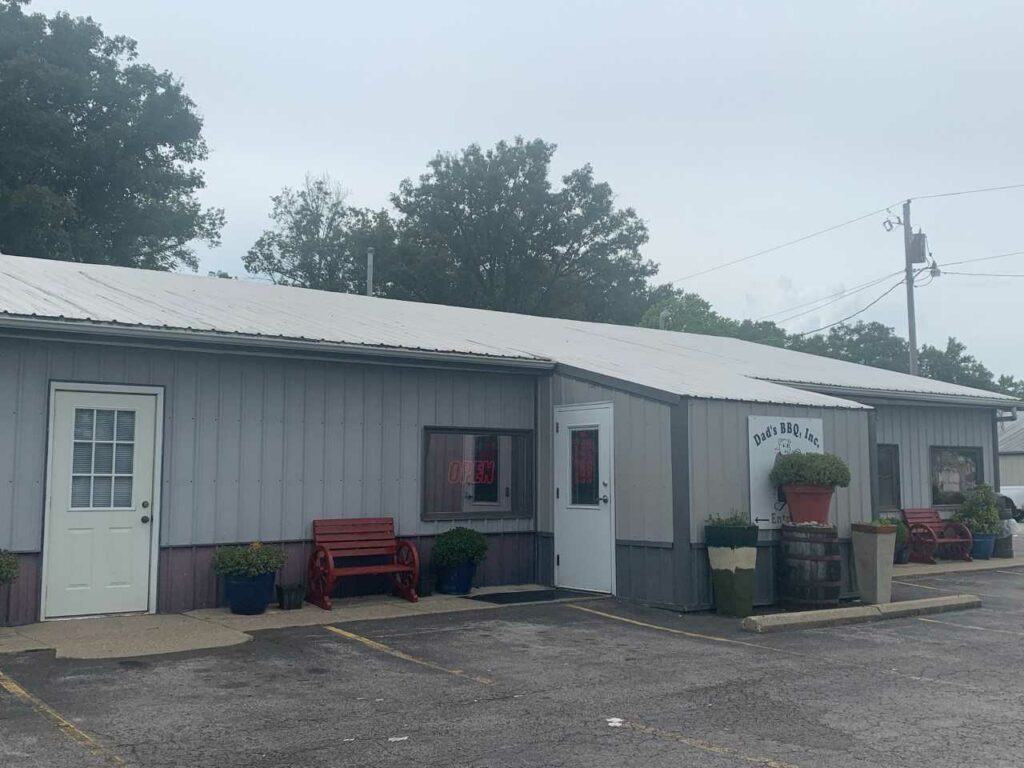 –SIC WISBDC Assists Dad's with Financial Relief Info and Application–
Lori Bowen and her brother Robert Mitchell have weathered many storms since opening Dad's BBQ in Eldorado over 30 years ago. However, their strength, motivation, and perseverance; like many small businesses all over the country, received the ultimate test in the last few months of the COVID-19 pandemic.
The staff at Dad's knew that becoming flexible was key to survival. They offered new menu options, shifted their plans of expanding their buffet to curbside pickup, closed off a room to offer more social distancing abilities, and increased their exposure on social media platforms.
"It has been treacherous because we have had to undergo so much change," said Bowen. "But the positive side is that we have cross-trained our staff, and we have weathered the storm, and we are still here and stronger than we were even yesterday."
Like many small businesses, Bowen knew that her business would struggle to survive without funding. Thanks to assistance from her financial institution, Legence Bank, and the Small Business Administration, Bowen received enough funding to maintain her business during these tough times.
The Illinois Department of Commerce also announced a grant program earlier this summer called the Business Innovation Grant (BIG). The BIG grant was created by the state of Illinois as part of a statewide response for funding for small businesses due to COVID-19 and civil unrest.
The goal of the program is to revive local, small businesses with financial relief and support the re-opening of small businesses to improve the economy.
Dad's BBQ is one of two Saline County businesses that has been awarded the BIG Grant.
"We are just ecstatic that we can keep all of our employees and not one of our staff has been forced to file for unemployment," Bowen said. "My employees have been so good to switch shifts and learn new things, I am proud of each and every one of them and this grant gives me the financial stability to keep them employed with me."
Bowen understands that the community she serves has taken a major role in her success. The city of Eldorado and surrounding communities have shown her an outpouring of support, especially the last six months.
"We really want to thank our customers because without them, we just wouldn't be here," Bowen said. "We have persevered but it's because we have an excellent staff and the best customers."
Bowen has worked with Lori Cox and Arla Murphy at the Workforce and Illinois Small Business Development Center (WISBDC) at Southeastern Illinois College for many years. With the assistance of the WISBDC, Bowen was able to learn more and apply to these beneficial programs.
"From open to close, there is no situation that the SBDC won't help you with. They have helped with loan applications, marketing, and even just general questions – they are right here for me," Bowen said. "The SBDC will lead and guide you to your business's future."
The WISBDC is a part of the Illinois Small Business Development Center Network which serves as a dynamic, integrated, small business assistance delivery system.  The Network's mission is to increase the competitiveness, profitability and growth of Illinois businesses in a global economy.  The WISBDC has been developed through a partnership involving the U.S. Small Business Administration, the Illinois Department of Commerce and Economic Opportunity and the college as a service to Illinois small businesses in Gallatin, Hardin, Pope, Saline and White counties and portions of Hamilton, Johnson and Williamson counties.
To become a client, set up an appointment, or to learn more about the Workforce and Illinois Small Business Development Center, email arla.murphy@sic.edu or call 618-252-5400 ext. 2312.
###