Innovative College Cooperation Leads to Bright Horizons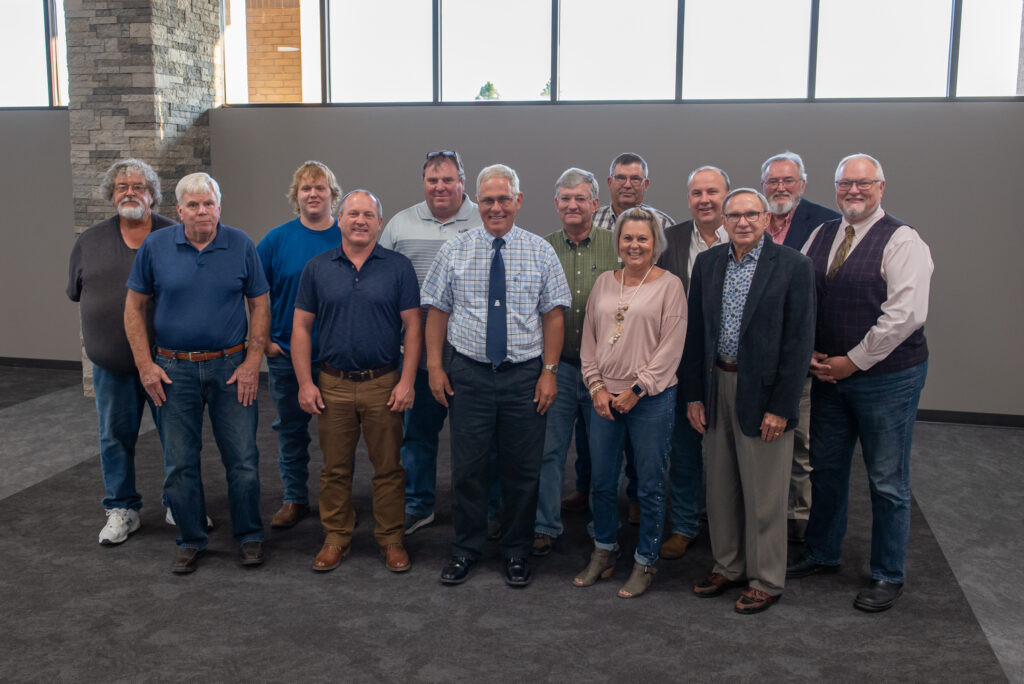 Leaders of Rend Lake College and Southeastern Illinois College came together for a joint board meeting last month. The boards aimed to discuss the partnership agreements and progress between the two colleges. Groups from each of the institutions shared their perspectives on instructional goals and outcomes, as well as plans to continue offering students of the region options when it comes to specialized classes.
"We currently have several classes that are shared between the colleges. This partnership offers great opportunities to allow students to take classes that may otherwise be dropped due to insufficient interest," said Lori Ragland, RLC Vice President of Instruction and Student Affairs. "We have coordinated schedules so that RLC students, in the Vet Assistant program, for instance, do not have to drive to Carmi to attend classes. Instead, they can stay here and participate remotely on different visual communication devices and then go there for the lab. We even have classes here on our campus that students from Southeastern can take in the same manner. We are talking about the future here to see what other programs we can share."
"When we first started sharing, we were on different systems," said SIC Vice President of Academic and Student Affairs, Karen Weiss. "When we introduced Canvas, the students didn't see the transition between the systems. The students were able to log into the class, and whoever was teaching it, whether it was one of SIC's instructors or RLC's instructors, the class in itself was pure. That has helped quite a bit. It has helped us to avoid canceling classes from either side. That's why we are here, to help the students."
"The change to adopt the same learning management system as RLC was seamless and a vast improvement to our old system," said Tyler Billman, SIC Executive Dean of Academic Services. "Students did not see a difference. While online learning may not be their first option, the students prefer it to not having the class at all."
"The students have settled into the new learning style," said RLC Associate Vice President of Academic & Student Service, Buster Leeck. "They see the value in having the instructors the way they are. We can look out for students and staff with these collaborative measures. Everyone seems to be on board with the efforts."
Chad Copple, RLC Associate Vice President of Institutional Outreach, and Chris Barr, SIC Executive Dean of Institutional Effectiveness, began their presentation by discussing their experiences with the collaboration regarding informational technology and institutional research.
"The biggest project we have going on in coordination with this collaboration is that we are sharing a programmer with SIC," said Copple.
"So far, we have had success with programming such as conflict registration, ICCB programming report updates, and working on a credit hour compliance piece," Barr stated. "Rather than sharing courses or sharing students, we are sharing services. We are essentially sharing a programmer. We had a great need for a programmer at SIC. One of the biggest things we have been able to do with this collaboration is updating the ICCB reports. Aside from the ability to do more, collaboration is the greatest because we can use it as a think tank."
"I can see what you mean in how this helps build those ideas," RLC President Terry Wilkerson commented. "Today, for instance, when Chris arrived, he was able to stop in with Chad, Dr. Rice, and me. It was refreshing and good to see that colleges can work together and focus on what's important; our students' success."
SIC's Executive Dean of Administrative Services, Lisa Hite, spoke about past renovation projects in which RLC had partnered with SIC. There was a discussion about how the cafeteria's daily operations are another opportunity to share best practices.
"We can share the best practices of both colleges to progress in all of our services," said John Gulley, RLC Chief Financial Officer.
The colleges are also currently sharing a mental health counselor. While RLC has partnered with BetterMynd for mental health counseling, SIC is using the services of Brittany Warren, LCPC. Warren assists with referrals at RLC while facilitating sessions directly at SIC.
"We have created a strong alliance," said SIC President Dr. Jonah Rice. "And our teams are what keep us moving forward in shared curriculum, calendar alignments, and what is best for the students of both Rend Lake College and Southeastern. Amazing innovations are on the horizon that will strengthen and grow our relationship."
Those in attendance for the Rend Lake College Board of Trustees included: Randy Rubenacker (Chair), Larry Manning (Vice Chair), Brian Dorris (Secretary), Randall Crocker (Board Member), John Kabat (ICCTA Representative), Jeff Jones (Board Member), and Colt Henson (Student Trustee).
Those in attendance for the Southeastern Illinois College Board of Trustees included: Dr. Pat York (Chair), Dr. Frank Barbre (Vice Chair / ICCTA Representative), Jim Ellis (Secretary / Alt ICCTA Representative), Debbie Hughes (Trustee / Alt Secretary), and Amanda Payne (Recording Secretary).
###