Cheerleading Makes a Come-Back at SIC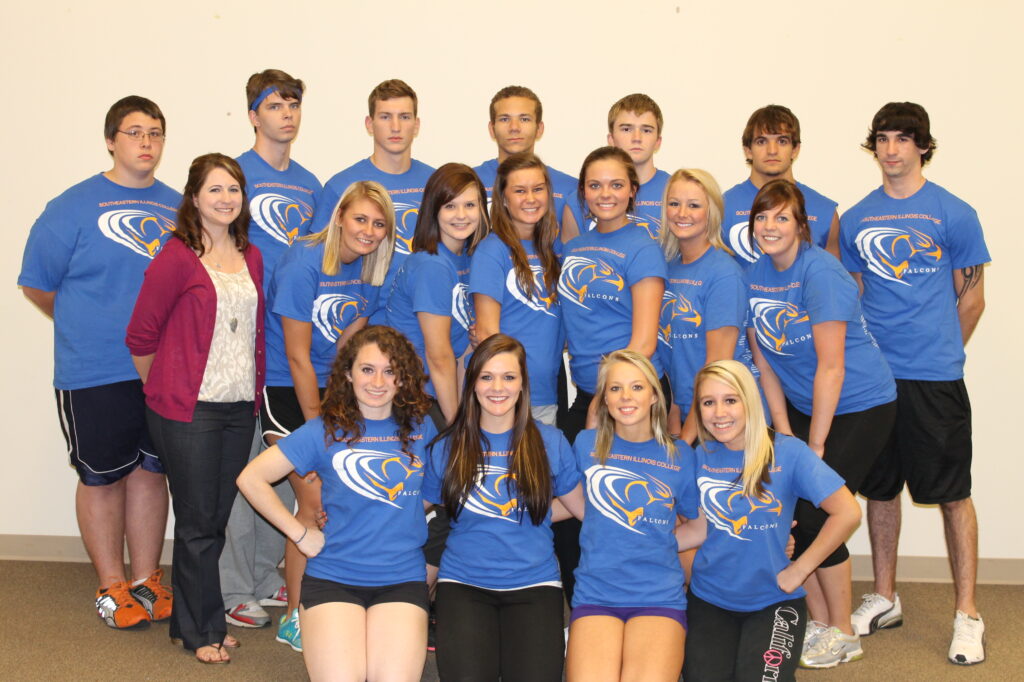 Absent for a number of years, cheerleading at Southeastern Illinois College will make its long-awaited return this fall at Falcon basketball games.
Initiated by a number of enthusiastic students at SIC, cheerleading will once again help Falcon fans rally behind their team and invigorate school spirit reminiscent of the early days of SIC basketball.
Chad Flannery, dean for student services and enrollment at Southeastern, is pleased that cheerleading has returned to the college. "As an institution, we always want to provide an atmosphere where students have the opportunity to pursue their passion, whether in the classroom or out. These students have shown a great deal of enthusiasm and initiative, and we're glad that they have a chance to build something new at SIC," said Flannery.
SIC cheerleaders Darcie Wiman, Samantha Tullis, and Danielle Fromm all feel there is a strong connection between cheerleading and academic success and a positive collegiate experience.
Wiman, a pre-engineering student at SIC and former Harrisburg High School cheerleader, believes that organized cheerleading can lead to higher completion rates and better grades in school. Students who are on the cheerleading squad are expected to maintain certain academic standards in order to participate.
"Cheerleading is another way to keep students interested in school and focused on their grades," said Wiman. "It's pretty simple. Attend classes and make good grades so that you can enjoy something that you thought was over after high school," explained Wiman.
Eldorado's Samantha Tullis, an accounting major at the college, likes the idea of students from surrounding towns getting together to do something they have always enjoyed but now they can experience it on a much larger scale.
"It's a wonderful opportunity for students who have cheered against each other for so many years to now be given the chance to cheer together for their community college," expressed Tullis.
Danielle Fromm from Ridgway sees it from a different perspective. "For most of us, this is the first time we've had the opportunity to work with male cheerleaders. There are so many new routines we can practice now that we have men on the squad." Fromm is majoring in biology at SIC.
Cara Lehman, school sponsor for the cheerleaders, couldn't agree more. "Student organizations such as our cheerleading squad are so important to a student's personal growth, academic achievement, and sense of collegiate pride," said Lehman. "Their enthusiasm, motivation, and determination are incredibly contagious!"
The Falcon cheerleaders will hold their first fund raising event, a car wash, from 11 a.m. – 3 p.m. on Saturday, Sept. 29, at Casey's in Eldorado. Proceeds from the event will be used to buy cheerleading uniforms and other necessary items for the squad.
Future activities for the group include inviting cheerleaders from surrounding middle schools and high schools to participate in halftime entertainment at Falcon home games.
###
Written by Archie Blair, SIC Information