Ralph Boots Named Outstanding Teacher of the Year at SIC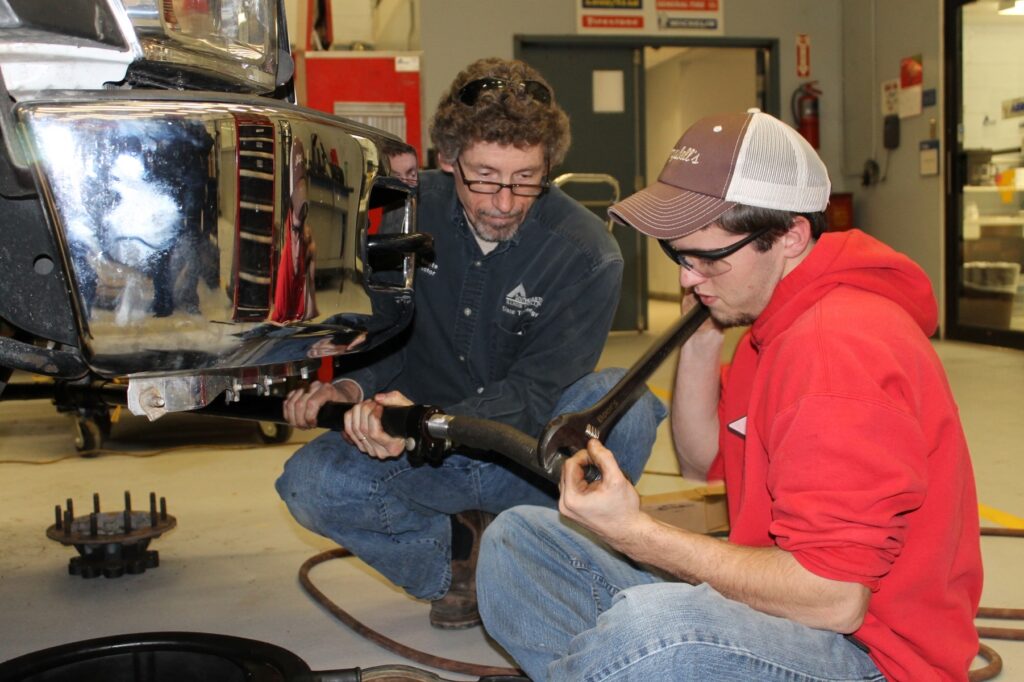 Ralph Boots has been selected by a vote of his peers as the Loren P. and Velma Dallas Outstanding Teacher of the Year at Southeastern Illinois College for 2012-2013.
Criteria for the award include at least three years of full-time employment; participation above and beyond classroom assignments; competence in one's field or discipline; continuing one's education; rapport with students; personal commitment to higher education and the transfer of knowledge to students; upholding and encouraging ethical behavior of self and students; and giving freely to prepare students for their chosen careers.
Along with being named this year's outstanding teacher, Boots has been nominated for the Illinois Community College Trustees Association (ICCTA) Outstanding Faculty Member Award. The winner of this statewide award will be announced in June.
Boots, who teaches diesel technology, is a 14-year veteran of SIC. He serves as faculty sponsor of the diesel club; coordinator of vocational-technical activities/diesel technology; member of the crisis emergency and threat assessment response team; member of the strategic planning committee; and member of the Higher Learning Commission's self-study group for accreditation.
Along with an associate in applied science degree from SIC, Boots is an Automotive Service Excellence (ASE) master certified technician. While a student at Southeastern, he received academic honors for his work with Dr. Richard Blaser of the US Naval Academy on alcohol-powered engine research.
Proud of his academic roots at Southeastern, Boots knows the strength of integrity and teamwork and builds his program on those two principles. He also is genuinely humbled by the vote of his peers selecting him for the highest honor bestowed on SIC faculty.
"I can't begin to tell you how honored I feel to receive this award," said Boots. "Truth be told, so many instructors at SIC are outstanding teachers year in and year out. We are very blessed to have the quality of instruction and commitment to student success that we have at Southeastern."
Boots credits colleagues Robbie Lindhorst, Chris Jones, and Todd Bishop for making diesel technology at Southeastern a state-of-the-art program in Illinois. Boots also is quick to point out that his mentors, former SIC instructors Bob Howard and the late George Cox, played a pivotal role in his becoming a teacher.
"I just love to teach!" exclaimed Boots. "My time in the workforce as a technician before I started teaching at SIC made it clear that I had something I wanted to give to those interested in learning mechanics. The older and more experienced I became, I found myself helping the new hires more and more. I also discovered that I was passionate about it in much the same way Bob and George were."
Because of this passion and concern for others, Boots has become a favorite with high school and college students alike. Part of his duties at the college is teaching high school students who come to SIC each week to be trained. And those who know him in the community and around campus will be the first to tell you that the helpful Boots is one of the most popular "go-to" guys on questions about cars, trucks, tractors, and heavy equipment.
"Ralph is most deserving of this recognition and award. He is one that exemplifies putting the needs of the students and the program first," remarked Karen Weiss, dean for career and technical education at SIC.
College president, Dr. Jonah Rice, echoed Weiss' comments. "Ralph Boots is a huge part of the SIC family. His expertise, his teaching ability, his willingness to work with his peers, and his genuine concern for our students and school combine to make Ralph a perfect recipient of the Loren P. & Velma Dallas award and nominee for the ICCTA teacher of the year."
Rice added that Boots "is cutting edge, and his dedication to his discipline is commendable. He is a true professional in his field."
Finally, Boots likes to think of the hundreds of students he has taught as his prodigal sons and daughters. "When they see me years later and say, 'You know Mr. Boots, you actually did know a thing or two about diesel engines,' it tells me I made a good decision becoming a teacher."
Lorna Dallas-Brown, who lives in New York and England, and the late Ellen Wiggins, daughters of the late Loren P. and Velma Dallas of Carrier Mills, established the Loren and Velma Dallas Outstanding Teacher Award in honor of their parents in 1996. Their father, a founding member of the Southeastern Illinois College Board, was passionate about education. Loren and Velma Dallas gave tirelessly to young people and wanted to provide opportunities for higher education in southern Illinois. Each year the Dallas endowment through the SIC Foundation awards $500 to the Outstanding Teacher of the Year.
"Our parents knew that teachers are the backbone of our learning, and they deserve much recognition," said Lorna Dallas-Brown. "Therefore my sister and I chose to honor them by recognizing a teacher of merit each year. I am honored to contribute and support this award."
###