SOUTHEASTERN ILLINOIS COLLEGE CELEBRATES TOP SCHOLARS AT HONORS NIGHT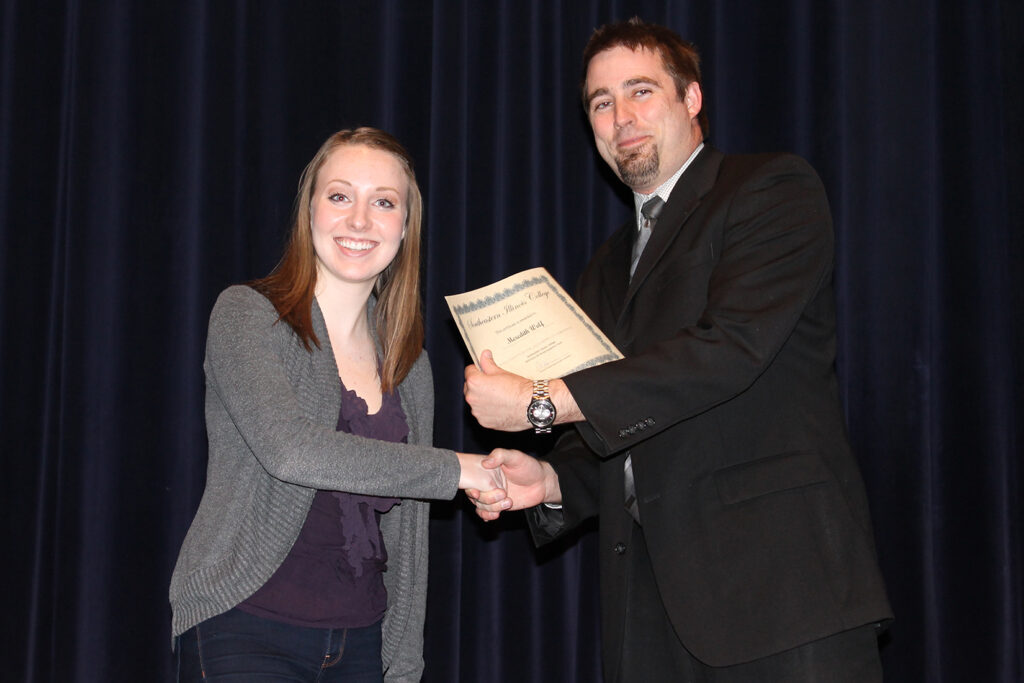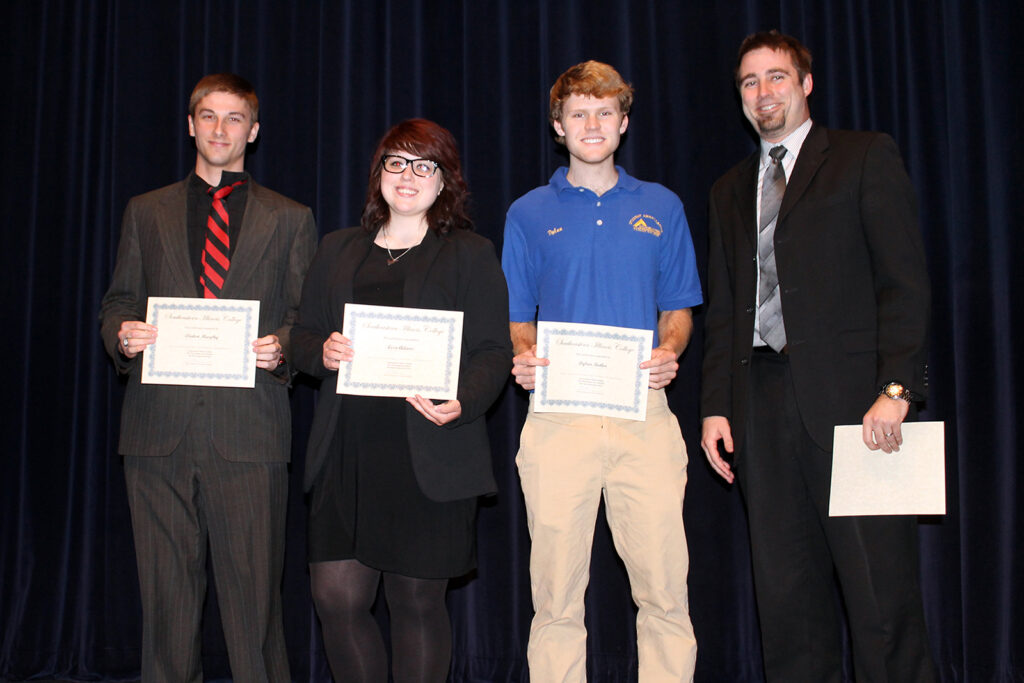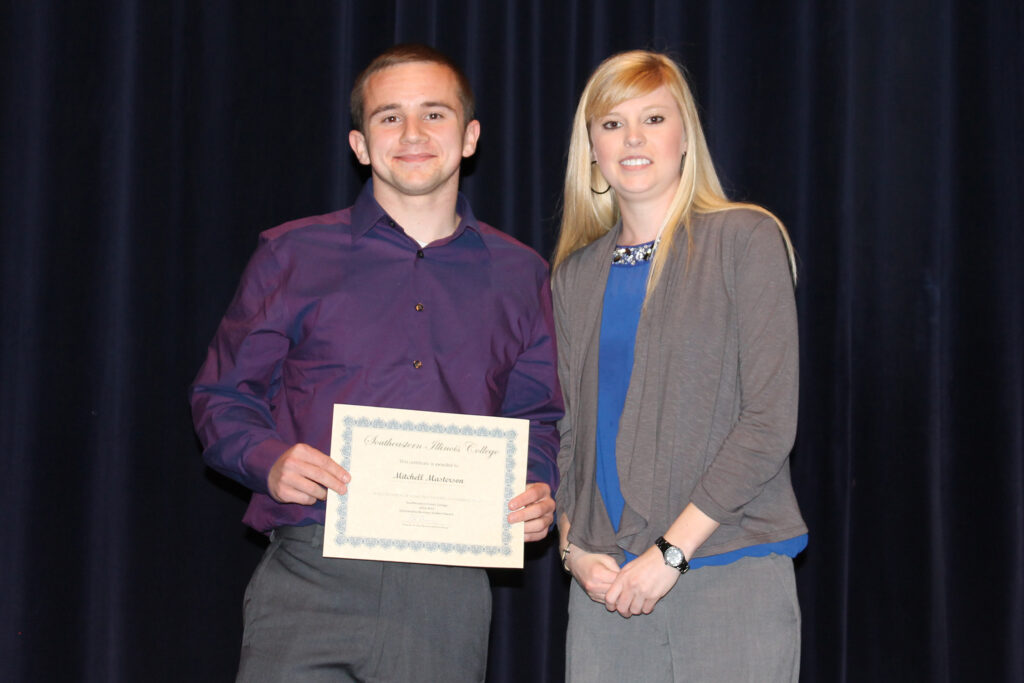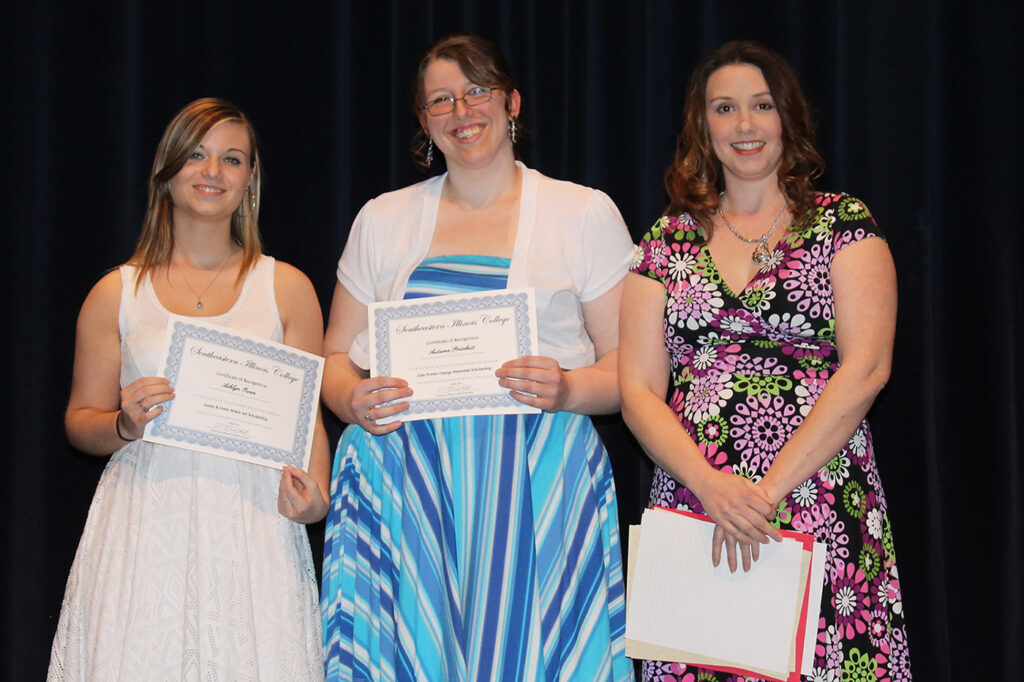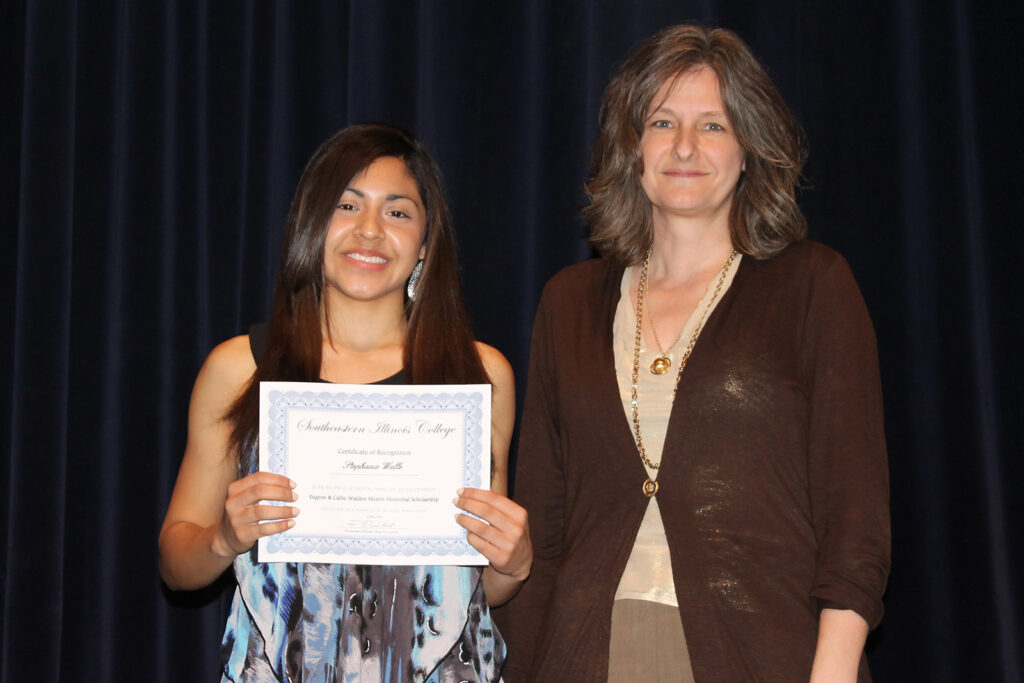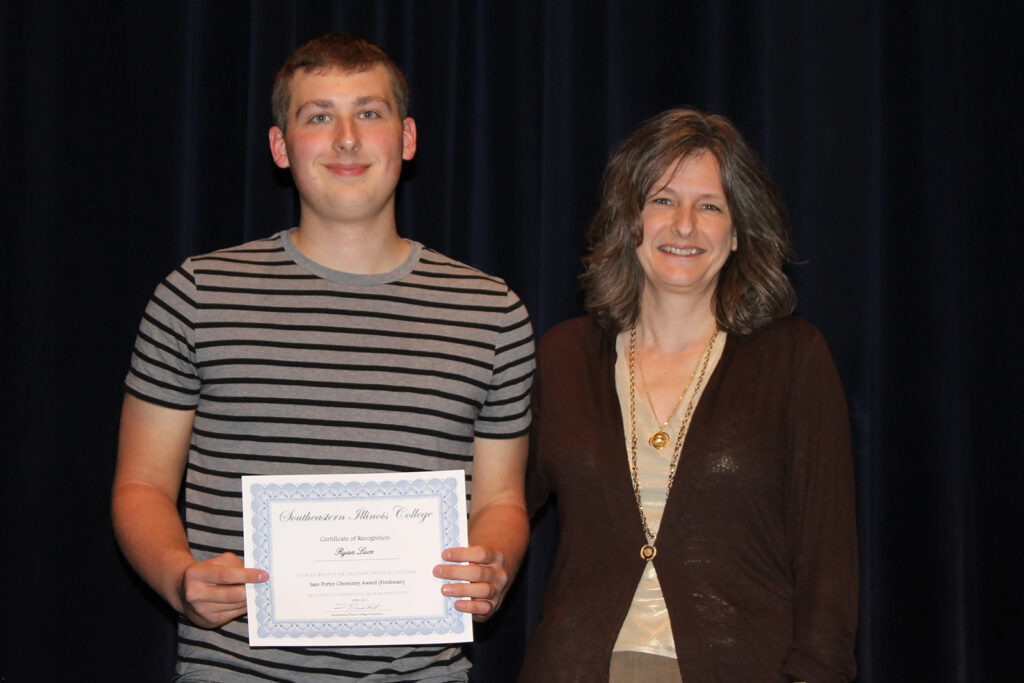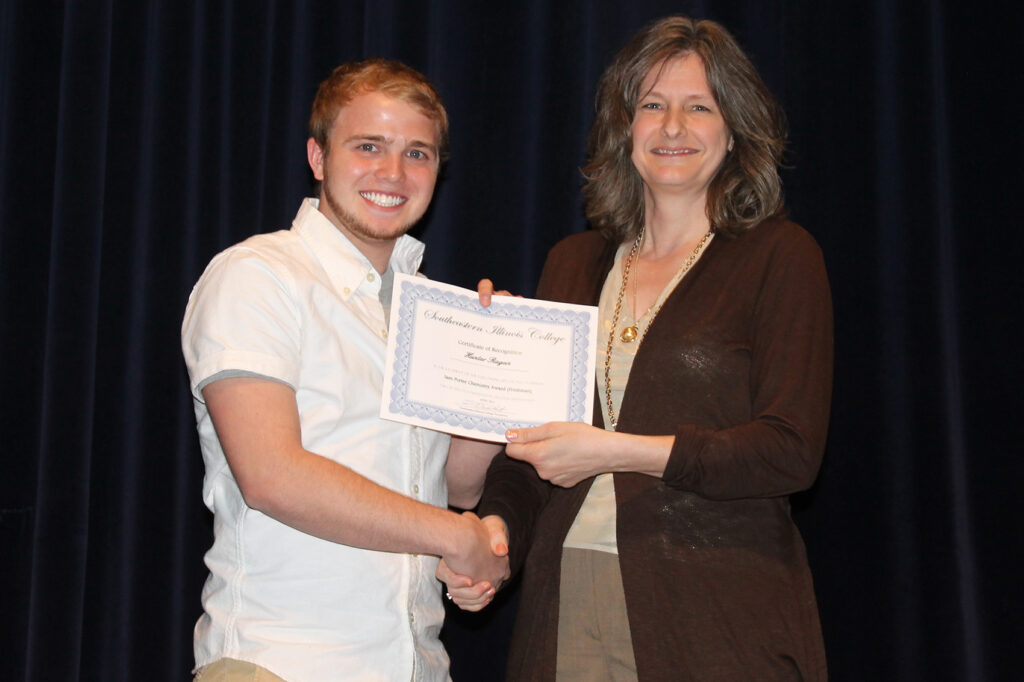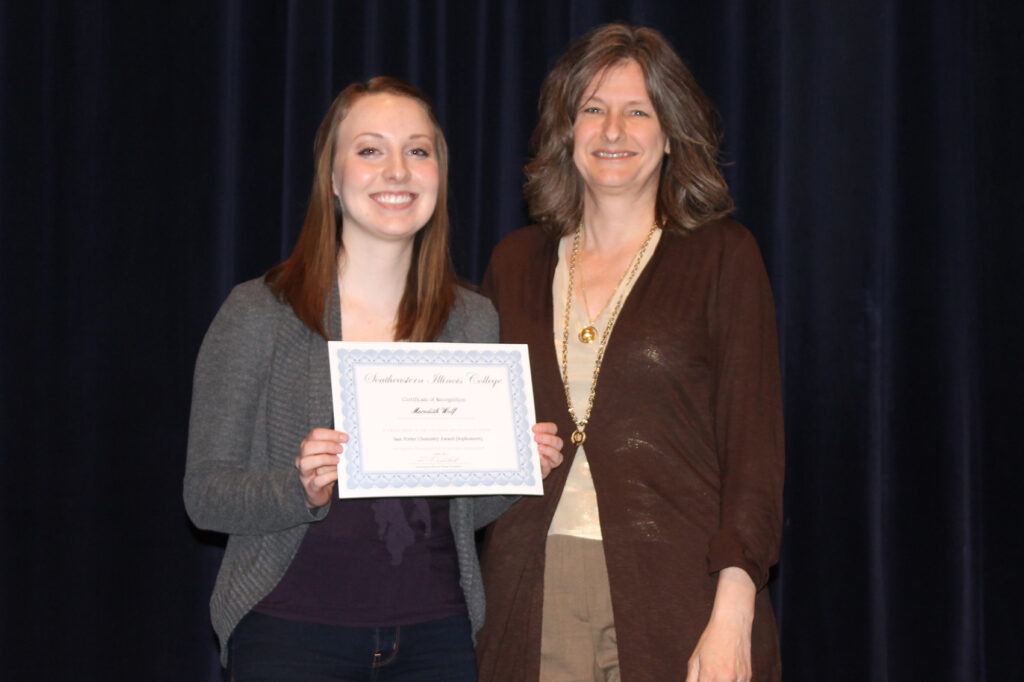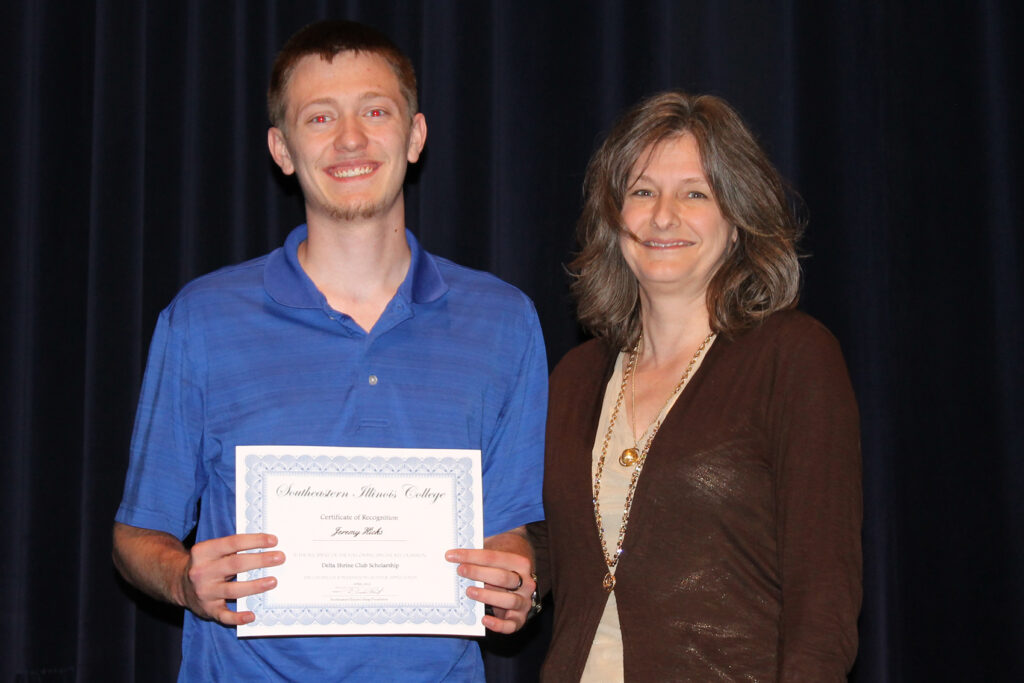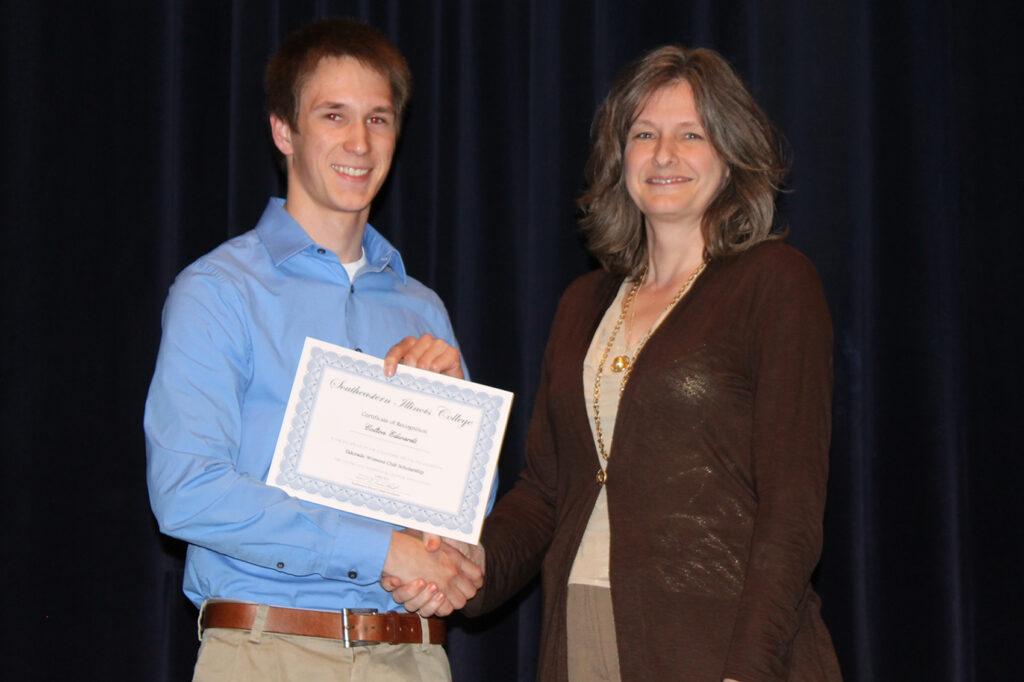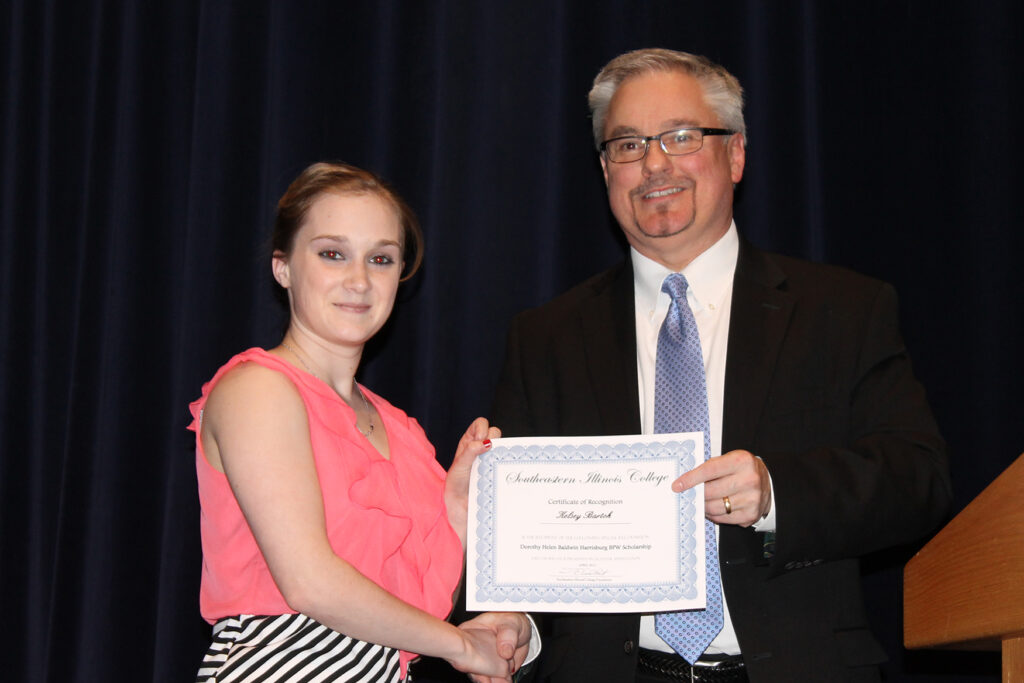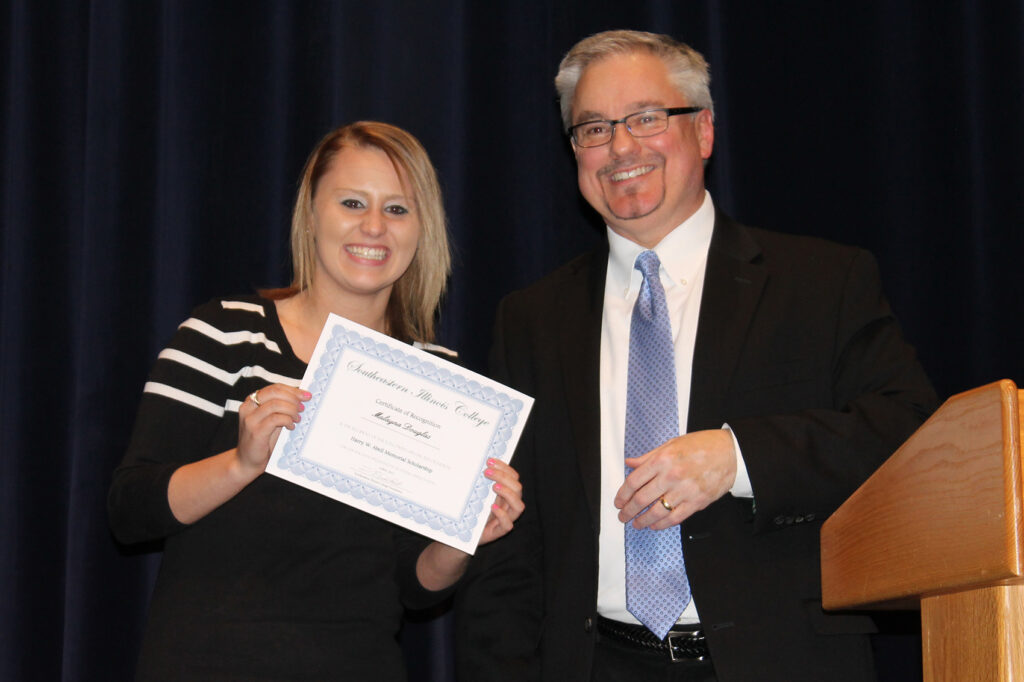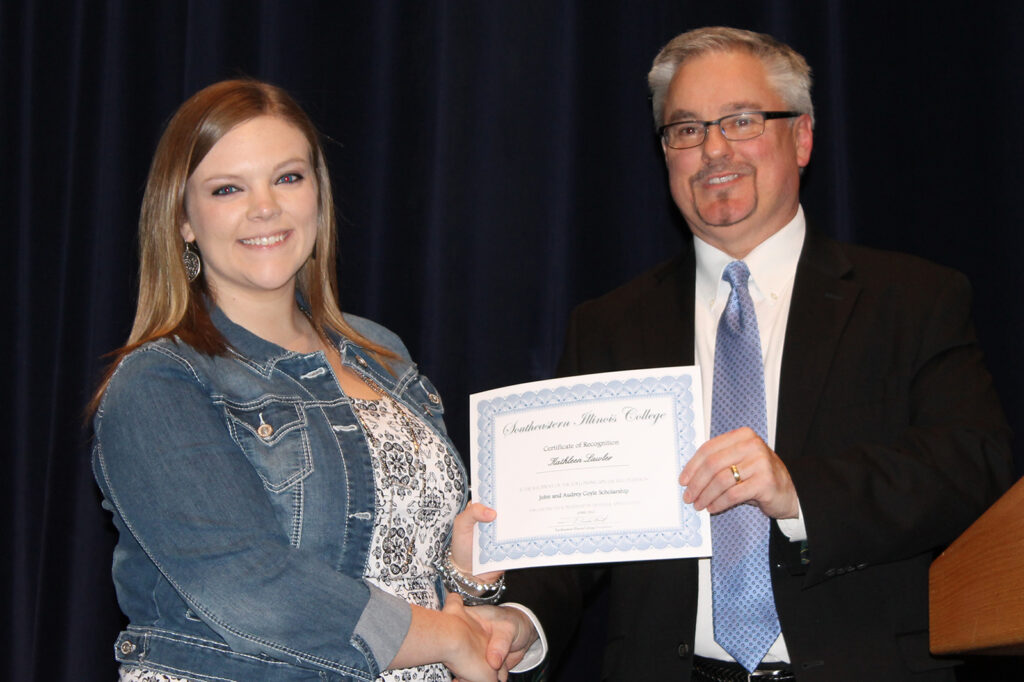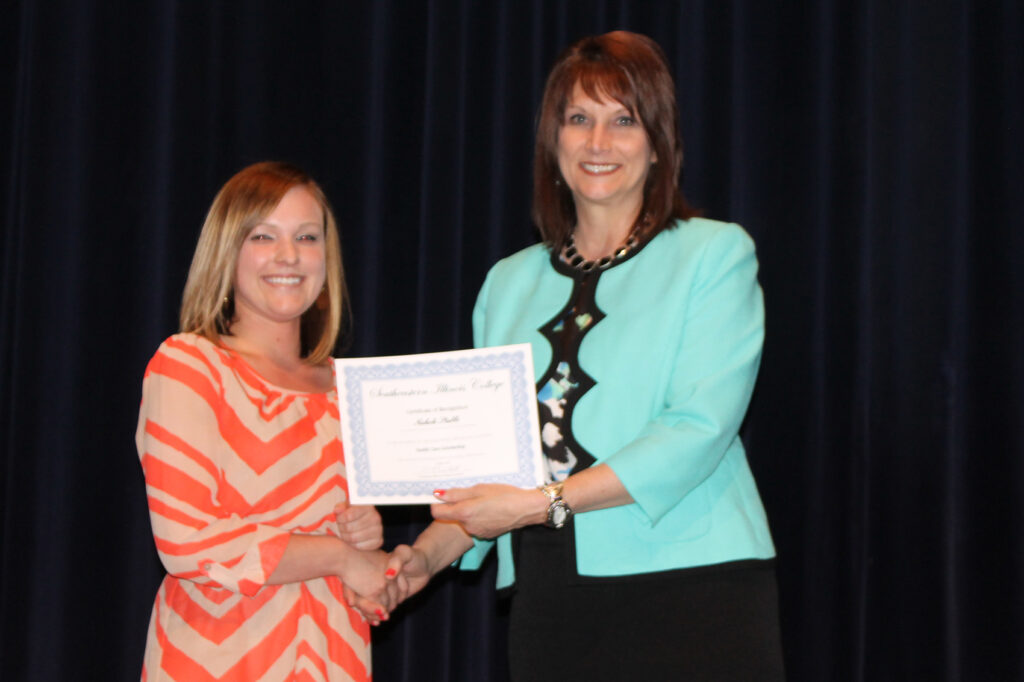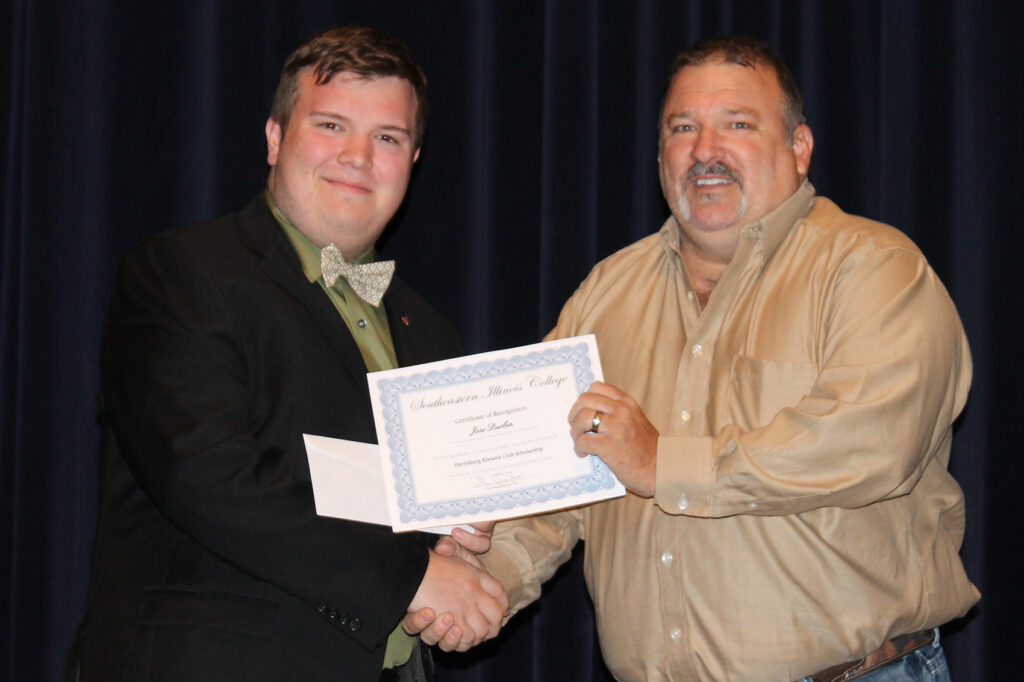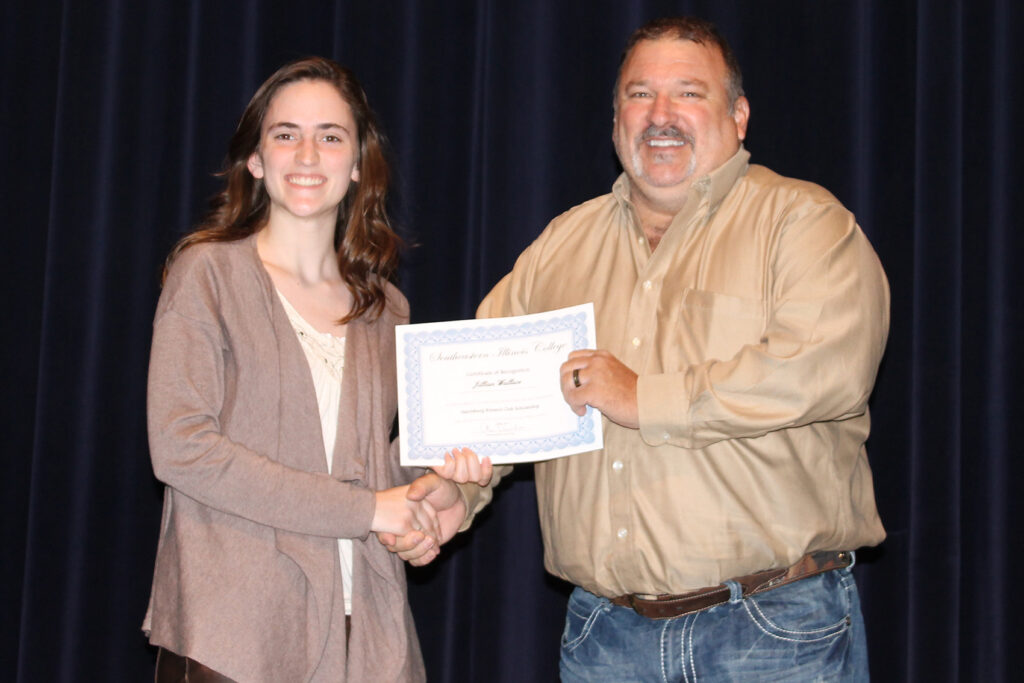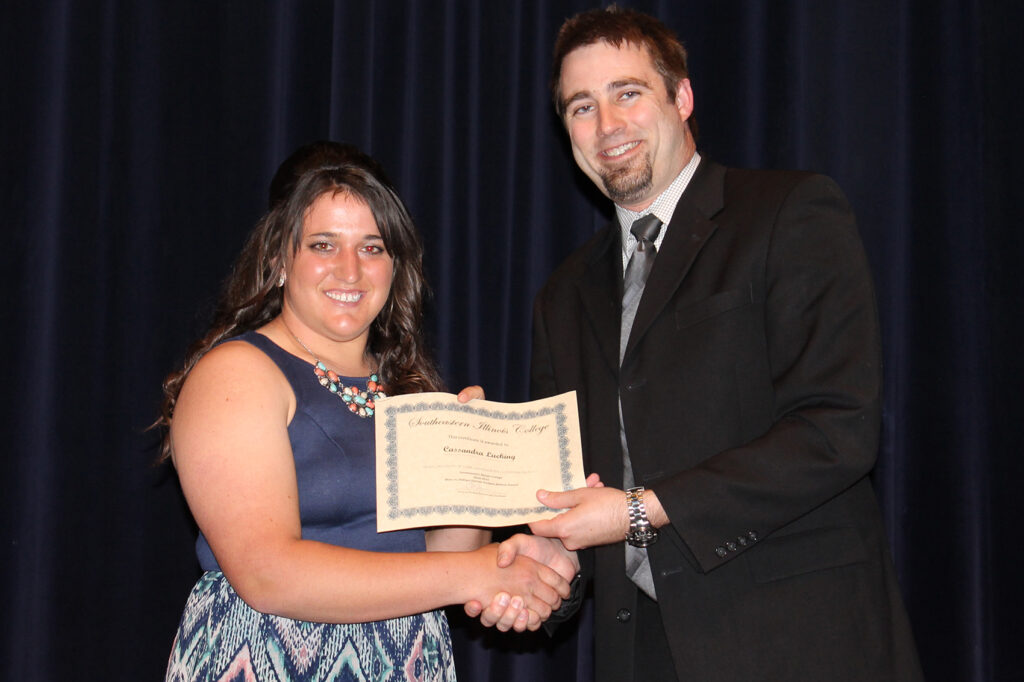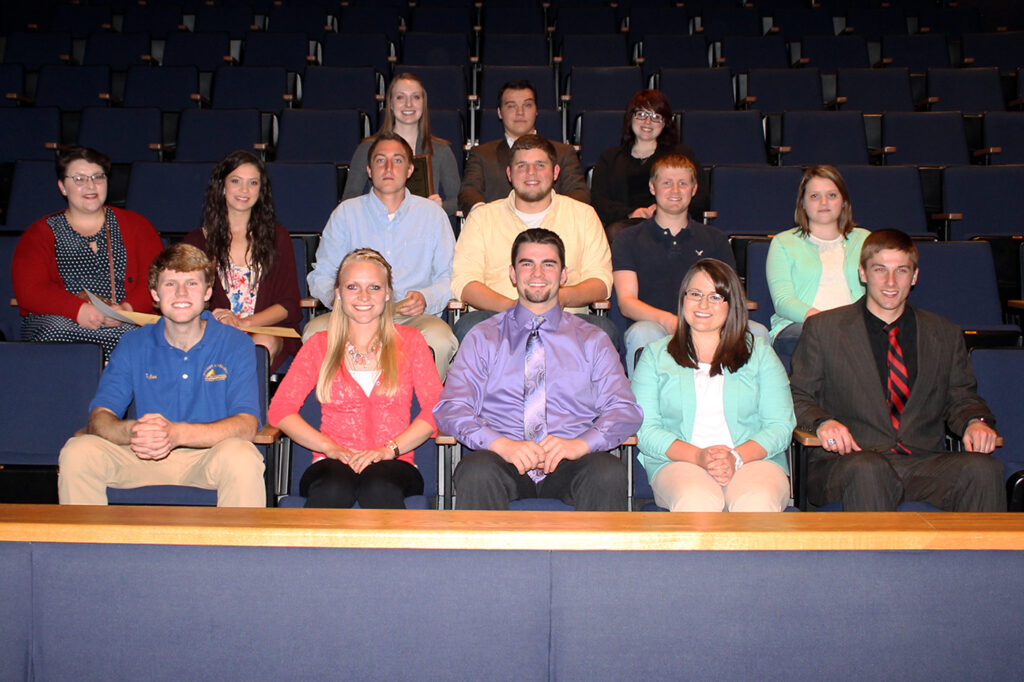 On Thursday, May 2, Southeastern Illinois College held its annual Honors Night in the George T. Dennis Visual and Performing Arts Center. Hundreds of students, family and friends along with SIC faculty and staff converged to celebrate academic and extra-curricular achievements of the student body.
Below is a complete listing of awards and recognitions from Honors Night 2013.
Eva Gersbacher Memorial Biology Award
Lucas Weir – Eldorado
Sam Porter Chemistry Awards
Puja Mehta – Harrisburg (Freshman)
Betsy Dick – Harrisburg (Sophomore)
June Rice Malan Memorial Math Award
Tim Crow – McLeansboro
Matthew J. Fry Memorial Scholarship
Alex Edwards – Eldorado
Model Illinois Government Awards
Cassie Rea – Harrisburg
Angela Curry – Harrisburg
Joe DeBose – Eldorado
Katie Clayton – Harrisburg
Jennifer Pruitt – McLeansboro
Laura Grace – Eldorado
Michaella K. Grounds Outstanding Delegate Award
Cassie Rea – Harrisburg
Student Government Executive Board
Katie Clayton (Harrisburg) – President
Courtney Bunting (Carmi) – Student Trustee
Shawna Browning (Carmi) – Vice-President
Betsy Dick (Harrisburg) – Secretary
Cassie Rea (Harrisburg) – Treasurer
Outstanding Business Student Award
Garrett Turner – Harrisburg
Eugene and Callie Walden Morris Memorial Scholarship
Nick Hamp – Harrisburg
College Club of Saline County Scholarship
Ryan Pappenfuss – Harrisburg
Betsy Dick – Harrisburg
Michael Hillegas Chapter D.A.R. Scholarship
Nick Hamp – Harrisburg
Catherine Oldham Memorial Scholarship
Jeremiah Brown – Harrisburg
Dennis /Allan Speech Scholarship
Bethany Oxford – Norris City
Harry W. Abell Memorial Scholarship
Puja Mehta – Harrisburg
Dorothy Helen Baldwin Harrisburg BPW Scholarship
Sam Glenn – Galatia
Wilma Hunter Memorial Scholarship
Alex Edwards – Eldorado
C.R. Gardner Memorial Scholarship
Alexandria Hunsinger – Carmi
Ruth Baird Creative Writing Scholarship
Jessica Allen – Harrisburg
Rodney J. Brenner Memorial Scholarship
Patrick McKenzie – Carmi
Harold Bauman Memorial Scholarship
Dustin Partain – Harrisburg
Faye Mitchell Memorial Scholarship
Sara Russell – Eldorado
Delta Shrine Club Scholarship
Morgan Cinkovich – Cave-in-Rock
Rosiclare Chapter #971 Order of Eastern Star Scholarship
Lauryn Patton – Elizabethtown
Eldorado Women's Club Scholarship
Lucas Weir – Eldorado
John B. Dotson Memorial Scholarship
Alexandria Bennett – Eldorado
Shirley Oshel Nursing Scholarship
Racheal Cantrell – Eldorado
Marilyn Casey Scholarship
Brandi Funburg –Harrisburg
Illinois Health Improvement Association Scholarship
Sarah Evitts – Simpson
Dr. Warren Tuttle Memorial Scholarship
Cassandra Holt – Harrisburg
Jaylynn Ferrell Memorial Nursing Scholarship
Kasey King – Harrisburg
John Bennewitz Memorial Art Scholarship
Kelsey Kraper – Golconda
Julie Fowler Orange Memorial Scholarship
Lisa Hutchinson – Carmi
Austin and Doris Welch Art Scholarship
Emily Suh – Harrisburg
George T. Dennis Memorial Scholarship
Sean Partain – Harrisburg
Mary Jo Oldham Female Student Athlete Award
Hannah Cockrum – Galatia
Mary Jo Oldham Male Student Athlete Award
Austin Edge – Harrisburg
SIC Paul Simon Essay Award
Alexis Holmes – Harrisburg
Graduating With Honors (45 credit hours, GPA 3.25 or greater, sorted by town)
BELLE RIVE – Crystal Lewis
BROUGHTON – Tamara Stanton
CARBONDALE – Rachel Peters
CARMI – Crystal Bartley, Shawna Browning, Courtney Bunting, Toni Finchem, Koby Kisner, Whitney McKenzie, Taylor Pennington
CARRIER MILLS – Albert Lyles, Edward Rader, James Stimpson
CAVE-IN-ROCK – Timothy Wayland
COFFEEN – Logan Voyles
CREAL SPRINGS – Joshua Goodman
CROSSVILLE – Kalleigh Jones
DU QUOIN – Kimberly Broski
ELDORADO – Alexander Bartok, Sharell Bradley, Racheal Cantrell, Rebecca Carroll, Molly Davis, Christina Elderbrook, Talitha Fisher, Amber Herrmann, Travis Horton, Kaylee Karns, Katlyn Lawrence, Brittany Littlefield, Ronda Marcadante, Jordan Milligan, Houston Moses, Robin Owen, Jennifer Paro, Madeline Rogers, Greg Sigler, Dallas Smith, Sara Spurlock, Hillary Traxler, Tnea Turner, Amanda Whitlock,
ELIZABETHTOWN – Brittny Cowsert, Donna Gulley, David Thornton
ENFIELD – Sean Heid
EQUALITY – Christine Bayer, Zachary Jones, Adam Westbrook, Haley Williams
GALATIA – Hannah Cockrum, Stephen Davenport, Damon Jackson, Linda Orndorff, Nicholas Volkening
GOLCONDA – Jake Butler, Everett Henson
HARRISBURG – Kaylee Boston, John Brown, Blaine Bundren, Vanessa Burroughs, Elisha Burton, Caleb Collins, Austin Edge, Tyler Fields, Amanda Foles, Dakota Fry, Paige Hughey, Fred Isaacs, Briana Jones, Rena Jones, Shane Jones, Kasey King, Logan Leverett, Kaylee Lewis, Lydia Lyon, Brandon McMillian, Lisa Molinaro, William Montgomery, Ryan Pappenfuss, Sean Partain, Matthew Perkins, Adora Pollard, Joseph Reed, Casey Rose, Amy Stovall, Mirko Tadinac, Alice Uzzle, Dylan White, Robie Williams, Walter Wysynski
MARION – Ryan Phillips, Charles Wallinger
MCLEANSBORO – Timothy Crow, Jennifer Pruitt
MORGANFIELD, KY – William Bullock, Danielle Greenwell
NEW HAVEN – Jayla Browning
NORRIS CITY – Breanna Bergeron, Destiney Bolin, Deborah Conrad, Heather DeLap, Jared Mitchell, Bethany Oxford, Taylor Rutledge, Jeff Skaggs, Kody Sutton, Stephanie Wendling
OMAHA – Tiffany Anderson, Jonathan Moye
RALEIGH – Ryan Harbison
RIDGWAY – Cody Downen, Quinton Drone, Danielle Fromm
ROSCOE – Tammy Cameron
ROSICLARE – Lisa Davis, Zachary Robinson, James Spivey
SHAWNEETOWN – Nicki Payne, Penny Russell
SIMPSON – Christina Cockrum, Nicholas Mott
THE DALLES, OR – Michael Meredith
TUNNEL HILL – James Oliver
VILLA PARK – Crystal Hodges
All USA Illinois All-Academic Team
Betsy Dick – Harrisburg
Jared Mitchell – Norris City
Phi Theta Kappa
Shawna Browning (Carmi) – President
Lesa Adams (Carmi) – Vice President
Elisha Burton (Harrisburg) – Vice President
Cassie Rea (Harrisburg) – Vice President
SIC Student Ambassadors
Katie Clayton – Harrisburg
Taylor Rutledge – Norris City
Travis Bond – Galatia
Caitlyn Collins – Harrisburg
Eric Jackson – Harrisburg
Nick Hamp – Harrisburg
Who's Who in American Universities and Colleges (sorted by town)
CARMI – Lesa Adams, Shawna Brown, Shawna Browning, Courtney Bunting, Trevor Nelson, Austin Winters.
CREAL SPRINGS – Josh Goodman
CROSSVILLE – Trent Thomspon
ELDORADO – Madeline Rogers
EQUALITY – Zachary Jones, Adam Westbrook
GALATIA – Nicholas Volkening
GOLCONDA – Briana Noel
HARRISBURG – Heather Bethel, Kaylee Boston, Elisha Burton, Aaron Head, Puja Mehta, Sean Partain, Mirko Tadinac
MORGANFIELD, KY – Abdel-Hadi Amin
NORRIS CITY – Bethany Oxford
OMAHA – Nicole York
RIDGWAY – Danielle Fromm
SIMPSON – Nicholas Mott
STONEFORT – Maggie Horton
WEST FRANKFORT – Kailee Irvin
Spirit of Southeastern Award
Bethany Oxford – Norris City
###