SIC Honors Retiree and Recognizes Milestone Service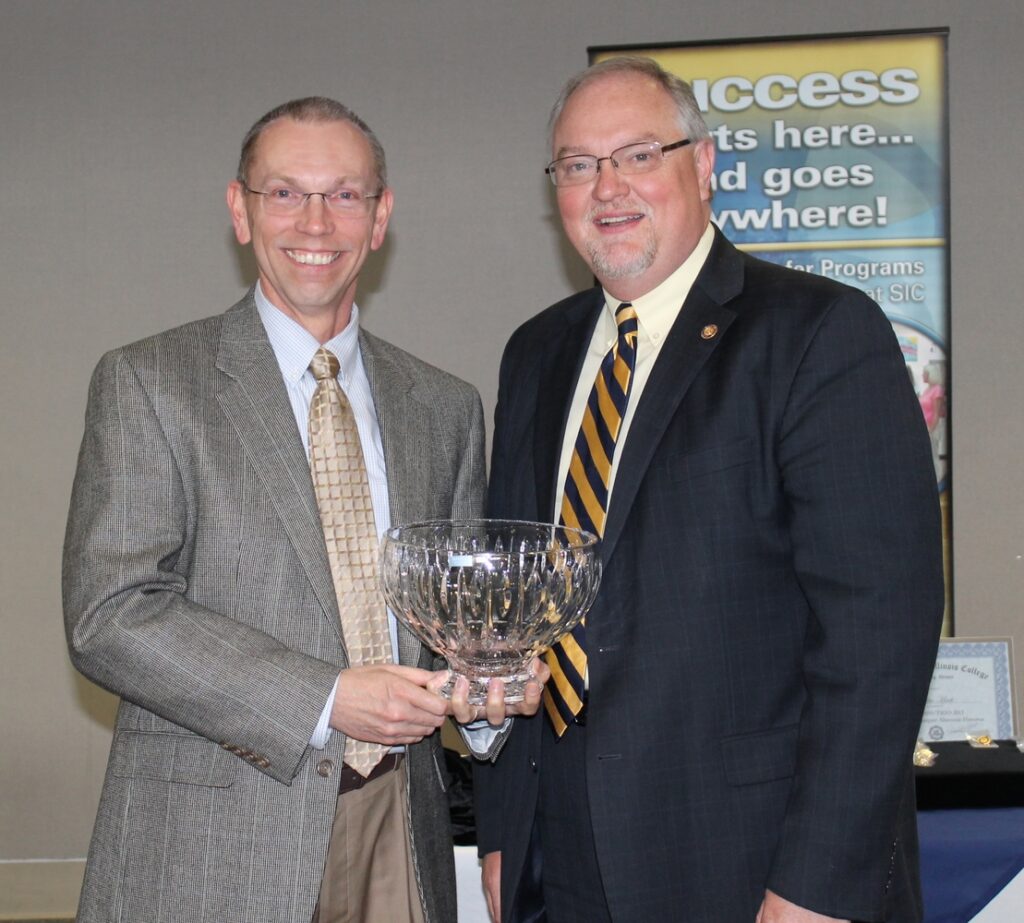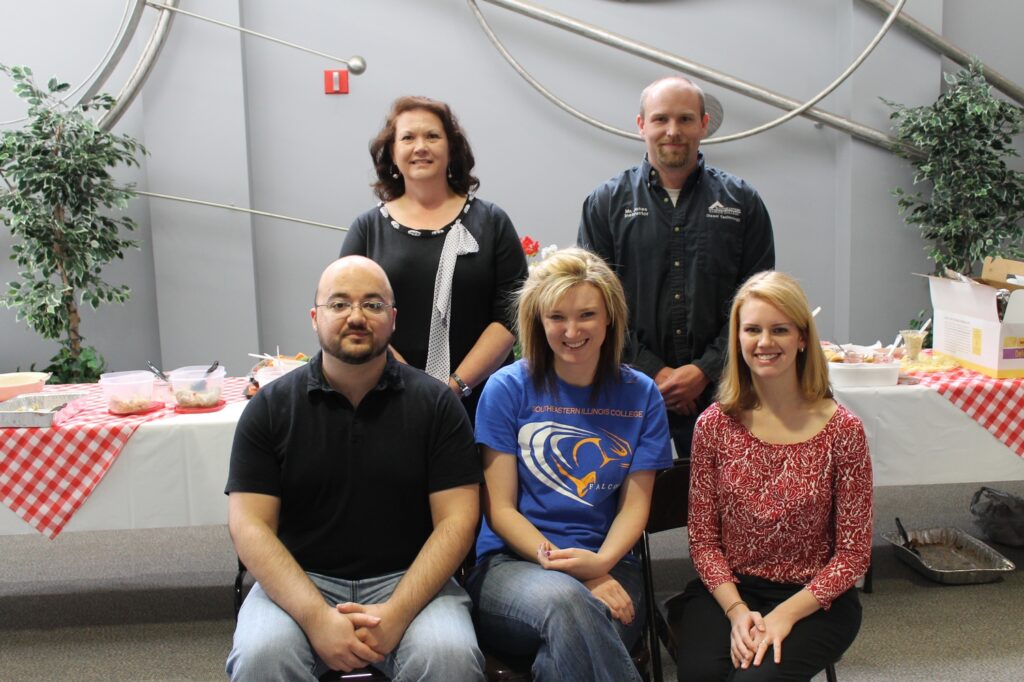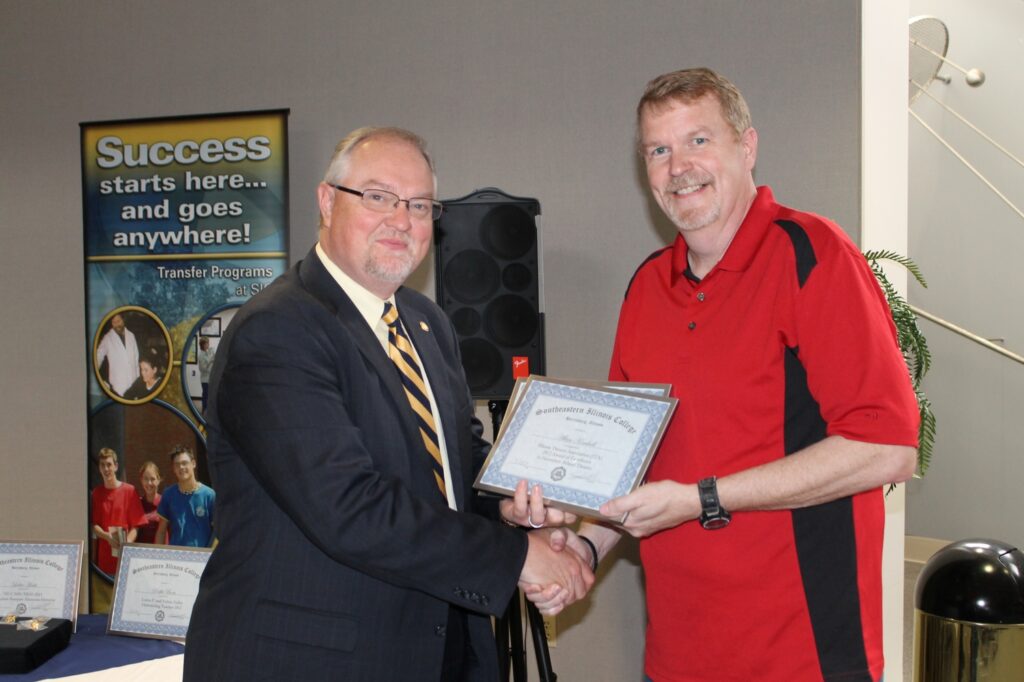 Southeastern Illinois College held its annual Recognition Reception to honor employees for special awards, full-time milestone service, and retirement on April 26 in the George T. Dennis Visual & Performing Arts Center.
The first to be recognized was long-time business instructor and Students in Free Enterprise sponsor, Dan Holt, who has been with the college for 25 years. Holt was touted as a positive role model and mentor for many students and employees alike. A private retirement party was held later by the business department to further celebrate his retirement.
Those celebrating 20 years of service include Darlene Dearing, secretary to the dean of community education; Rommel Hall, construction occupations instructor; Van Wathen, custodian; and Patty Winters, assistant to the vice president for administration and business affairs.
Five employees are celebrating 15 years of employment with the college: James Carlton, network administrator; Clay Nolen, horticulture instructor; Peggy McDowell, assistant to the vice president for academic and student affairs; Allan Kimball, English and theater instructor; and Barbara Potter, executive assistant to the president and human resources manager.
Lori Cox, associate dean of workforce and community education, has been serving SIC for 10 years. Those serving five years include Lucy Logsdon, English instructor; Karla Lewis, coordinator of media services and distance learning; Dixie Conley, Child Study Center kitchen staff; Debbie Conrad, Child Study Center preschool teacher; Tabitha Neal, secretary to nursing and allied health; Chris Jones, diesel technology instructor; Brent Webb, art instructor; Angela O'Hara, administrative assistant to the dean for career and technical education; and Andrew Oxford, network technician.
Greenies to SIC, or those who are completing their first year of full-time employment, are Jennifer Billman, English instructor; Maggie Calcaterra, academic counselor/transition and transfer specialist; Gary Conley, custodian; Randy Daniels, media/graphics technician; Jeremy Irlbeck, academic advisor/NJCAA specialist/head baseball coach/athletic director; Katlyn Lawrence, Child Study Center toddler teacher; Kelly Smith, events facilitator; and Beth Wead, Title III administrative/technical support assistant.
Recognized for special service awards were Ralph Boots, diesel instructor, as the Loren P. & Velma Dallas Outstanding Teacher of the Year and Lolita Mack for the SIU-Carbondale Student Support Services/TRiO 2013 Graduation Banquet Alumnus Honoree award. One outstanding faculty member was recognized for winning two statewide awards during the year – Allan Kimball won the W.P. Sandford Award for Service to the Illinois Speech and Theatre Association and the Illinois Theatre Association Award of Excellence in Secondary School Theatre.
"Each year at this time, we look to recognize individuals for their significant contributions to our institution," said SIC President Jonah Rice, Ph.D. "It's these quality individuals who set the standard for the rest of us, and we want to make sure their efforts do not go unnoticed."
###