SIC Carpentry Students Help to Build HMS Fitness Center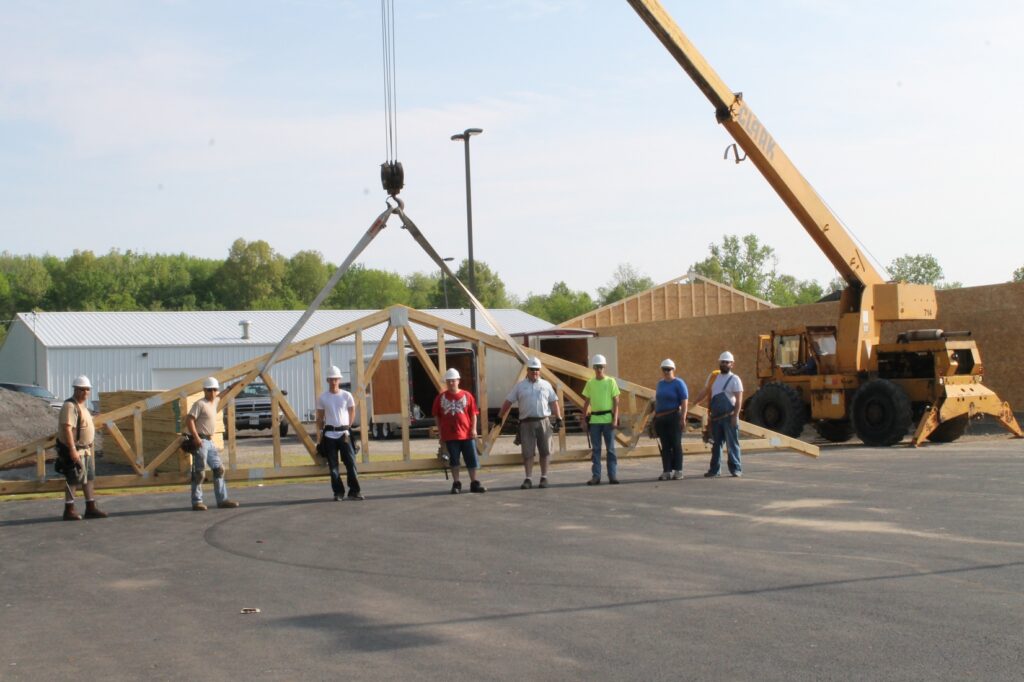 During the course of tough fiscal times for education in the state of Illinois, a unique partnership has formed between Harrisburg Middle School and Southeastern Illinois College, to the benefit of both.
HMS is receiving volunteer labor for a much-anticipated fitness center, while SIC carpentry students are receiving valuable hands-on training while participating in a community service project.
Curtis Rowlen, SIC carpentry instructor, said that this partnership was born about three years before when a friend of his, Josh Allen, who is a health teacher at HMS asked if they might consider doing some work for the middle school. Allan was familiar with the work Curtis and his students do for Habitat for Humanity, and wondered if they might consider helping once funding for materials was raised.
According to Kyle McGowan, physical education teacher at HMS, the students have been raising funds for seven years in hopes of being able to complete this much needed facility. Construction began on April 2.
According to McGowan's project progression notes on the fitness center website, http://kmcgowanhms.weebly.com/fitness-center.html, the fitness center will be used each day during P.E. classes at HMS, which will not only alleviate problems with overcrowding in the gym each hour, but it will also help teachers to ensure that all students have an opportunity to be healthy. Students are already being trained in proper exercise techniques and will not use any new equipment in the facility until they are trained to use it properly.
"Hopefully by teaching these middle school students good habits now, it will make them healthier adults," said McGowan.
Gabe Angelly, assistant principal and athletic director for HMS, said, "We've been blessed with many who are donating their time and skills to complete this project for our students—including architect Ed Kerkover, Larry Angelly of Pitco, Roger Angelly Trucking and Excavating, Penrod Plumbing, Jeff Hicks Concrete, Carmean Electric, MC Enterprise and the SIC carpentry class. We would like to thank Barnett Redi-Mix, Barnes Lumber, Murphy's Hardware, DeNeal Lumber and Harrisburg Truss for giving us great deals on materials. All-in-all, it's a community effort, and we appreciate everyone's help to make this project a reality."
Rowlen said of his carpentry class, "Our students have been very pleased to have a hand in this project, and have been able to learn a great deal of experience in the process that they will carry over to their careers after college."
SIC offers a one-year training certificate to prepare students for entry-level employment in the construction industry, as well as an additional advanced certificate to prepare students for entry into the union carpentry apprenticeship program. The HMS Fitness Center is one of a variety of hands-on, community service projects that offer students a chance to learn basic carpentry, measurement, blueprint reading and OSHA safety training, while benefitting the communities in which they live.
###