MINES TRAIN FOR DISASTER THROUGH COMPETITION AT SIC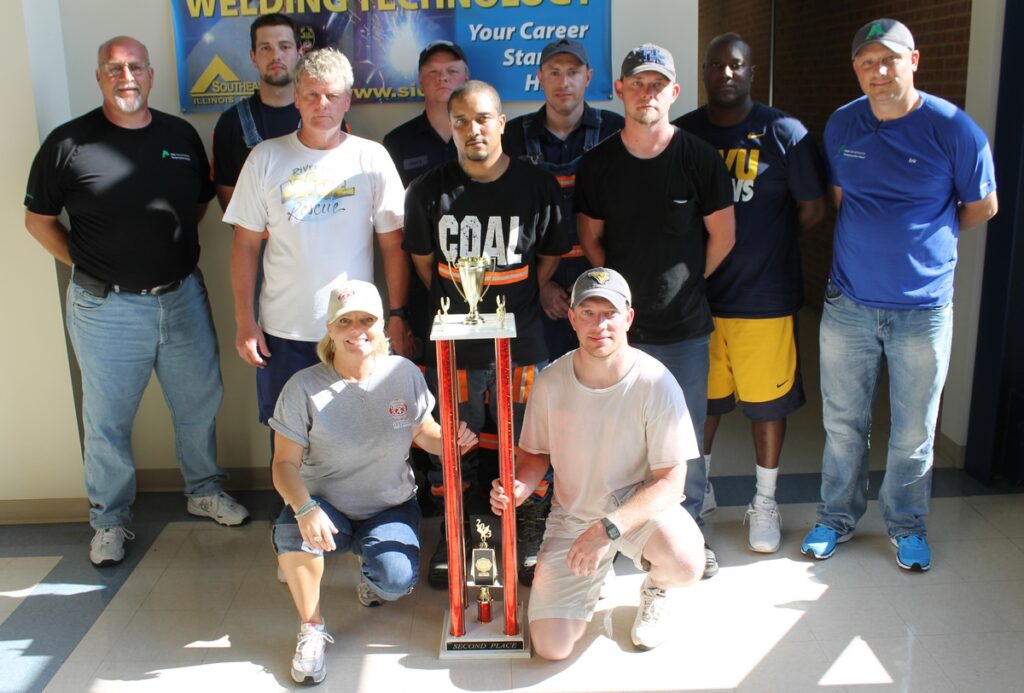 The second Mine Safety and Rescue Skills Competition in Illinois was held June 11-12 at Southeastern Illinois College (SIC) in partnership with Illinois Eastern Community Colleges (IECC). Winning the high overall and qualifying for national competition this September in Columbus, Ohio, was Black Panther Mine from Oaktown, Ind., followed closely by Dustin Patterson's Lively Grove composite team from Illinois.
Todd Stubblefield, captain for the Pattiki-White County Coal team in Illinois said, "Without the training we get here, it would be almost impossible to do the stuff we do in the mines. In mine rescue and firefighting both, we're all brothers when it comes down to actually getting in there and doing it in a real situation. But out here it's training with separate mines, so we're all here to learn, but at the same time win, too."
Approximately 80 miners from Illinois, Indiana and West Virginia competed in six rounds of exercises that included fire training in the burn tunnel, smoke training and mapping in the burn tower, hose management, gas testing, field rescue, first aid, etc. After the inaugural one-day event last September, this year's competition was expanded to two days, and trophies were awarded to the top three teams on each day, as well as an overall winner.
"This year, we expanded the competition to include more teams and an additional day, based on the feedback we received from the competitors last year," said Karen Weiss, dean of career and technical education as SIC. "We were very pleased with the response we received as well as the reach, bringing in teams from Indiana and West Virginia. Overall, it was an outstanding two days."
According to Art Rice, Office of Mines and Minerals, "The greatest (safety) concern is obviously explosions and mine disasters, but mine fire is the greatest concern for coal mines and you'll see in (this) competition a lot of components dealing with fire control or fire management. Whether you're dealing with the burn tunnel, going into the smoke chamber or dealing with hose management, …this is a chance to learn how to work under pressure."
On the first day of competition, Dustin Patterson's Lively Grove Composite team took first place, marking the second straight year a team captained by Patterson took a first place trophy.
Second place on Tuesday went to Todd Stubblefield's Pattiki-White County Coal team, and third place went to the Springfield Station Blue team from Illinois.
On the second day of competition, Black Panther Mine took the first place trophy for the day, with Rock Spring Blue of East Lynn, W.V., finishing second, and the Benton Composite team from Illinois finishing third.
The purpose of the event was not only to provide an extra opportunity for mine safety training in an exciting and competitive environment, but also to increase awareness regarding training opportunities in the area and encourage utilization of that training to keep our local miners prepared and safe on the job.
###