FALCONS' PRESSURE KEYS BLOWOUT IN HOME OPENER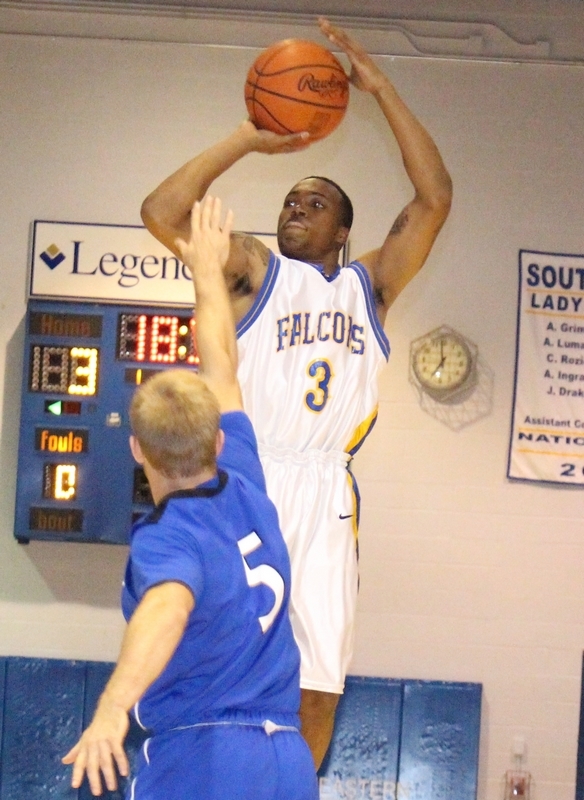 Using relentless pressure against a team ill-equipped to handle it, the Southeastern Illinois College men's basketball team started its regular season off in strong fashion with a 94-59 blowout of visiting Lindsey Wilson College on Tuesday night.
The Falcons benefitted from a strong long-range game early, with Jaylen Carter and Jamar Rivera hitting threes on two of the first three possessions. When teammate Randell Pickett hit another trey (SIC's third in four attempts) a couple of minutes later, Lindsey Wilson was forced to call a timeout to stop the bleeding.
From there, the visiting Blue Raiders cut into their deficit to 14-11 – and that's when the hosts turned the heat up on defense against a team that dressed just seven players. A pair of fast break jumpers by Malcolm Hughes pushed the lead to 21-14, and an Isaiah Thomas block of a three-pointer turned into a fast break score for Rivera, pushing the lead to eight midway through the first half. That advantage would climb to 14 on a steal and run out slam by Alan Long five minutes later, and 50-33 at the break.
Southeastern gave no quarter as the second half began. The lead reached 30 on a stickback by Long with 11:15 left to play, and lingered around that level for most of the second half.
The Falcons' attack was very balanced as head coach Josh Ervin made use of all 11 dressed players. Five players finished in double figures, with Thomas, Rivera, Long and Randell Pickett each scoring 12, and Carter adding 10. Four other players scored nine points each to round out the scoring.
Lindsey Wilson was led by Dustin Curry, with 17 points.
The SIC men continue their homestand with a contest on Saturday, Nov. 9, against the Lindenwood University JV.
LINDSEY WILSON (59) Butler 1 1-2 4, Campbell 3 6-9 13, Booth 4 0-0 10, Curry 3 11-13 17, Harting 4 3-3 12, Milby 0 0-0 0, Potts 1 2-3 3. Totals: 16 23-30 59.
SOUTHEASTERN ILLINOIS COLLEGE (94) Carter 3 3-4 10, Thomas 4 4-4 12, Rivera 4 3-4 12, Williams 3 3-4 9, Osemwegie 3 3-4 9, Pickett 3 5-6 12, Young 0 0-0 0, Long 5 1-2 12, Hughes 4 0-0 9, Barnes 4 0-0 9, Bell 0 0-0 0. Totals: 33 22-28 94.
Halftime Score: SIC 50, LWC 33. Three-point field goals: Lindsey Wilson 4 (Booth 2, Butler, Campbell), Southeastern Illinois College 6 (Carter, Rivera, Pickett, Long, Hughes, Barnes).
###