SIC Art Scholars Honored to Paint New SIC Mascot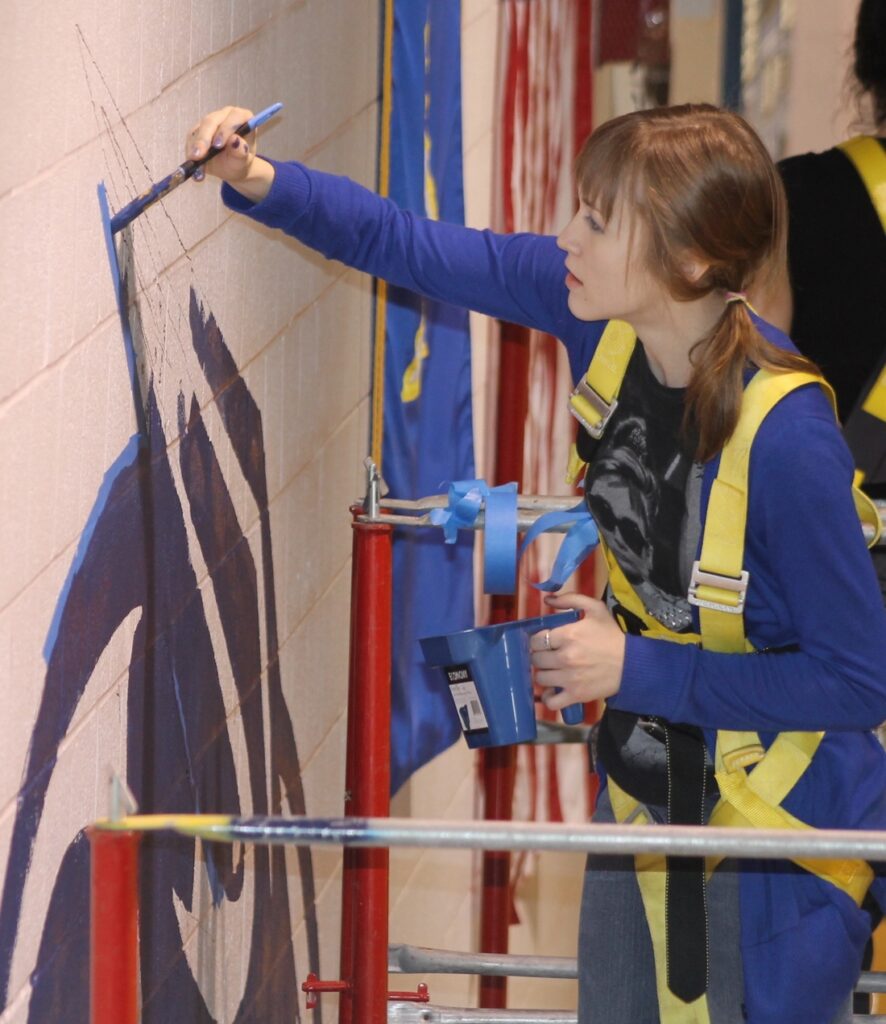 In addition to a new gym floor and new bleachers, Joseph Deaton Gymnasium at Southeastern Illinois College has a new mascot decorating the gym wall thanks to some talented students.
Hannah Lucas of Eldorado, Kelsey Kraper of Golconda, and Justin Jones of Norris City were chosen to paint the new SIC Falcon. With direction from art instructor and professional working artist, Brent Webb, the trio – all attending SIC on art scholarships – worked quickly and diligently to complete the mural.
"Under Brent Webb's direction, the students did a fantastic job, and we are very pleased with the outcome," said Dr. Jonah Rice, SIC President.
When asked about the project, Lucas stated, "The hardest part was climbing the scaffolding!"
Jones disagreed, "The most difficult part was staying in the lines, since it was sort of like a giant paint-by-number to get the image exactly right."
The mural replaces a dated metal sign that had an unofficial falcon depiction, according to SIC marketing coordinator, Angela Hale.
"We considered some options for the replacement, and decided to offer the opportunity to some very gifted students who generously donated a whole day to the project despite other school and work obligations," said Hale.
When asked about the art program itself, Kraper said the program at SIC was even better than she anticipated.
"(SIC) has more class options and diverse art techniques than I expected," said Kraper.
Although Kraper has not yet decided where her art education will take her, Jones' experience at SIC opened up a door at his church where he was offered a graphic design position. Lucas plans to continue her education and become a high school art teacher or interior designer.
"This project was a unique opportunity for our talented scholarship students to give back to the SIC community," said Webb. "And I think they were pleased to know their finished product will be around for a long time."
The art program at SIC prepares students for transfer to a university to earn a bachelor's degree. Some of the many careers a degree in art will prepare students for include commercial artist, graphic artist, graphic designer, art teacher, curator, cartoonist, merchandise displayer, jewelry designer, interior designer, floral designer, art historian, set designer, animator, illustrator, and many more. Positions for these types of careers can be found in museums, advertising agencies, schools, newspapers, publishing firms, manufacturing companies, video production companies, retail firms, etc.
For more information on the SIC art program, call a recruiter at 618-252-5400, ext. 2245. Scholarships are available and applications should be submitted by Feb. 28 for the Fall 2014 Semester. Visit www.sic.edu/scholarships for the application and instructions.
###