SIC Alum Found Best of Both Worlds by Staying at Home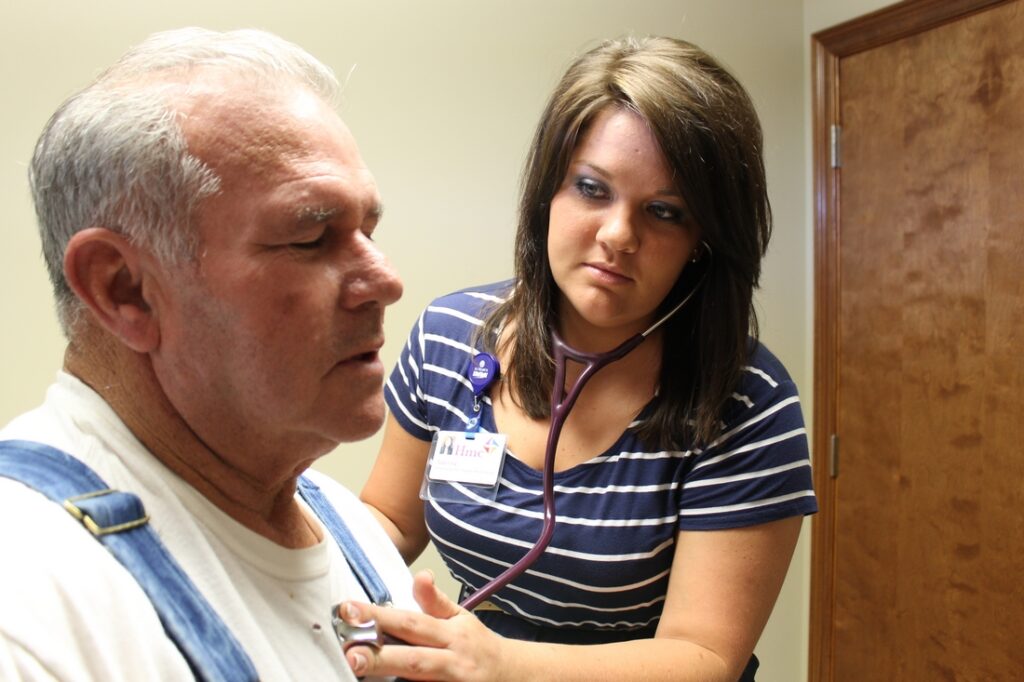 "It's always exciting to see a student accomplish so much after beginning in the health occupations program."
— Amy Murphy, SIC Interim Director of Nursing and Allied Health
From an early age, Sabrina Stout-Mason of Harrisburg knew she wanted to be a nurse. "I remember telling my mom when I was a little girl that I wanted to help people when they were sick," she said.
Now, as a family nurse practitioner (FNP), Mason is doing just that. She currently is in charge of Harrisburg Medical Center's Equality Rural Health Family Practice Clinic and works closely with her collaborative physician, Dr. Kimball Ewell, to provide a wide array of medical services to the residents of Gallatin County.
Mason got her first taste of the nursing world when she took a health occupations course as a high school junior. The course was offered by Southeastern Illinois College, which offers instruction in some fourteen health-related fields and is one of the oldest and most successful nursing and allied health programs in the state.
During the class, Mason became hooked on the idea of becoming a nurse. After high school, she enrolled full-time in SIC's nursing program, and in 2005 she graduated as an honor student with her licensed practical nurse (LPN) degree. A year later, she received her associate degree in nursing (ADN).
"I enjoyed having Sabrina in class as a high school health occupations student and as a student in our nursing program," remembers Gina Sirach, dean of academic services and former director of nursing and allied health at Southeastern.
"She was always serious about learning and had a passion for patient care at a very young age. It has been exciting to observe her through the years as she has transitioned from a high school student to a skilled healthcare provider," Sirach added.
But going from a little girl with a dream to where she is today was not easy for Mason. Access to education beyond Southeastern while not having to absorb the expense of living away from home seemed insurmountable to her.
Mason admits that the cost of education, finding advanced training in family practice nearby, and a desire to stay at home stood in the way of continuing her education after Southeastern. "Family has always been important to me. I wanted to stay close to my existing family and start my own right here at home," stressed Mason.
In many ways, Mason, who enjoys being at home with her husband, Gary, and daughter Josalin, and stepson Brayden, is the product of a family tradition when it comes to SIC and its community. Her father, mother, and two sisters all attended the college and earned their associate degrees there. Even now, young Josalin attends by way of Southeastern's preschool program.
Knowing that she wanted to advance in the healthcare field, Mason began to explore colleges and universities that offered baccalaureate and graduate level training in family practice nursing.
With the help of her instructors at SIC, she found that online education, a virtual classroom so to speak, could help her fulfill her career goals and offered just the break she needed to afford continuing her education. Too, it provided a way to stay at home with her family while she pursued her dream.
"Online education in the healthcare professions is an excellent and proven way to advance one's career in nursing," emphasized Sirach. Sirach pointed to SIC's recently developed online hybrid practical nursing degree program as evidence of a growing national trend in delivering education.
Mason soon enrolled at Frontier Nursing University (FNU) in Hyden, Ky., a leader in online and distance learning education, where she earned her master's degree in nursing (MSN) in family practice through the university's online Bridge Program.
Graduating from the program with a perfect 4.0 overall grade point average, she now has her sights set on the university's online doctor of nursing practice (DNP) degree, the highest academic level in the nursing profession.
Mason's relationship with Dr. Kimball Ewell, her collaborative physician at the rural health facility in Equality, is one of respect and admiration. "Sabrina and others working in our area as FNPs are absolutely essential to providing much needed rural health care in southern Illinois," said Ewell. "She represents the very best of her profession and has a major impact on her patients day-in and day-out."
Ewell went on to say that with the enactment of affordable healthcare, FNPs are going to be in high demand to address the mid-level medical needs of rural communities and that healthcare providers, like Mason, who have lived in southern Illinois their entire lives possess a special and valuable knowledge of the unique healthcare challenges facing families living in nearby towns and villages.
All in all, the cyber world has been kind to Mason, who looks at her job as providing for the holistic needs of people, using her nursing skills to help meet the physical, mental, and spiritual demands of everyday living. From the high school class that hooked her on nursing all the way to her MSN at Frontier, Mason found a way to enjoy the best of both worlds.
###