ANNIE THE SERVICE DOG VISITS SIC CHILD STUDY CENTER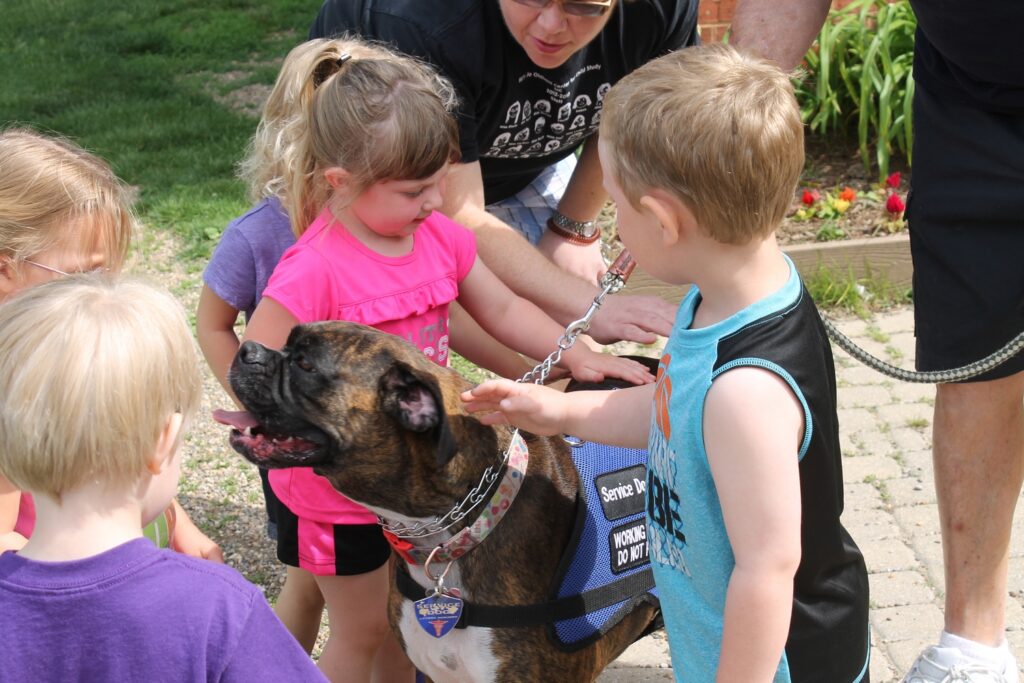 Last month, the preschool children at the Mary Jo Oldham Center for Child Study at SIC were in for a treat when Jim Kerr and his service dog, Annie, came for a visit.
Kerr told his wide-eyed audience that the two-year -old boxer trains at Willing Partners Canine Education in Logan, Ill., for an hour and a half each week. Training each week is dedicated to working on her obedience skills, performing various tasks, and behaving in public venues. The pair showed off some of their tricks to the children – including climbing the ladder to their playground slide.
"This was such a fun day for the children. Jim spoke to them on their level and they really listened. He even demonstrated how Annie could help him off of the ground if he were to get down," said Ellen Prince, lead preschool teacher for the Child Study Center. "It made me smile when later in the day, I overheard a child telling his Mom about the special visitor in detail. Jim and Annie really made an impression."
Annie is learning to cater to the needs of Kerr and his diabetic illness. She is trained to react when Kerr's sugar levels drops to an unsafe level. She will retrieve his glucose tabs or medications when needed, and is always happy to receive a cookie for herself!
Willing Partners Canine Education was founded by Linda Krutsinger to meet the increased need for military veterans for service dogs. For more information on service dog training, visit www.yourwillingpartners.com.
###