SIC's Model IL Government Wins State Competition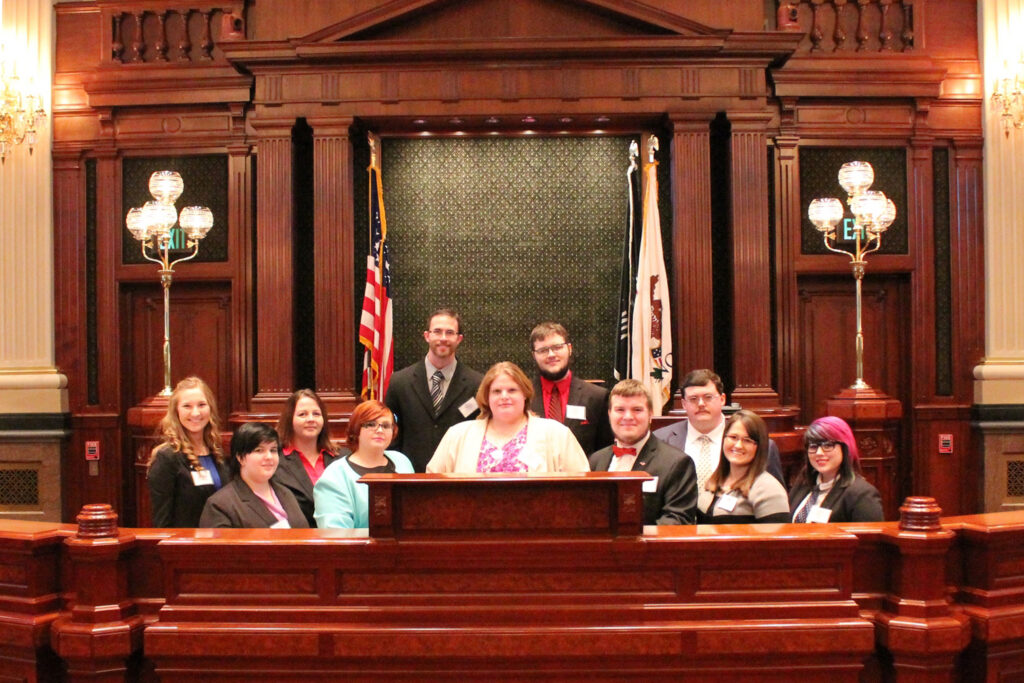 While the news from Springfield has not been exactly positive in recent weeks, there was great news for Southeastern Illinois College – The SIC Model Illinois Government Team (MIG) won the collegiate legislative competition held at the state Capitol Feb. 27-March 1.
"MIG is a unique educational opportunity," said political science instructor and advisor Matt Lees. "It is one of the oldest and most prestigious intercollegiate competitions in the country. The simulation actually gives students the opportunity to live the life of a legislator, debate bills and be in the actual House and Senate chambers in Springfield."
This year over 300 students from 22 colleges and universities participated. SIC led all schools in total points, leadership positions, and major awards.
"The opportunity to be able to speak on the House and Senate Floor as a lobbyist has by far been one of the most amazing things I have ever done in my life," said first year delegate Dana Hooven.
Southeastern secured a school record seven committee whip positions, won elections for Assistant Minority Leader and Comptroller, had a committee chair and won awards for Outstanding Original Legislation, Outstanding Lobbyist and Outstanding Member of a House Committee.
First-year delegates included Lucas Adkisson of Thompsonville, Jessica Bovenkerk of Carmi, Amanda Cox of Herod and Dana Hooven and Lesa Adams both of Harrisburg.
Returning delegates included Head Delegate Jenny Pruitt of Broughton, Jody Abell Jr. of Carmi and Samantha Cockrum, Jose Durbin, and Amanda Hays all of Harrisburg.
Delegates securing committee whip positions included Abell Jr., Adams, Adkisson, Cockrum, Cox, Durbin and Hays. Durbin was also elected to the Assistant Minority Leader position and was later elected to the Constitutional office of Comptroller.
Pruitt was selected as a committee chair and was later a finalist for the David Hunt Award for Outstanding House Committee Chair, while Cockrum won the Ramsey Award for Outstanding Original Legislation, Hooven won the Robert Kent Award for Outstanding Lobbyist and Durbin won the Michaella Grounds Award for Outstanding House Committee Member.
The Grounds award is named in memory of former SIC delegate Michaella Grounds who died tragically in a car accident. In acquiring two positions and one award, Durbin acquired three composite points leading the entire simulation in individual points and tying a school record.
What is particularly impressive is not only was SIC the smallest school in terms of enrollment at the simulation, it had only 10 students which was the smallest number of students to be classified as a large delegation.
"Some schools like Eastern Illinois University brought 20 plus delegates while the University of Illinois at Springfield brought as many as 35," said Lees. "To outscore those schools with half as many delegates speaks volumes about these students."
Cockrum crafted her own original legislation and successfully guided it from committee all the way to the Senate, where it was later named Outstanding Original Legislation.
Lobbyist Hooven played an instrumental role in lobbying for the bill and also used a rarely used legislative maneuver to move the bill from the bottom to the top of the docket.
"I have never had a student take matters into her own hands but Dana did," said Lees. "The move was only possible because Dana was held in such high esteem. She has a great deal to be proud of."
First year delegate Bovenkerk played the role of a journalist and filed numerous stories for the MIG Journal, the simulation's daily newspaper.
"Being able to have the opportunity to be on the Model Illinois Government team with SIC was an amazing and rare opportunity," said Bovenkerk.
Head delegate Pruitt led this group.
"Jenny is one of the hardest workers I've ever had the pleasure to instruct," said Lees. "This team followed her lead and her example. Jenny was truly the difference maker for this team"
###