SIC's Nurse Pinning Ceremony May 8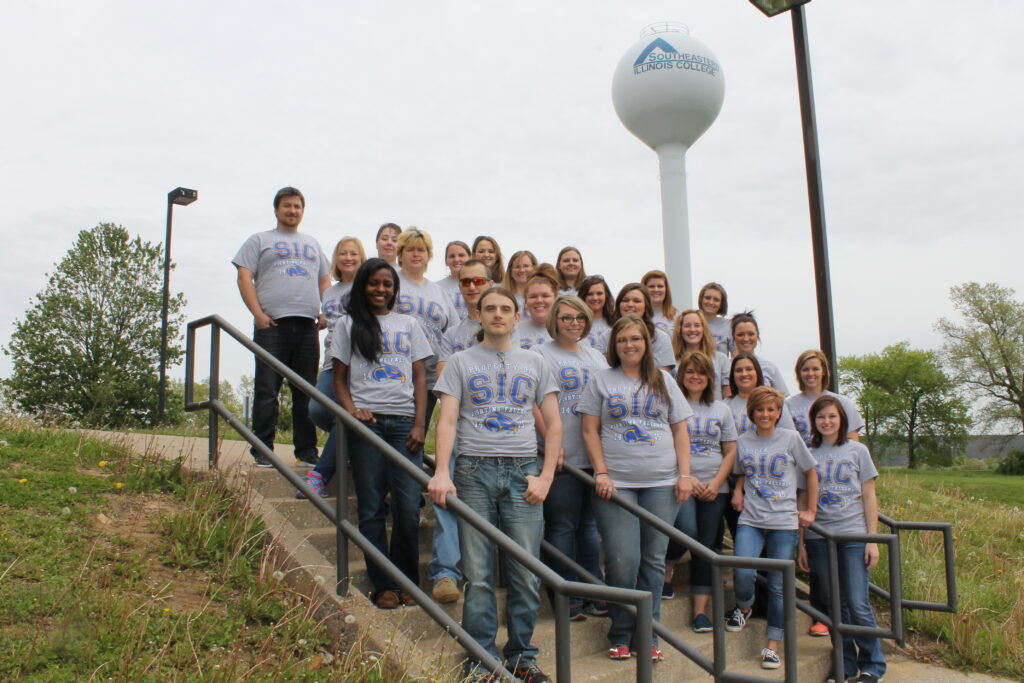 Southeastern Illinois College's Associate Degree Nursing (ADN) students and Practical Nursing (PN) students will have a pinning ceremony on Friday, May 8 at 4 p.m. in the Joseph Deaton Gymnasium at SIC. The ceremony will precede commencement exercises on that day at 7 p.m. The programs prepare students for the state licensure examination. In 2015, 100 percent of SIC's ADN students passed their exams and 98 percent of SIC's PN students passed the first time.
ADN Students
ADN Students include: Jessica Jackson (Eddyville), Ashlyn Haner (Golconda), James Scott. (Junction), Laura Gobin (Galatia), Jessica Owens (Golconda), Judy Robinson (Omaha), and Jessica Skaggs (Raleigh).
Students from Carmi are Tayler Browning and Kelsey Pearce.
Carrier Mills students include Ryan Brasher and Jana Mitchell.
Students from Eldorado are Kaitlin Bailey and Ronda Marcandante.
Harrisburg students include Danny Fowler, Jordan Joyner, Stacy Knight, Britni Pate, Danielle Price, Sarah Schmitt, Ashleigh Slone and Arial Suits.
Students from Norris City are Morgan Barton, Tammy Summers, Devin Walters and Cara Wendt.
Shawneetown students include Brooke Berlin and Terry Burke.
PN Students
PN Students include:Natalie Griffith (Cave In Rock), Peyton Boyd (Elizabethtown), Taylor Williford (Equality), Laura Gobin (Galatia), Jessica Owens (Golconda), David Brown (New Burnside), Jewel Masset (Raleigh), Jennifer Reed (Rosiclare), and Mindy Boswell (Stonefort).
Students from Carmi are Dayna Burnett, Susan Deain and Rhea Passmore.
Eldorado students include Andrea James, Sarina Lewis, Mackenzie Sinks and Brooklyn Wright.
Students from Harrisburg are Cassidy Boulds, Alicia Denbo, Jillian Fulbright, Josh Golish, Christina Harper, Mallory Ledbetter, Pamela Marcum, Jessica Mezo, James O'Hara, Nichole Stubbs and Rebekah Tolley.
Norris City students include Jason Cross, Kendall Seacrist, Joanne Smith.
Students from Ridgway are Katie Lawler and Amanda Seely.
Hybrid PN Students
Hybrid, a combination of online and in class learning, PN Students include: Shelia Brown (Elizabethtown), Kim DeGrave (Cave In Rock), Jonathon Malone (Junction), Jenny Prest (Carbondale), and Cassie Williams (Omaha).
The Southeastern Illinois College nursing program began in 1955 with a class of 13 students in what is now Harrisburg High School. It was the only program of its kind in Illinois, south of St. Louis, at that time. Since then, it has grown to approximately 100 students each year and includes online and traditional classes, as well as full- and part-time options. For more information on nursing, contact Amy Murphy, director of nursing, at 618-252-5400, ext. 2330 or nursing@sic.edu, or visit www.sic.edu/nursing.
###