SIC FORENSIC FALCONS' PUBLIC DEBUT BEFORE NATIONALS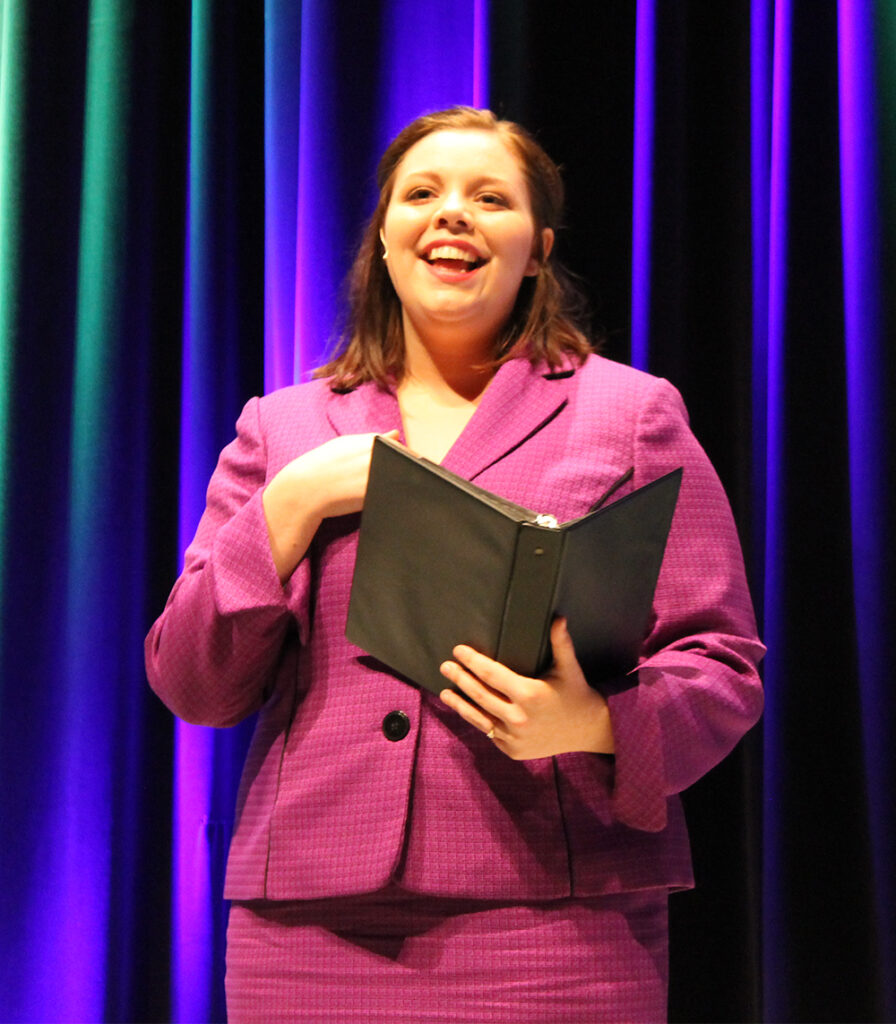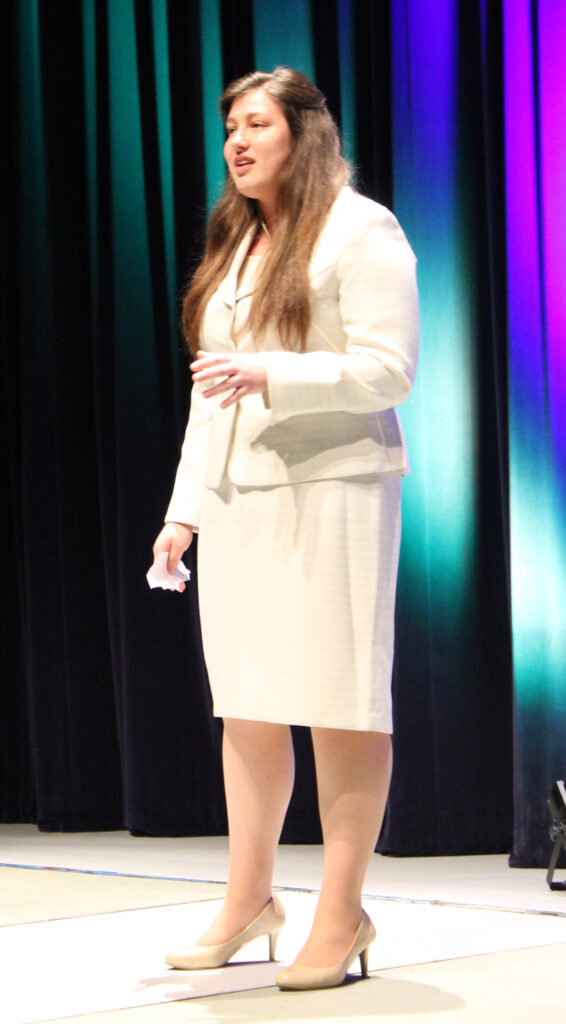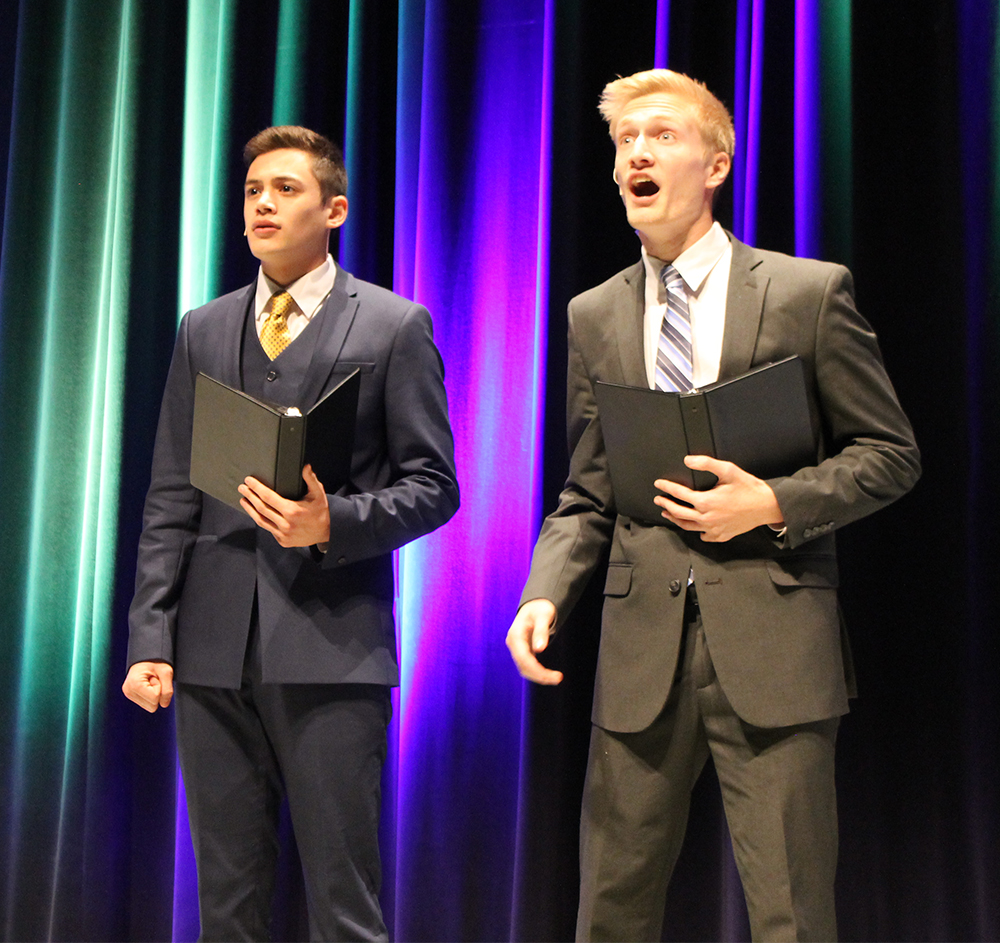 Random eruptions of hysterical laughter filled the theatre at Southeastern Illinois College on the evening of March 31 as nearly 250 spectators packed the George T. Dennis Visual and Performing Arts Center to catch the annual public performance of the acclaimed Forensic Falcons speech team.
The team's Night Before Nationals event is a chance to showcase the talent of one of the most successful programs in the school's history each year. As the name of the event suggests, the team will compete in the national Phi Rho Pi tournament April 4-8 in Costa Mesa, California.
Teamers Kelsey Bartok of Eldorado and Cassandra Watkins of Harrisburg were the emcees for the evening, playfully introducing a sampling of six of the 49 events the team plans to perform at nationals.
Cassidy Maynard led the lineup with an informative speech about the Drinkable Book. Maynard tells of the ability of the pages of each book to not only give tips on safe drinking water practices, but to act as a filter to clean water for up to four years for families in third-world countries. Her personal experience on a mission trip to Nicaragua inspired her to speak on this topic.
Talented Carmi native, Alli Haley, then gave a somewhat frightening prose performance on the "human possession obsession," better known as stalking.
Britta Suits of Broughton, with audience assistance, demonstrated impromptu speaking. The audience was asked to provide three quotes, and Suits had a total of seven minutes to prepare and deliver a speech. Of the three, she chose, "Not all who wander are lost," from The Lord of the Rings.
Carrice McDaniel of Harrisburg, who won most valuable speaker of the regional tournament, performed her award-winning speech to entertain about sibling rivalry, including humorous points such as "why they won't leave you alone" and "how to make peace with your pesky sibling."
A more serious piece was up next as Haley Rushing of Marion gave her communication analysis speech on The HIV Positive Poster, each of which holds an actual drop of HIV positive blood, and its effectiveness on informing a Brazilian city about how people should not fear those with the disease.
Ending the evening with an equally serious topic presented in an entertaining manner was Preston Boone of Harrisburg and Gabe Motsinger of Carrier Mills. The pair gave a duo interpretation about cancer based on Will Reiser's autobiographical feature 50/50.
The event brought in about $2,000 to help fund the team's trip to the national tournament. Coaches are Paul Cummins, Dr. Tyler Billman and Jenny Billman, and it's not unusual to see former Forensic Falcons stepping in to lend a fresh ear and give some pointers.
Head Coach Cummins said of this year's team, "We have a larger team of 14 members this year, and they have gone out and crushed the competition all year on the community college circuit, winning state and regional championships. The other coaches and I are anxiously waiting to see if they can continue that success at nationals this year."
The Forensic Falcons speech team, established by Gary Allan and the late George Dennis in 1970, started with debate and made its first appearance at the national tournament in 1973 in Gatlinburg, Tennessee. The team hit the top 10 in the late 70s and earned its first national title in forensics in 1986, with additional titles following in 1997 and 2005. The Forensic Falcons have landed in the national top five for nearly 30 years, with dozens upon dozens of individual championships.
###