Five Falcons Sign with Universities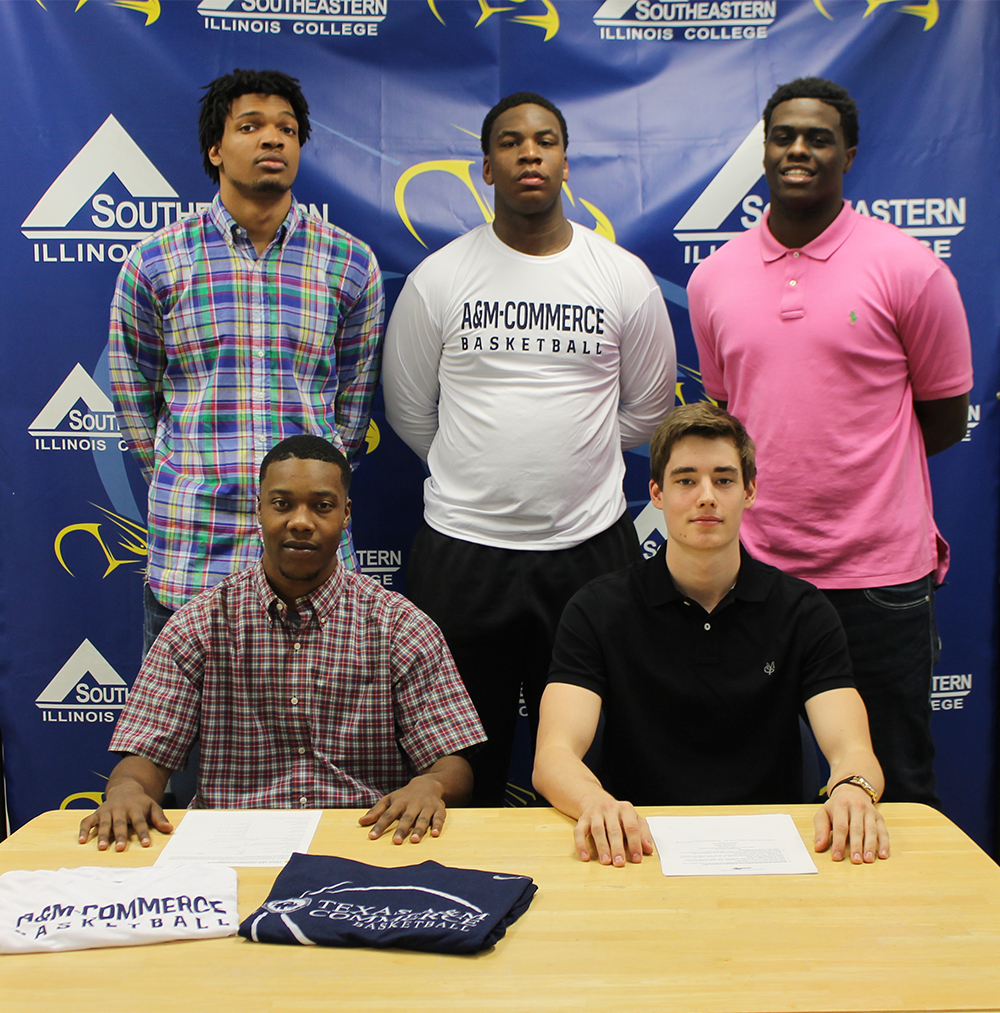 Five members of the Southeastern Illinois College men's basketball team have signed letters of intent to play at the university level.
Four of those Falcons will be playing for former Falcons' head coach, Josh Ervin, at Texas A&M University-Commerce — Montrell Little of Louisville, Marquieth Russell of St. Louis, Dorian Armstrong of Detroit, and Daquane Wilford of East Chicago, Indiana.
"I couldn't be more proud of all of these young men. They have truly represented what SIC is truly about, affording them the opportunity to mature academically. The things they accomplished as athletes pale in comparison to the growth they've made as students," said SIC Head Coach Dominique Taylor.
"Their respective programs are bringing in young men that will represent their institution with integrity. Coach Sam Walker at Texas A&M University – Commerce has a very rich tradition in winning and graduating his student-athletes. Coach Josh Ervin did a phenomenal job recruiting these guys not based solely on his prior relationship, but truly sharing the passion that Coach Walker has for his players, academically and personally."
Wilford said of his time with the Falcons, "Coming in as a freshman, we had a bunch of guys that were immature, and after time, we grew and matured and became leaders for the younger players. I came here for a better opportunity, and this year, I also got involved with student government and TRiO, so it's been a really exciting year for me. I never expected to do so much."
Wilford expressed his thankfulness for the opportunities he received at SIC, his excitement about playing for Coach Ervin again, and said he hoped they (the sophomores) taught this year's freshmen something in return.
"Ervin will be a familiar face for these Falcons on the sidelines as they suit up for the Lions," said Taylor. "Each of these young men are joining one of the most storied programs in all of NCAA Division II."
Falcon sophomore, Gianni Otto of Remseck, Germany, has decided to continue his education at McKendree University in Lebanon, Illinois.
Otto, who is considering a career in sports management, says he has enjoyed coming to this country and getting to know the team at SIC.
"I've had a lot of fun here. I came here to go to school and transfer to a university, and now I have achieved that, so I'm pretty happy," said Otto.
Taylor said, "I love G [Gianni]. He truly embodies the 'American Dream.' He came to this country with nothing but a dream, determination and unmatched work-ethic, and to see him rewarded with a FULL ride scholarship to a university the caliber of McKendree is why I love coaching at the NJCAA level."
"Their [McKendree's] staff did an amazing job of prioritizing Gianni as a 'perfect' fit for their program, after he visited this spring, he knew he found a new home. We undoubtedly are looking forward to following all of these Falcons as they take flight to new homes, but know that SIC played a pivotal role in affording them a tremendous opportunity. We're excited about re-loading the Falcon Men's basketball team for 2016-17. These sophomores have left pretty big shoes to fill."
Other Falcon sophomore players are still looking at all of their options and will decide later this spring, according to Coach Taylor. Those players include Cameron Lewis of Lilburn, Georgia; Simon Shafack of Sugar Hill, Georgia; David Quarles of Indianapolis; and Demetrious Levarity of New Orleans. Levarity earned all-conference and all-region awards this year.
###