SIC Celebrates Top Scholars at Honors Night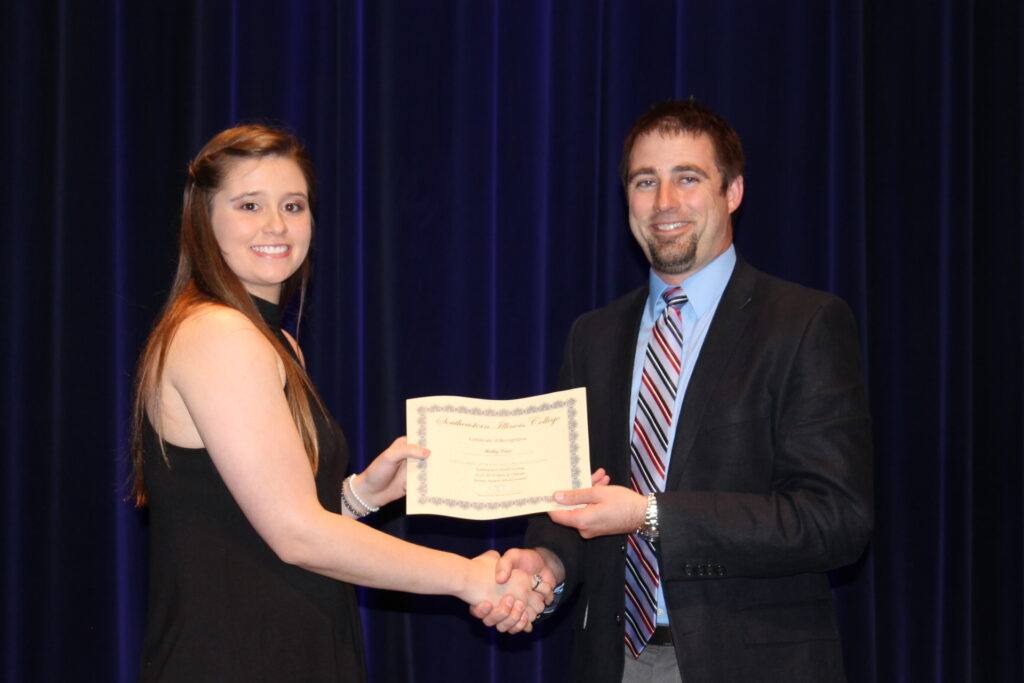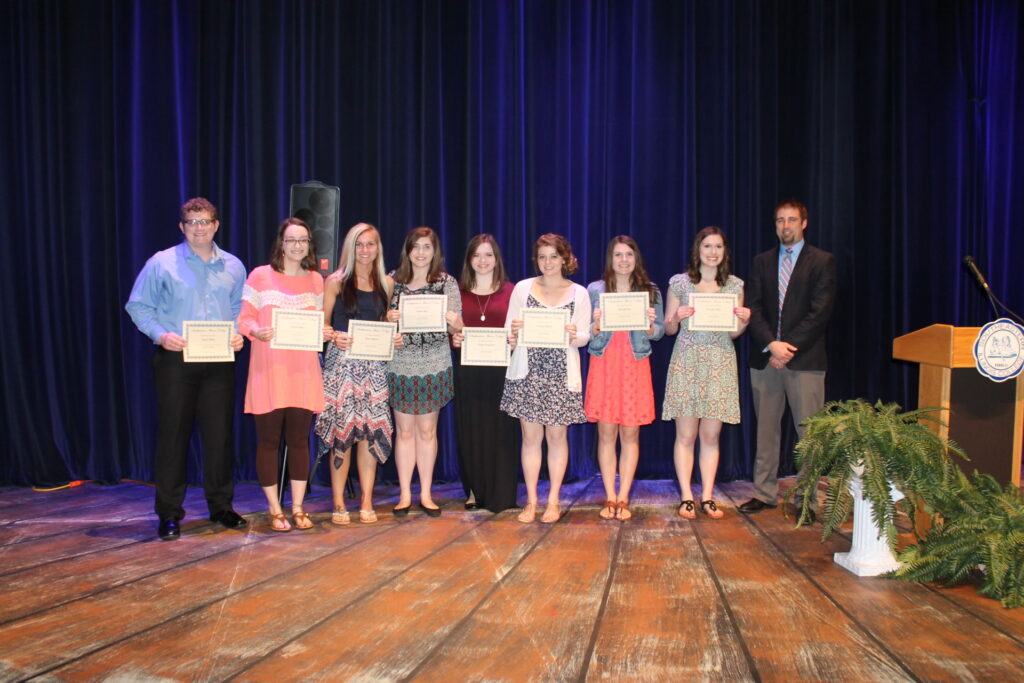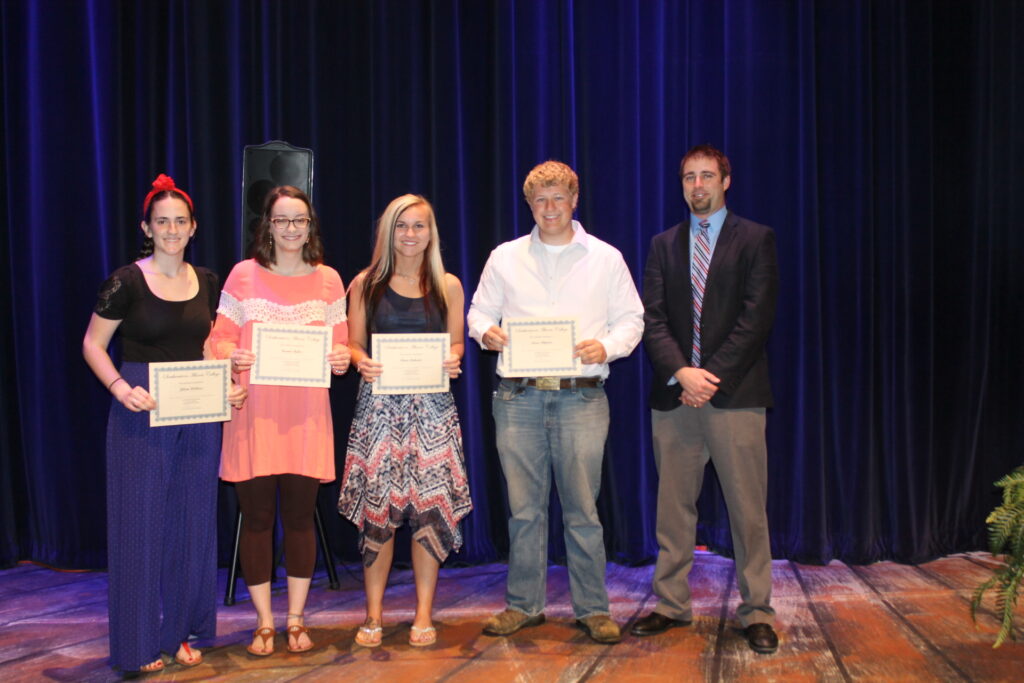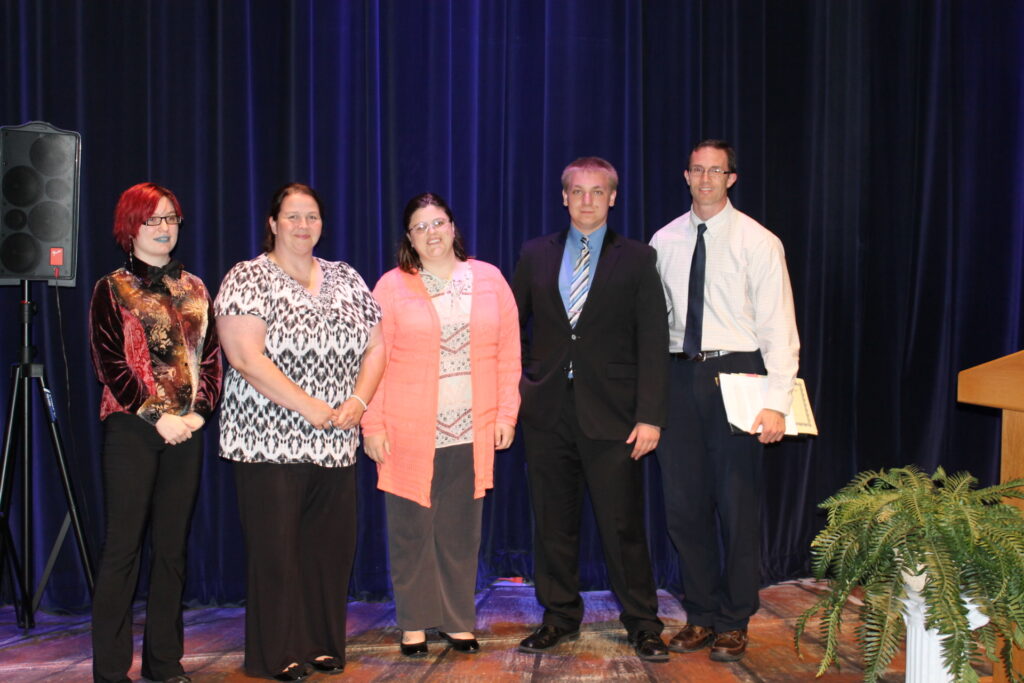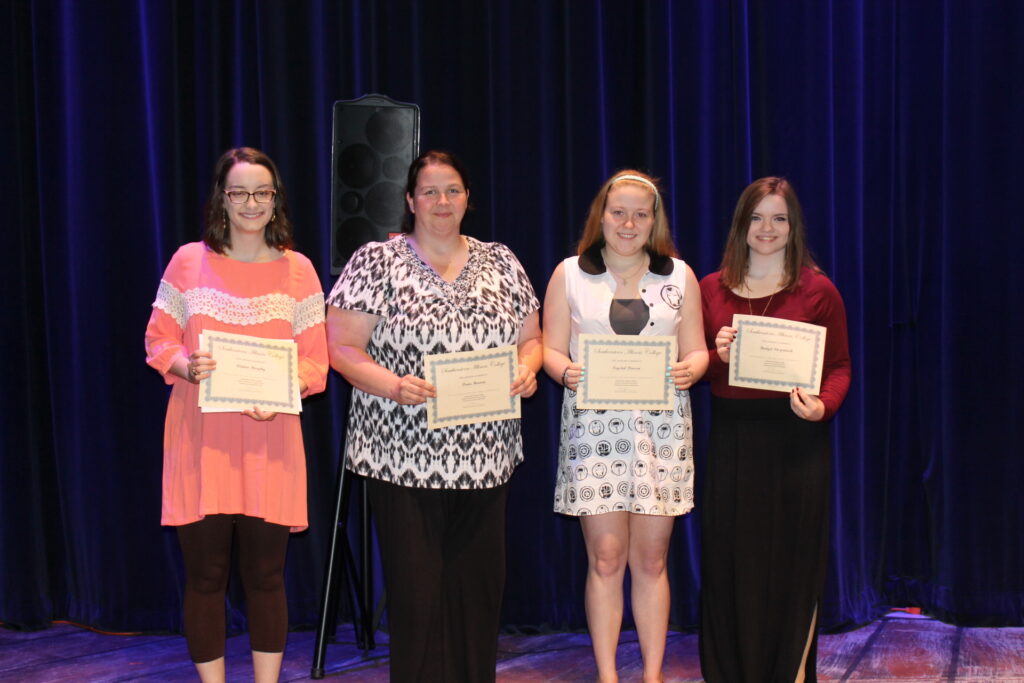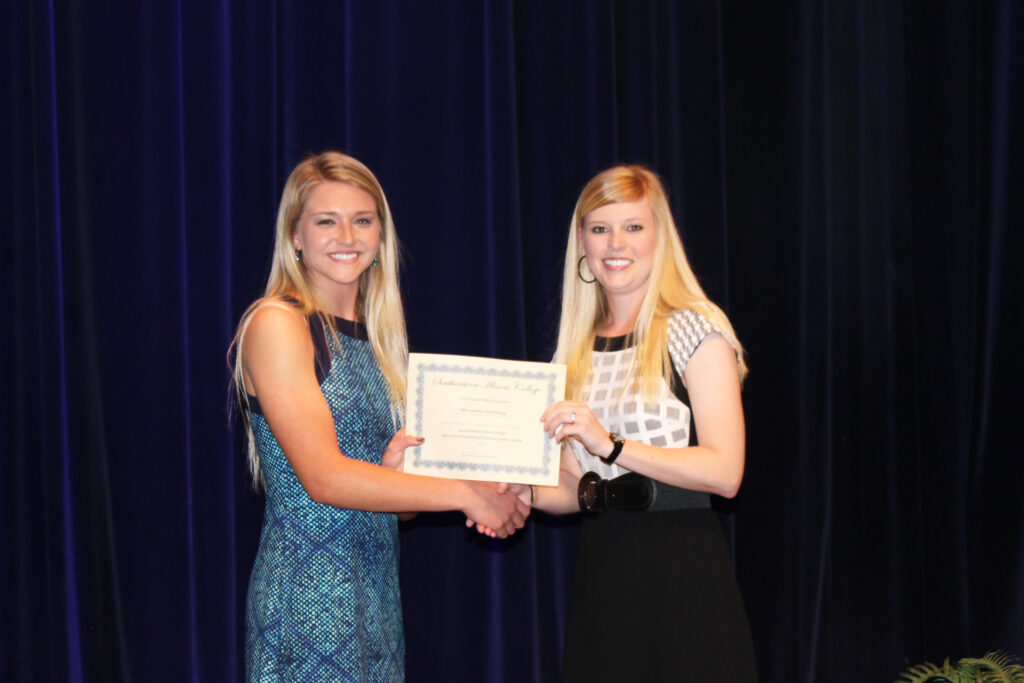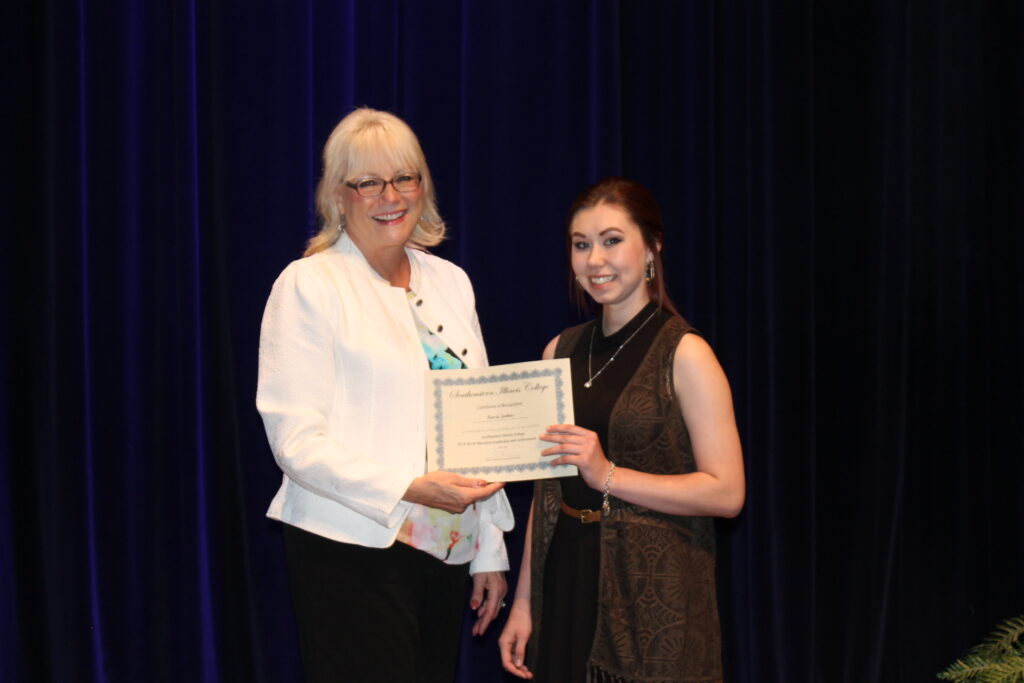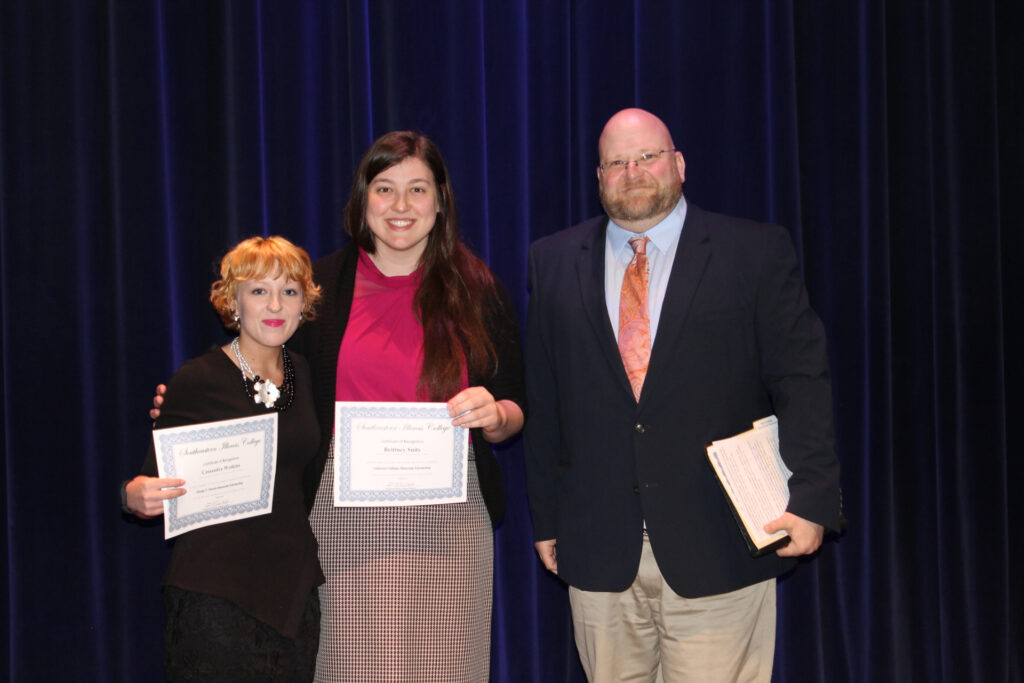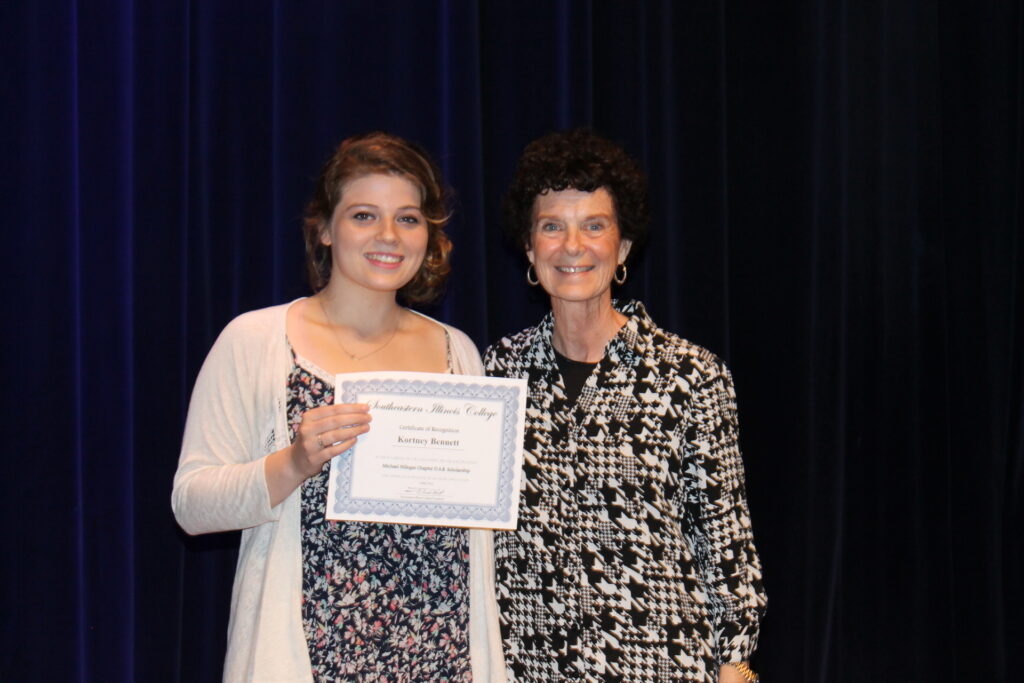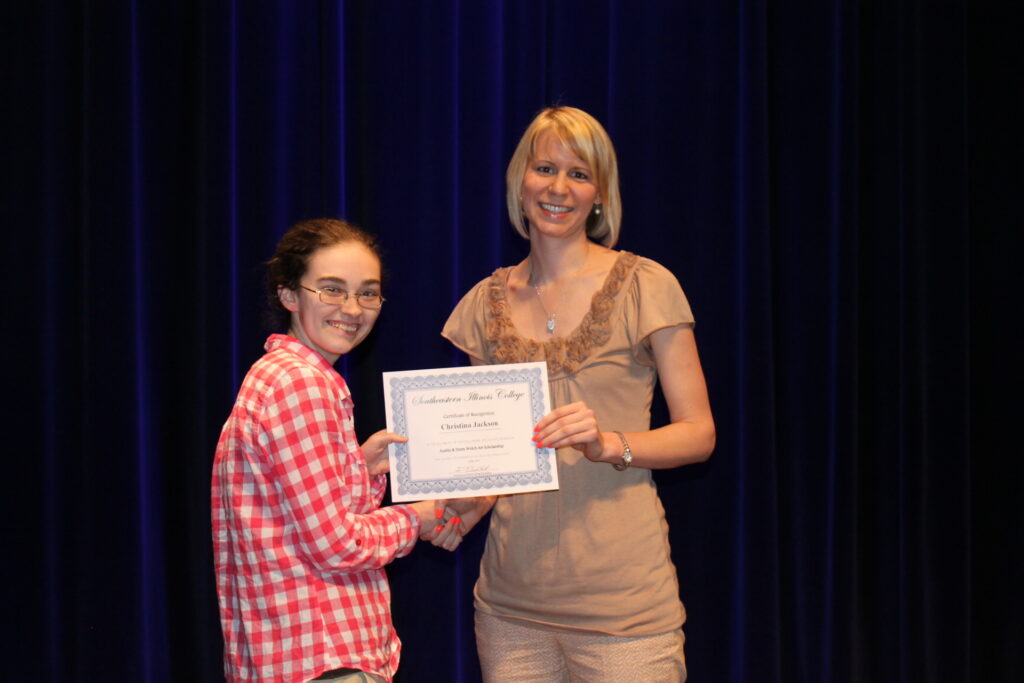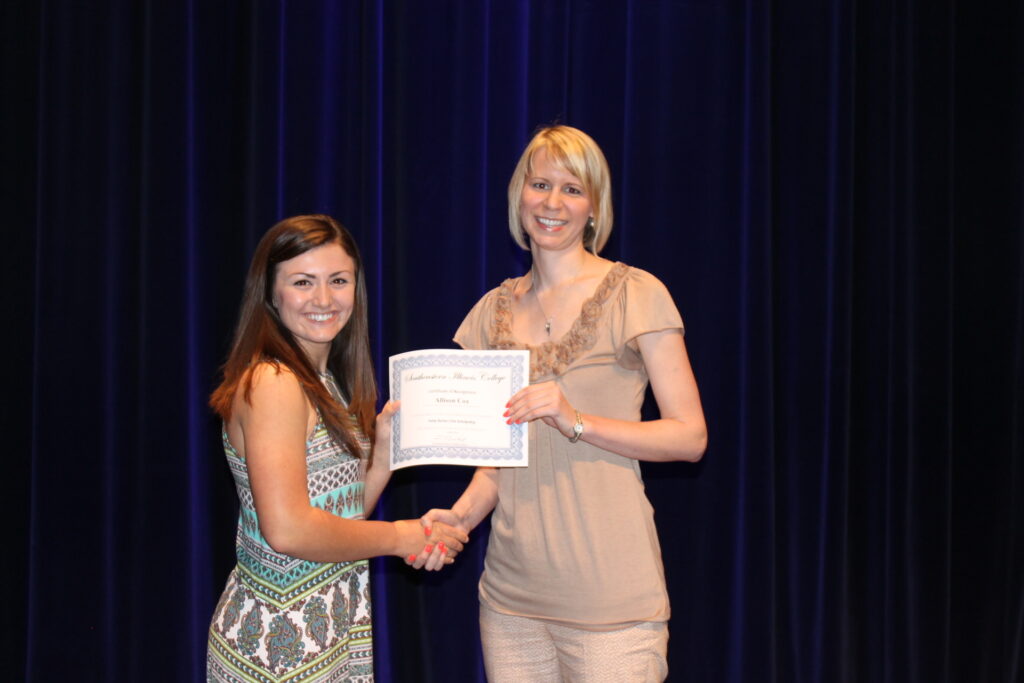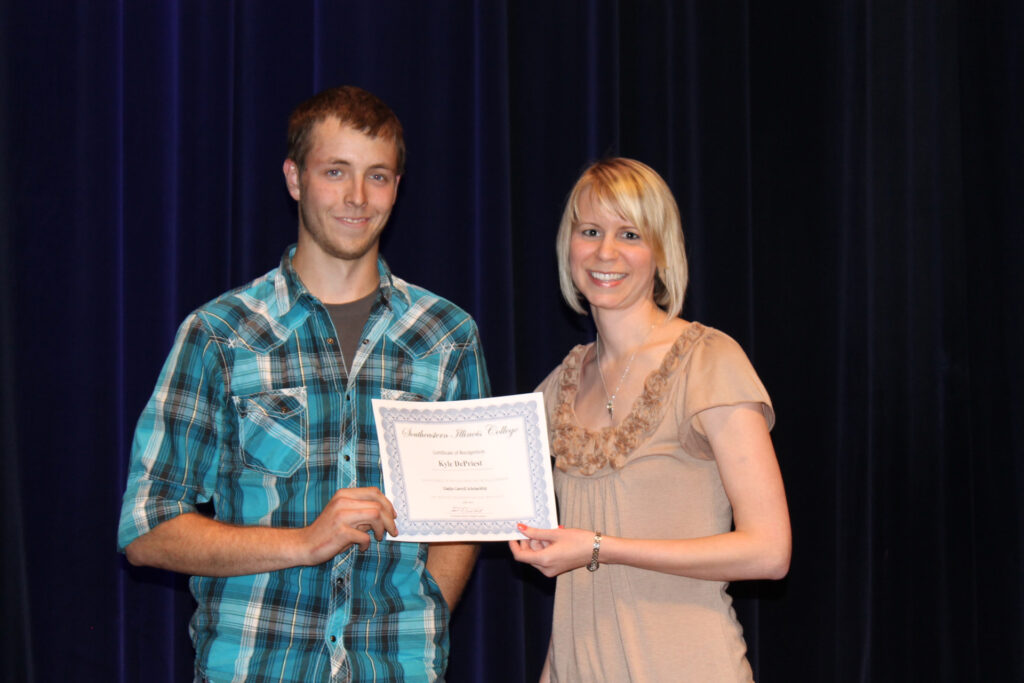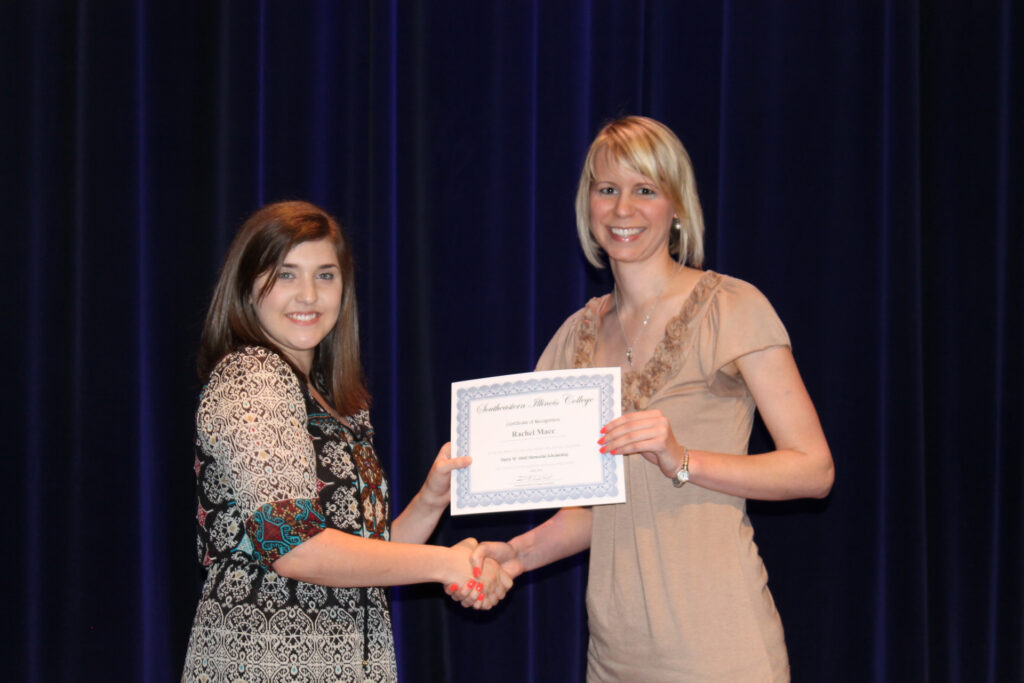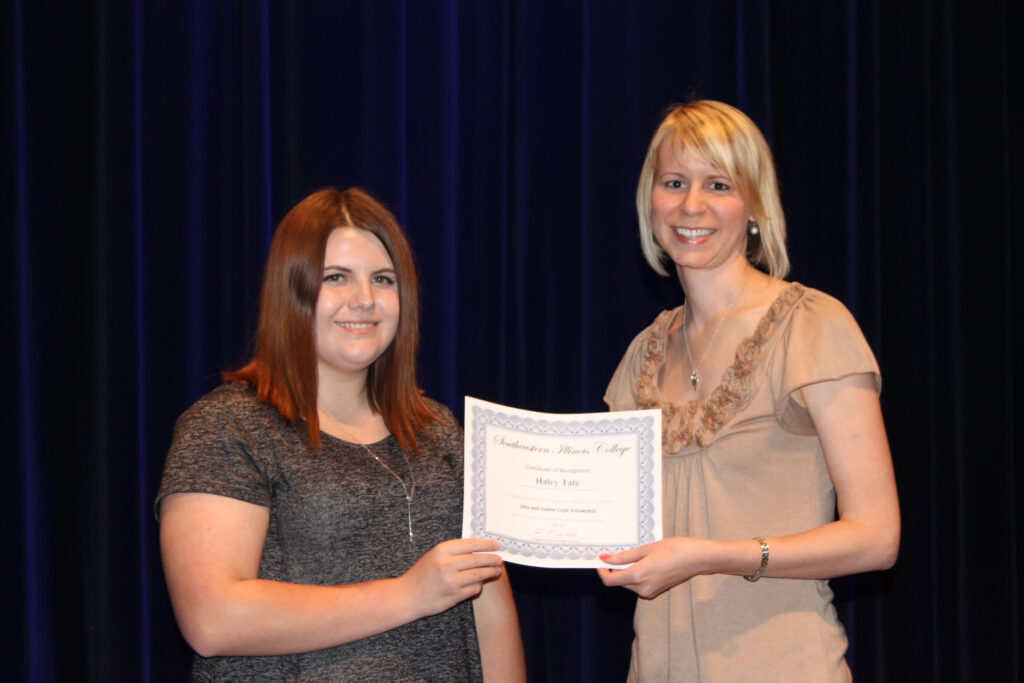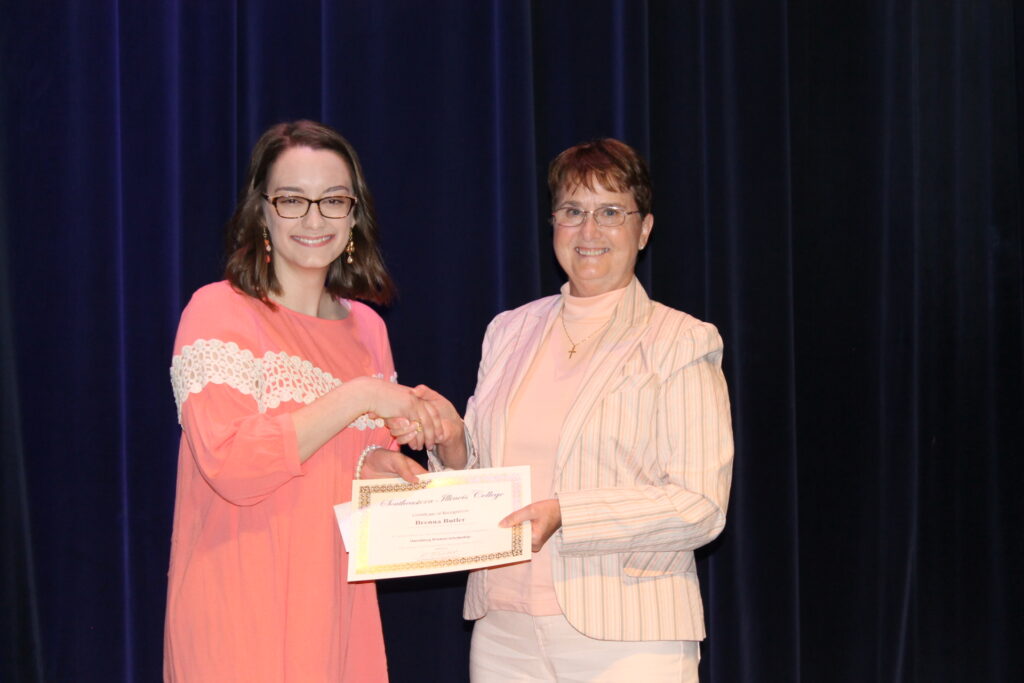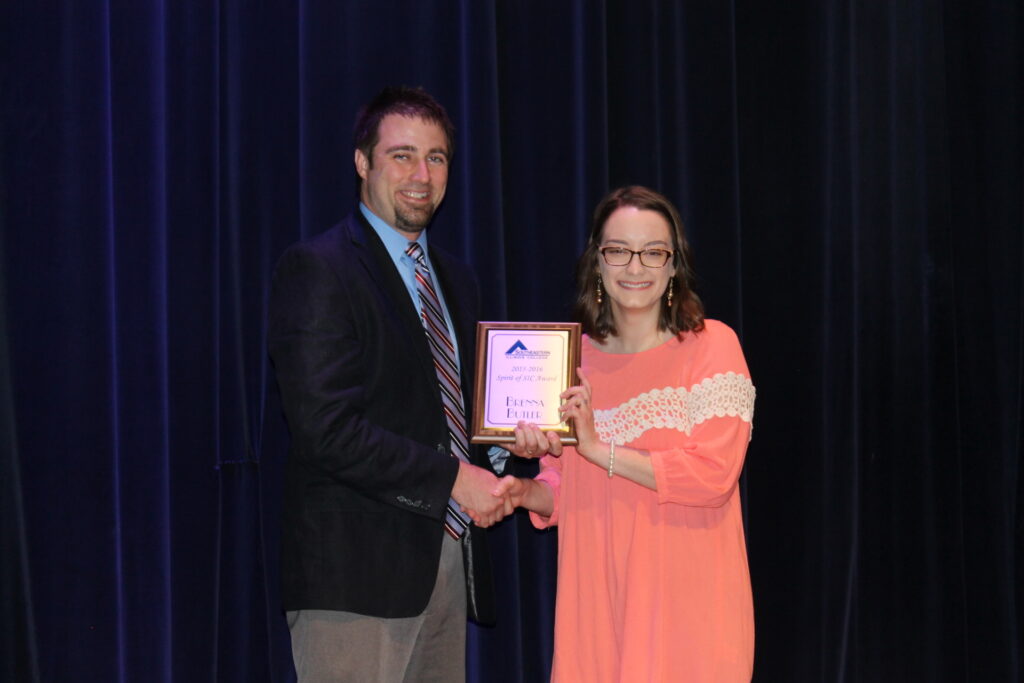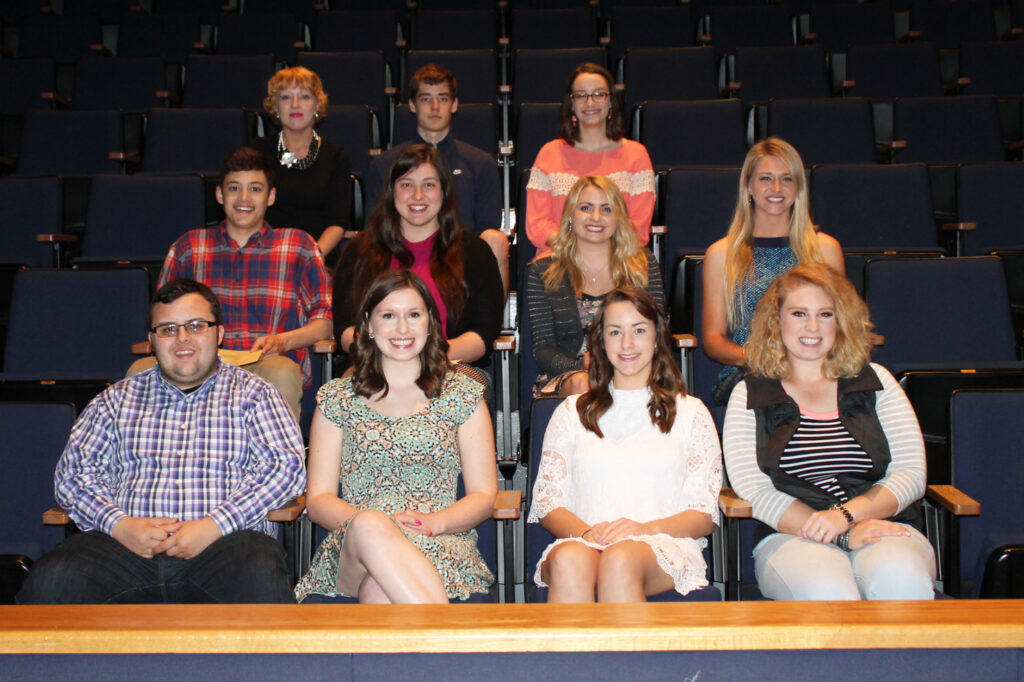 Southeastern Illinois College held its annual Honors Night in the George T. Dennis Visual and Performing Arts Center on Tuesday, April 26. Hundreds of students, family and friends along with SIC faculty and staff converged to celebrate academic and extra-curricular achievements of the student body.
Not present to accept their awards were: Chris Walle of Harrisburg who was awarded the John Bennewitz Memorial Art Scholarship, Stephanie Walle of Harrisburg who was awarded the Eugene & Callie Walden Morris Scholarship, Darrien Robinson of Elizabethtown who was awarded the Rosiclare Chapter #971 Order of Eastern Star Scholarship, Lexie Hopkins of Elizabethtown who was selected for the C. R. Gardner Memorial Scholarship, Juana Gonzalez of Eldorado who was awarded the Dorothy Helen Baldwin Harrisburg BPW Scholarship, Cammie Francis of Carmi who was selected for the Faye Mitchell Memorial Scholarship, Jessica Whitaker of Carmi who received the Harold Bauman Memorial Scholarship, Malayna Douglas of Carrier Mills who was awarded the Rodney J. Brenner Memorial Scholarship, Abbie Hudnell of Raleigh who was awarded the Dr. Warren Tuttle Memorial Scholarship, Natalie Griffith of Cave-in-Rock who earned the Maxine Theresa Hobbs Memorial Scholarship and Jacob Vaughan of Harrisburg who was awarded one of two Mary Jo Oldham Student Athlete of the Year awards.
Students Graduating with Honors (45 credit hours, GPA 3.25 or greater) include (not in order and many are not pictured):
ALTAMONT – Amy Miller
BROUGHTON – Brittney Suits
BUNCOMBE- Michael Tripp
CARLINVILLE – Stephanie Emery
CARMI – Jerrie Baxley, Bailey Bratcher, Dayna Burnett, Alexa Campbell, Nicole Campbell, Crystal Denson, Seth Gross, Michael Klaus, Mitchell Masterson, Clinton Murphy, Ashlyn Owen, Stephanie Owen, Rhea Passmore, Luke Rutledge, Gilbert Stonos-Astorga, Karrissa Siegel, Gena Simmons, Garland Smock, Bobby Steward, Amber Sullivan and Justin Weinbrecht
CARRIER MILLS – Christina Avery, Harley Cofield, Amanda Davenport, Brian Doty, Malayna Douglas, Kristy Fox, Mario Godsey, Lorraw Harmon, Rachel Horn, Bethan Lewis, Kaylee Lewis, Devona Morales, Nolen Morgan, Ty Preston, Tina Reed and Bethany Schutt
CAVE IN ROCK – Ashley Foster, Haley Mosby and Halley Olveda
CLAY, KY. – Jordan Gass
Creal Springs – Dianna Simmons and Randy Simmons
CROSSVILLE – Sarah Birkla, Cassie Eaton and Jasmine Seibers
EDDYVILLE- Gary Roper II
ELDORADO – Devin Aldridge, Christina Ashby, Kelsey Bartok, Danielle Bradley, Joellen Canarr, Danyel Carter, Emmalee Clark, Tyler Deaton, Chasidie Dowdy, Colton Edwards, Jessica Edwards, Laura Gobin, Clayton Hall, Andrea James, Arlee January, Lindsey Lake, Charly Lowery, Margaret Mahoney, Zachary McGuire, Anrea McKinnies, Dakota Meents, Samantha Mings, Nicolette Morrison, Gari Owen, Tammy Phelps, Brandi Rash, Jacob Richerson, Amanda Ryker, Deric Schneider, Mackenzie Sinks, Afton Sisney, Emily Watson, Brooklyn Wright and Hunter Young
ELIZABETHTOWN – Alexandria Armstrong, Brianna Combs, Logan Conn, Rocky Denton, Jeremy Hicks, Lexie Hopkins, Kenzie Jenkins, Evan Oglesby, Peyton Robinson and Jayci Vaughn
ENERGY – Kyle Upchurch
ENFIELD – Morganne Blazier, Emily Bolin, Shelby Heil and Torie May
EQUALITY – Tara Funk and Taylor Williford
FAIRFIELD – Sabrena Isles
FOUNTAIN CITY, IN – Donald Jackson
GALATIA – Whitney Brown, Lynley Carter, Addyson Evans, Thomas Finley, Caitlyn Higgins, Brittany Hunt, Crystal Hoehn, Daniel Martineau, Amy Stevens, Tracy Stokich, Courtney Tennison and Haylie Wilson
GOLCONDA – Danee Brantley, Barbara Bridgmohan, Ashley Jackson, Raya Moore, Kimberly Owens, Emily Powles, Hanna Trammel and Colton Vickery
GOREVILLE – Brooklyn Lewis
HARRISBURG – Jason Allen, Emille Aloffo, Cassandra Amberger, Brittny Banks, Kelly Barnes, Caleb Bartok, Keegan Bram, Bodie Beckman, Haleigh Beers, Alicia Blades, Larissa Bond, Lyndi Bowman, Dylan Brockett, Brenna Butler, Megan Cain, Maranda Chance, Lauren Choate, Olivia Christian, Chelsea Clark, Jordan Darnell, Nicholas Davis, Alicia Denbo, Mackenzie Benny, Mariah Drone, Caden Drue, Ryan Dunn, Alyssa Ervin, Kristynn Etienne, Kaci Evrard, Ashley Ferrell, Jillian Fulbright, Jacob Garrison, Hollie Gibbs, Alexandria Goff, Josh Golish, Christopher Grathler, Benjamin Grubbs, Felicia Hargrave, Georgianna Hayden, Cassandra Holt, Julia Horton, Nathan Huggins, Deidre Hill, Jason Jackson, Timothy Jeffries, Kaytlyn Keith, Scotty Kiesecoms, Collins Lambert, Noah Lambert, Vanessa Landingham, Mallory Ledbetter, Faith Leonberger, Cameron Lewis, Daniel Lewis, Ryan Luce, Auston Mahan, Kara Mallady, Blake Mathis, Ivan Matthews, Jessica Mezo, Jillian Miller, Matthew Milligan, Alexandra Mott, James O'Hara, Crystal Okerson, Robert Orange, Gianni Otto, Adrienne Phelps, Kennedy Phelps, Randell Pickett, Nicholas Pilkington, Cassie Pinkston, Hunter Ragan, Tate Reamer, Brittany Reynolds, Laura Rheude, Andrea Dillon, Nereyda Rios, Steven Riser II, Rodney Ritchason II, Jayden Roper, Justin Roper, Benjamin Ross, Michael Shelby, Mark Sheldon II, Brittney Smith, Bailey Smithpeters, Steven Smothers, Jr., Nichole Stubbs, Shelby Trammel, Quinlyn VanZant, Jacob Vaughan, Sidney Walker, Whitney Ealker, Ben Wallace, Sherri Wasson, Cassandra Watkins, Jennifer West, Seth White, Makeshia Williams, Christopher Wilson, Haley Woods and Mikayla Ziegler
HEROD – James Wasson, Tacy Wasson and Teri Winters
HUDSON, MI – Jeffery Rising
JOHNSTON CITY – Grant Anderson, Luke McCormick and Allen Montgomery
JUNCTION – Mary Luckett and Jonathon Malone
LENA – Elizabeth Gable and Christine MacDougall
MARION – Maddison Byrn and Sarah Smith
MASON – Amanda Miller
METROPOLIS – Jacob Nation
MORGANFIELD, KY – Ryan Acker and Brian French
MT. CARMEL – Lyle Culp III
NEW BURNSIDE – Nicole Capps, Hillary Harrelson, Bailey Harris and Shelby Linaweaver
NEW HAVEN – Rhesa Armstrong
NORRIS CITY – Joy Brown, Kelsea Cox, James DeLap, Justin Jones, Walker Pearce, Taylor Rutledge, Kendall Seacrist, Johnna Smith, Sarah Travelstead, Ashley Vadakin and Dakota Wheeler
OMAHA – Kalynn Higgs and David Scroggins
PARIS – Preston Crandell
POSEYVILLE, IN – Taylor Wassmer
RALEIGH – Jonathan Fricks, Jr., Abbie Hudnell, Jewel Massey
RIDGWAY – Kimberly Gross, Elizabeth Hawkins, Kimberly Kanipe and Kathleen Lawler
ROSICLARE – Christina Jackson, Aaron Lazaro and Oral Ratliff
SHAWNEETOWN – Alisha Johnson, Tameeka Marvin and David Patton
STONEFORT – Adrianne Bebout, Kimberly Gawltney, Jonathon Martin, Ashton Musgraves, Rachael Parks and Johnathan Winkler
STURGIS, KY – Dakota Jones
TAYLORVILLE – Kimberly Hendricks
THOMPSONVILLE – Lucinda Chappell, Kandice Gulley, Sarah Kelso, Colee Price, Molly Price and Savannah Sweet
VIENNA – Emily Swartz and Justine Swartz
Students earning the distinction of Who's Who Among Students in American Universities and Colleges as outstanding campus leaders of the year include (not in order and many are not pictured):
BROUGHTON – Brittney Suits
CARMI – Nicole Campbell, Mitchell Masterson and Clinton Murphy
ELDORADO – Kelsey Bartok, Jacob Richerson and Emily Watson
ELIZABETHTOWN – Alexandria Armstrong and Peyton Robinson
ENERGY – Kyle Upchurch
GALATIA – Autumn Pritchett
GOREVILLE – Brooklynn Lewis
HARRISBURG – Larissa Bond, Preston Boone, Brenna Butler, Olivia Christian, Ryan Luce, Gianni Otto, Kennedy Phelps, Jayden Roper, Jacob Vaughan, Jillian Wallace and Cassandra Watkins.
HEROD – James Wasson
###