Puppy Love Equals Less Stress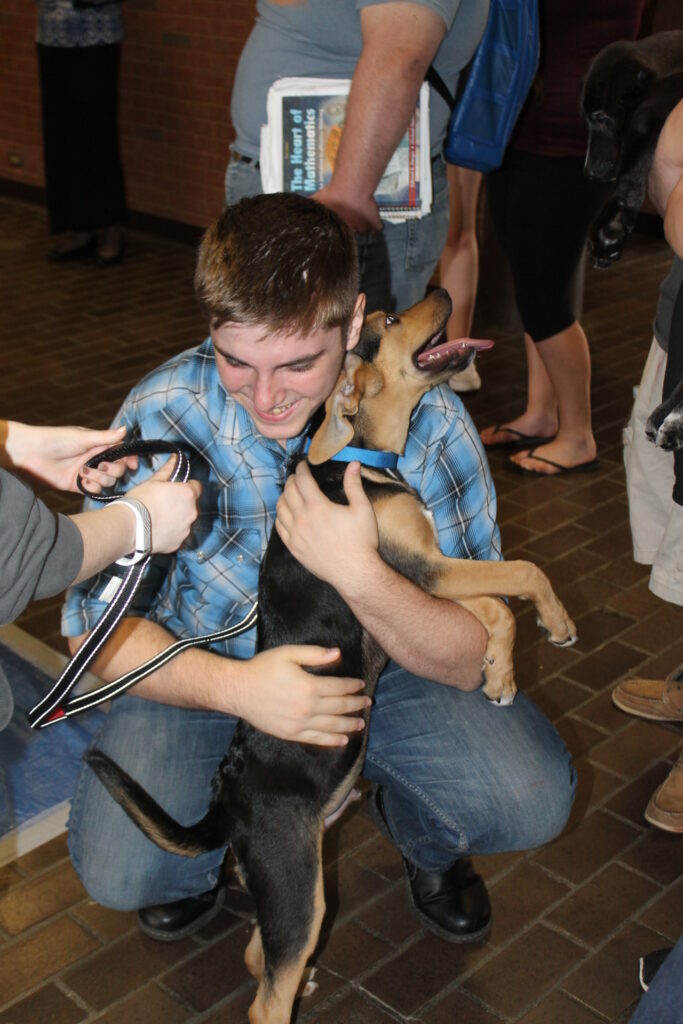 On May 10, a day filled with rigorous exams in the last week of the school year, Southeastern Illinois College students got a very exciting and friendly surprise: the college's main lobby was being visited by ten puppies from St. Francis Care Shelter in Murphysboro, Illinois.
Southeastern's Mu Psi Chapter of Phi Theta Kappa honor society had a meeting to consider service projects for the year that would interest and involve the students. That's when the idea of bringing puppies to the school during finals week was first suggested. Emily Watson, vice president of the club from Eldorado, came up with the idea of the Stress Less, Play with a Pet event as a way to create a more relaxed environment during the final week of school. In exchange for a visit, the school collected food and supplies that the local no-kill animal shelter uses on a daily basis.
"I felt that this project was a wonderful way to include the entire student body rather than just the students involved with Phi Theta Kappa," said Watson. "It gave the students a chance to spend time in between their rigorous exams playing with puppies, and a chance for the puppies to potentially find a forever home. The turnout was much greater than we expected and everyone had a lovely time!"
Many of the Phi Theta Kappa students volunteered at the event and a large amount of cleaning supplies, toys, and several hundred pounds of food were collected to donate to the shelter. Lacy Bradley of Raleigh, also vice president of the club, was one of the students who attended the event.
"Stress Less, Play with a Pet was a wonderful experience for SIC. It was a fun opportunity for the students, staff, faculty, and puppies," said Bradley.
Phi Theta Kappa is the world's largest and most prestigious two-year college honor society and was founded in 1918. It has been established for more than 90 years and is dedicated to recognizing academic excellence as well as community involvement.
###