A Journey from Community College to NASA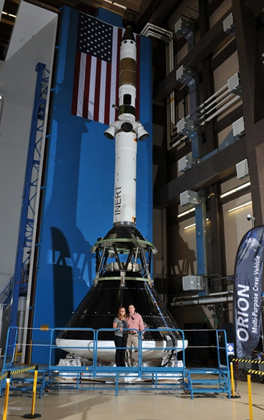 Joseph Oldham was a small-town boy with big goals and aspirations.
After growing up in Shawneetown, Oldham graduated from Gallatin County High School in 1999. Several members of his family attended Southeastern Illinois College, and his aunt, Dr. Mary Jo Oldham was a former president of the school. Because of this, it came as no surprise that Oldham decided to attend Southeastern in pursuit of an associate degree in pre-engineering.
He found not only direction, but also a home in SIC, saying, "My path at SIC is one shared with many who have walked its halls straight out of high school trying to figure out what path to take and finding it difficult to figure out what I would want to do for the rest of my life.  For me SIC was a place where I was exposed to the different demands college courses posed compared to what was expected of you in high school, while not significantly disrupting one's life outside of school."
Oldham expressed that SIC gifted him with a plethora of skills, including strong study habits. He explained that he was struggling to find inspiration to really push himself in his laborious math and science courses and was astonished when a professor at SIC told him that in order to truly 'get' it, he needed to dedicate  two or three hours of studying for every hour of class time. While this appeared to be a difficult feat, Oldham eventually learned how to convince himself that what he was studying was genuinely interesting, a way of thinking that has had long-lasting effects on his approach to life.
Dr. Steve Rea spoke very highly of Oldham, saying, "He was very bright. All of the instructors loved him. A very impressive young man."
Rea went on to explain that due to the instruction Oldham received at SIC, particularly from Alan Morgan and Dr. Frank Schneider, transferring to the University of Illinois was quite a simple transition. Rea elaborated that once Oldham was at U of I, he was significantly more advanced than students who had attended the four-year university beginning their freshman year.
Oldham credited these three professors, in addition to many others with having incredible influence in molding him into the person he has become. Speaking of Morgan, Oldham stated, "He was truly a high quality math professor, even though I didn't realize it at the time I took his courses. He was as good as they come."
After graduating from SIC in 2001 with honors and an associate degree in both science and engineering science, Oldham chose to further his education by finishing his Bachelor of Science in Engineering Mechanics at U of I in Champaign-Urbana.   He then attended Bradley University, earning his Master of Science in Mechanical Engineering Focus in Computational Mechanics.
However, Oldham's success is by no means limited to academia. He currently resides near Denver, Colorado, with his wife, Jessica, and their young son, Oliver. In addition, Oldham works for NASA's primary contractor, Lockheed Martin Space Systems Company.
Oldham and his team are developing the Orion spacecraft, which will be used for a US mission to Mars. He explained that Orion is similar to the Apollo mission conducted in the 1960s and 70s. Oldham works as a structural dynamicist.
He explained his job by saying, "I help work out many things on the Orion spacecraft from how the parts of the ship will separate during flight staging events or how hard the air will pummel the outside of the craft on its way to space, to how the parachutes are launched from the capsule to slow the spacecraft before landing."
More information about the Orion spacecraft, scheduled to fly in 2018, can be found at www.lockheedmartin.com.  Orion is currently undergoing assembly and testing at NASA's Kennedy Space Center in Florida.
Oldham has been successful to say the least. As a child, he was mesmerized by dinosaurs and space. Thanks to his involvement with our nation's efforts of space exploration, Oldham feels as though he has achieved his childhood dream.  He, however, remains grateful for SIC helping him find direction and providing a strong foundation on which to build, both academically and professionally.
"SIC and the support of my family provided a firm foundation for me to chase what once felt like insurmountable challenges and enabled me to call them achievements, and I am very appreciative of this," said Oldham
He went on to say, "Southeastern Illinois College offers an invaluable service to all the small rural communities it serves.  I am only one of many others who have benefitted from the college's resources in the pursuit of knowledge to better myself and to attempt to set a course for success in my life endeavors."
Registration is going on now for fall semester at SIC, which begins Aug. 14.  For more information about classes, visit www.sic.edu, call 618-252-5400 ext. 4130 or email advising@sic.edu.
###
Written by SIC Student, Shannon Welker.