Forensic Falcons Go Gold, Preparing for National Tournament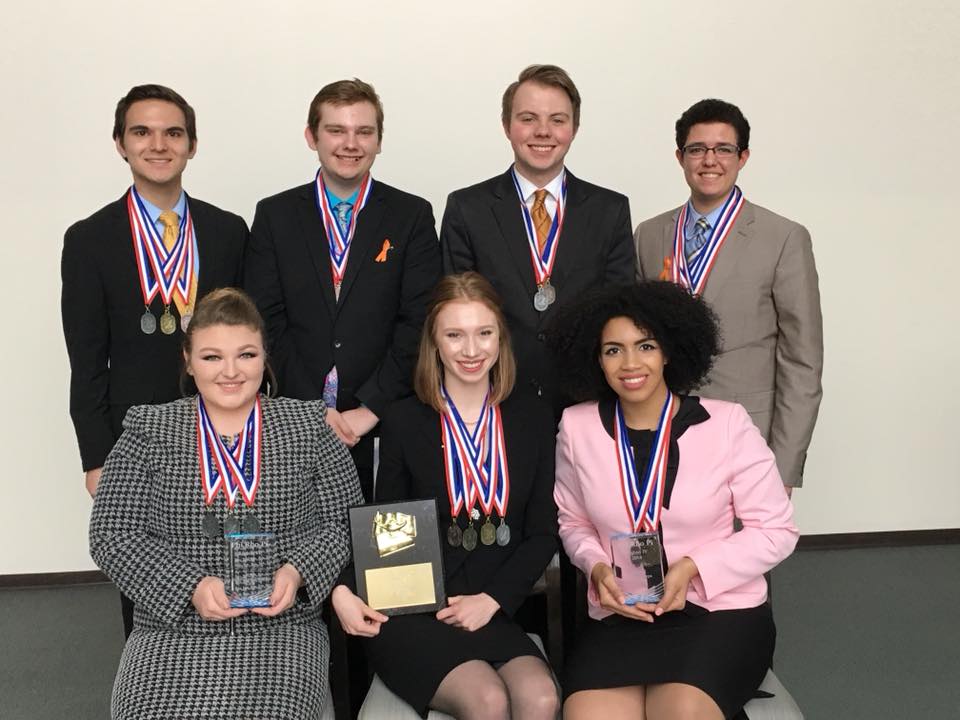 Southeastern Illinois College Forensic Falcons bested competitors from across Illinois March 23-24 to earn a gold medal at the Phi Rho Pi Regional Championship Speech Tournament at Moraine Valley Community College in Palos Hills, Illinois. This win was the final tournament before the team heads into the Phi Rho Pi National Tournament in Daytona Beach, Florida.
The team captured a gold medal in overall competition after earning a gold medal in individual events. Notably, every member of the regional team advanced three or more events to elimination rounds.
The public will have an opportunity to watch this award winning team in action on Thursday, April 5 at 7:30 p.m. in the George T. Dennis Visual and Performing Arts Center at their annual event, Night Before Nationals. Tickets are a minimum donation of $5.
Below are individual results from the Regional Tournament:
Braden Cummins, Carrier Mills: 2nd individual sweepstakes, Gold in Prose Interpretation, Silver in Program Oral Interpretation, Silver in Duo Interpretation, Bronze in Speech to Entertain
Kaydee Dycus, Mt. Vernon: Don Haggerty fellowship award, 3rd in individual sweepstakes, Bronze in Persuasion, Silver in Communication Analysis, Gold in Prose Interpretation, Gold in Dramatic Interpretation
Cheriaca Huntley, Carrier Mills: 5th in individual sweepstakes, Gold in Poetry Interpretation, Gold in Dramatic Interpretation, Silver in Persuasion
Chanse Tullis, Springerton: Silver in Prose, Silver in Dramatic Interpretation, Silver in Duo Interpretation
Donovyn Valdez, Carrier Mills: Bronze in Communication Analysis, Gold in Informative Speaking, Silver in Impromptu Speaking
Angelica Harrelson, Eldorado: Silver in Persuasion, Silver in Dramatic Interpretation, Silver in Prose Interpretation
Jordan Fricks, Eldorado: Bronze in Impromptu, Silver in Extemporaneous Speaking, Bronze in Informative Speaking
###