Hunter Banks wins 2019 Paul Simon Essay Contest at SIC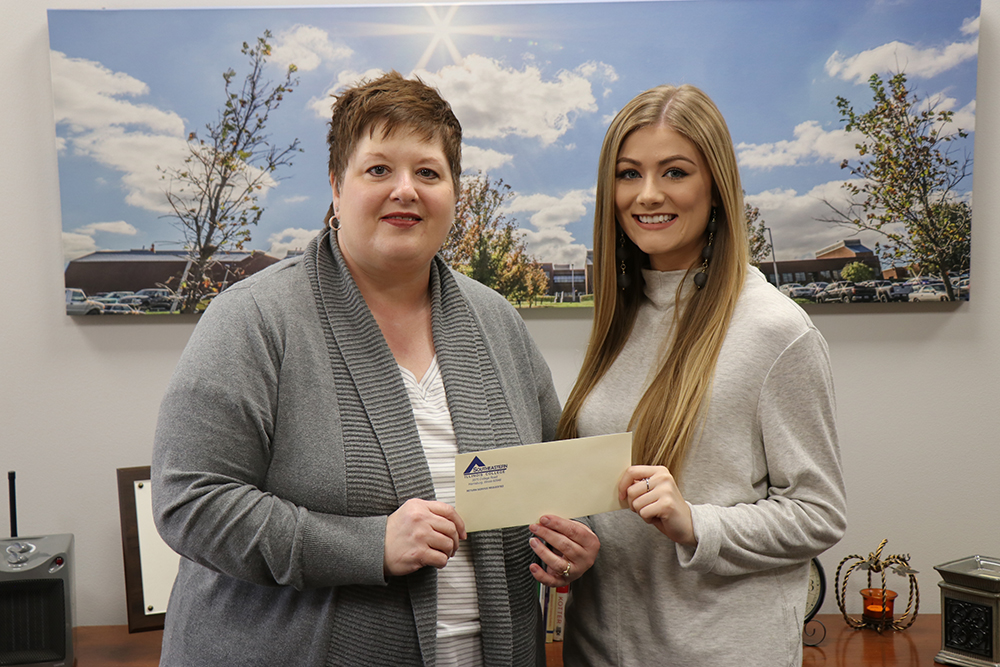 A student essay reflecting on how the promise of an accountable, accessible and affordable education at Southeastern Illinois College has impacted her life has earned Hunter Banks of Ste. Genevieve, Missouri the 2019 Paul Simon Essay award at SIC.
"Winning this essay contest honestly feels like the beginning of my writing career," said Banks. "It's things like this that reassure you that you are on the right path."
Graduating from SIC in May with her associate in arts degree,  Banks will continue her education at either Southeast Missouri State University or the University of Missouri, where she will major in journalism.
"SIC has been the foundation of my education," said Banks. "It really has paved the road to where I will go next, and what I want in my academic career. I am very grateful to have attended SIC."
Dr. Karen Weiss, SIC vice president of academic affairs, congratulated Banks on her award and presented her with a $50 check.  Banks' essay will be entered into the Illinois Community College Trustees Association's Paul Simon Student Essay Contest at the state level.  The winner of that contest will receive a $500 scholarship during an annual awards luncheon this summer in Normal.
"I would say I have gained a lot of confidence from attending SIC," said Banks. "I am more confident in my ability to perform in the classroom; in my decision making; and in myself in general. I feel like I have solid footing for my future because of SIC."
For more information on the contest, call 217-528-2858, ext. 1.
 ###
 Banks' essay by permission:
 How My Community College Changed My Life
By: Hunter Banks
            "Accountable, Accessible, and Affordable": these are the words illustrated at Southeastern Illinois College that have impacted my life. As a high school student, I stressed over future costs of higher education. When calculating tuition rates, obtaining my degree seemed beyond the bounds of possibility. Further, I was unsure of my career path and convinced that regardless of where I attended, I would not succeed past my first semester. My outlook on earning my degree changed when I looked in the academics at Southeastern; here I found possibility, and hope for a bright future.
The tuition rates at Southeastern are highly affordable, as they are some of the lowest in the state. It has been a blessing to attend a school where I am saving tens of thousands of dollars receiving the same level education I would at a university. Furthermore, I have been able to explore different areas of study before attending a university, which has been beneficial in deciding a definite career path.
Southeastern allowed me to ease into the college life. As someone with an introverted personality. I felt the weight of pending lecture halls and large student bodies that awaited me at university. At Southeastern, I could grasp this social life in a much more condensed setting. I feel this small environment has given me the confidence in attending a larger institution. Moreover, receiving one on one help from professors has aided in my success in the classroom.
In contrast, having the opportunity to take an extended number of online classes has been instrumental to my schedule. Being a college student means balancing many duties including, homework, class schedules, and work schedules. So, having the opportunity to take online classes each semester has substantially helped in stabilizing my hectic schedule. Furthermore, the online instructors of Southeastern have made this experience more manageable through their active involvement.
At Southeastern, I not only found a good source of education, but a job as well. Through their Work Study Program, I landed a position in the Financial Aid Office my first semester. Having an on-campus job has been rewarding with being a college student because I have had the advantage of flexible work hours. Likewise, having the weekends off has granted me additional time to prepare for my courses, and focus on my GPA. Thus, being employed at SIC has been most opportune in earning an income and saving money.
I found the beginning of my future at Southeastern. Here, I found a passion for writing, and a drive to succeed. I have also met some wonderful friends who I hope will forever be a part of my journey. In the same way, I gained the confidence to continue my education after earning my associate degree this upcoming spring semester. I give all my thanks to this remarkable community college for shaping the person I am today; I could not have done it without my instructors, advisors, and the opportunities Southeastern has provided me.
###