Bill Jones Excavating Moves Dirt in Southeastern Illinois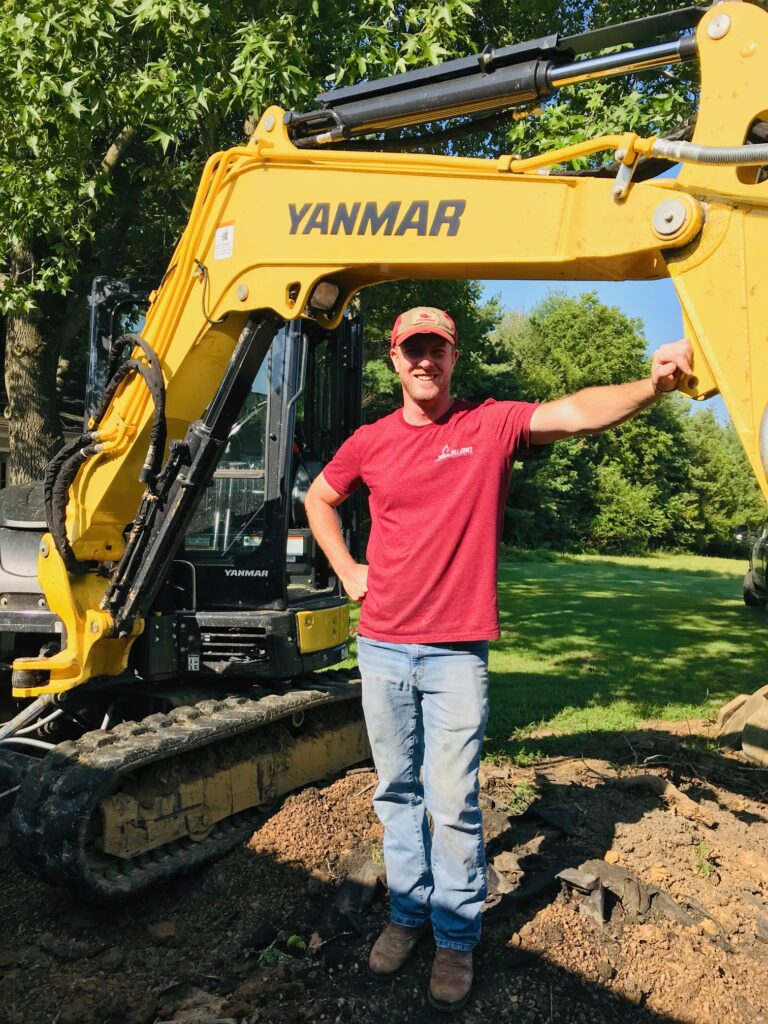 Bill Jones has taken his lifelong love of playing in the dirt to a whole new level.
From many years spent farming the fields in Southeastern Illinois to his newest venture, Bill Jones Excavating LLC, Jones knows how to move earth and make the final result beautiful.
Jones started the business for a variety of reasons. He has worked in farming for many years for larger operations. He and his family are also in the process of bringing an old family farm into a modern business. While working a regular day job, he realized the timing of his own crops are precious and needed to find work that he both loved and could be flexible with his existing goals.
"Farming is a tough, competitive business and finding productive land is the biggest challenge," said Jones. "The reality is, as the average age of farmers keeps going up, land opportunities will come without taking from the tables of my neighbors. Farming just over 400 acres gives me time to dedicate to Bill Jones Excavating."
Much like Jones' crops, the idea for excavating was cultivated with care and consideration.
From smoothing driveways and pond banks, digging trenches, removing old landscaping and limbs, digging out tree stumps, and more; Jones has found the services he provides make the process much less time consuming and more efficient than what a property owner could do themselves.
"I can show up and complete a job for less than a person can rent a machine and do it themselves. I don't know many homeowners that wouldn't like to improve areas of their property. You may need a piece of equipment but can't justify a purchase. As an insured and experienced operator, I can get the job done," Jones said. "I designed an equipment package that is highly mobile, yet comparable to the size of a backhoe and can be moved with a heavy duty pickup truck, fast and easily. My trailer also doubles as a gravel spreading tool for small or hard to reach locations."
Jones utilized the Workforce and Illinois Small Business Development Center at Southeastern Illinois College months before the business launched.
"It's scary going into business," Jones said. "I wanted to make sure I covered all my bases and that's why I called the SBDC. I didn't go into this knowing what to do. I needed that guidance. You are looking for the unknown and unexpected and the SBDC can give you that foresight."
Jones explained that starting a business with his wife, Amanda, also while raising their three children, wasn't easy. There were unexpected expenses, necessary purchases, and changes to their daily life. But Jones said the end result is worth the pain as he is now doing what he loves and is motivated by his family. Jones said he would suggest that anyone going into business should plan for spending 20% more than what they plan. He also said it's important to really enjoy your work.
"Do what works for you and do what you know," said Jones "If you ask me the one thing I am good at, it's running an excavator. I like doing it."
Bill Jones Excavating LLC can be found on Facebook. For more information or to schedule a free estimate, call Jones at 618-841-4627.
The Workforce & Illinois Small Business Development Center is designed to assist owners and managers of small businesses as well as anyone wanting to start a business in the area. Most of their services are available at no charge. For more information about the WISBDC and their services call 618-252-5400 ext. 2312.
###