SIC 2021 Paul Simon Essay Contest Winner is Lillyana Gephart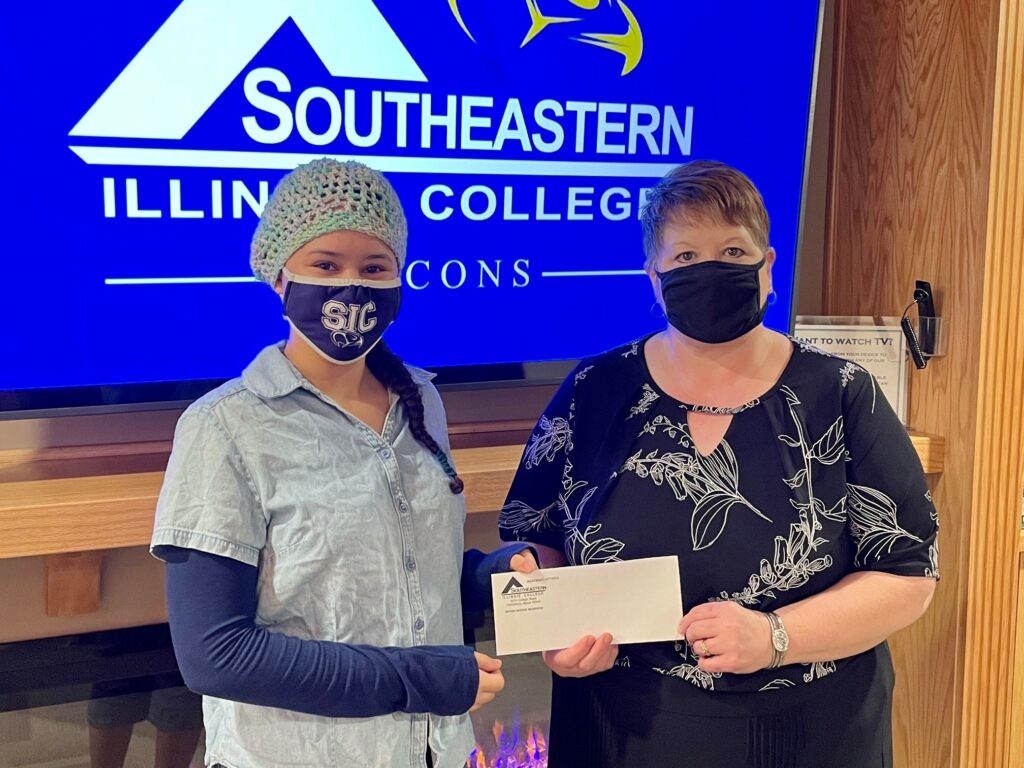 A student essay reflecting on how community college has given her life new direction has earned Lillyana Gephart of Tunnel Hill the 2021 Paul Simon Essay award at Southeastern Illinois College.
Gephart grew up traveling with missionary parents, spending much of her time in the Dominican Republic, where she attended high school. She is currently a student at SIC, works as a mentor for SIC's TRIO program helping other students, and works for a local accountant. Her future aspirations are to run a business to help missionaries in the field with fundraising and other needs on the business side of things, such as taxes.
"Having been involved in missionary work and seeing firsthand some of their struggles, especially with finding enough funding to do their mission work effectively, I believe I can put what I'm learning in business classes and at work to use in helping missionaries from here in the United States," said Gephart.
Gephart, though not always sold on higher education, has enjoyed her time at SIC and is passionate about using her education to help others. When asked about winning the Paul Simon Essay Contest, she says she was just being honest.
"I applied for this contest because I try to apply for whatever is available so that I can amass enough to get me kickstarted for either further education, future ministry work I hope to start one day, or whatever else God has for me," said Gephart. "Though the essay started out for these reasons, it flowed as I was writing it and came from my heart. When I was told I won, I was so excited I got up and started jumping all around, and then ran outside in my house slippers to tell my grandfather. It was less about the prize at that moment and more about having the words from my heart being recognized."
Gephart's essay will be entered into the Illinois Community College Trustees Association's Paul Simon Student Essay Contest at the state level. The winner of that contest will receive a $500 scholarship during an annual awards luncheon this summer in Normal.
For more information on the contest, call 217-528-2858, ext. 1.

Gephart's essay by permission:
How the Community at My Community College Has Changed My Life
I never really wanted to go to college. I completed the lower grades as a home-schooled student and later completed high school in another country. What I knew about college did little to spark any desire. Most of my life I was raised as a missionary kid, and I had learned that professional education was not everything in life. After taking a year break after high school, I found myself staying with my grandparents and my younger brother in the United States. My brother was doing dual-credit classes, and when he was signing up for the next semester, somehow, I signed up too.
At that point, I had never had a real job, and I had no clue what I wanted to study; so, I began with general classes. I loved it! I had been so used to such inconsistent learning environments, and this was the first time I was able to feel actual growth. The teachers were amazing and passionate, and the topics were all so new to me I could feel myself maturing at a rapid pace. I completed general classes for the next semester as well. I was able to take a variety of classes and gain understanding that transferred to my everyday life. My third semester I finally decided on Business Management. It's funny really. Up until this point, I had taken no business courses; however, I had so much faith in the teachers and the belief that I would gain knowledge that would be with me for any circumstance, I had no hesitation.
It was the right decision for me. My business teacher has been the most kind, assistive, and consistent person for me academically since I can remember. My college has been the best thing for me. It gave me a place to re-adjust culturally and to learn and expand my knowledge and wisdom on many topics. I have been able to make amazing friends and do actual "friend things" for the first time. I joined a club that allowed me to interact with other Christians. I was even able to get my first job at the college. In my three semesters up until this point, I have been on the President's list twice, the Vice President's list once, and have taken 18 classes total not counting this new semester.
At the start, I may have been semi-tricked into signing up, but it has been the best thing that could have ever happened to me in this phase of my life. I have grown immensely, and I now have direction in my life. I love my college; I love my teachers; I love my friends; I love those with whom I work, and above all, I love the community that I have found for myself here at my community college.
###