Howl at the Moon is Back in Saline Co. Feb. 19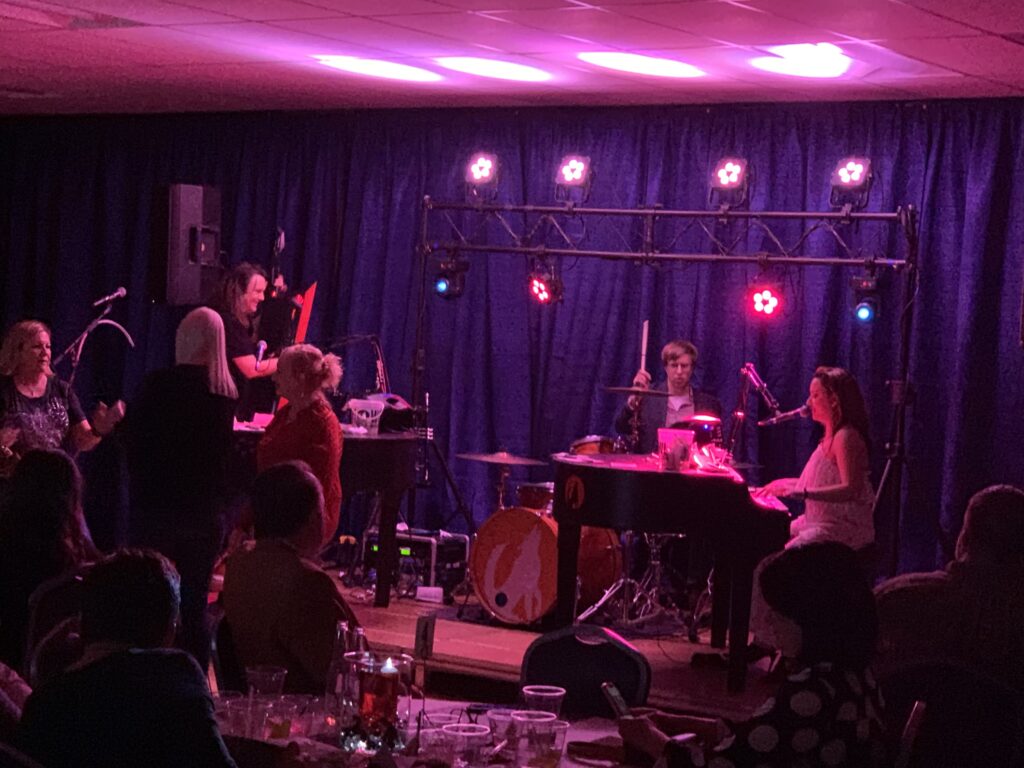 Howl at the Moon Dueling Pianos will be back in town Saturday, Feb. 19, with Concert for a Cause, a fundraising event between Ferrell Hospital and Southeastern Illinois College.
Concert for a Cause will be held in SIC's Deaton Gymnasium with masks required for entry. Doors open at 5:30 p.m. with an included pasta buffet by the SIC Falcon Pointe Bistro and cash bar ready for enjoyment. Then at 7 p.m., the dueling pianos show begins.
A silent auction will also be available not only to guests, but anyone online! The auction will be opened a few days before the event. To register and bid, participants should visit http://bidpal.net/concert2022. Winners who are not present at the event will need to arrange a day/time to pick up their items. Winners can pay with the credit or debit card from the site or pay by check or cash in person.
"We are thrilled to be able to partner with Ferrell Hospital again to bring back this fun event for our community," said Dr. Jonah Rice, SIC President. "For SIC, every dollar we raise right now will be doubled by a federal grant, so come out, have fun, purchase auction items and know that every dollar you spend is multiplied toward helping our students!"
Proceeds from the event will fund services for the new Hematology and Oncology Services at Ferrell Hospital. Students from SIC will now be able to rotate and learn about the cancer services currently offered to our service area.
"We are delighted to partner with SIC to help raise funds and awareness for the Cancer Pathways program.", said Alisa Coleman, Chief Executive Officer for Ferrell Hospital. "Cancer Pathways is an essential social-emotional program, and SIC students will benefit tremendously by learning more about this aspect of cancer care."
Cancer Pathways Midwest works alongside Ferrell Hospital to deliver individualized support and resources to anyone impacted by cancer including wellness activities, social connections, education, emotional support, nutrition and more. Cancer Pathways Midwest services are free of charge to any person with cancer, their caregivers, family and friends regardless of where cancer treatment occurs. More information can be found at https://cancerpathwaysmidwest.org/
Howl at the Moon (HATM) pits musician against musician with high-energy live music centered on dance hits and party anthems. The musicians bring in all their own equipment and take requests by the audience in all genres of music. They continually engage with the audience, and much dancing can be anticipated. The first HATM opened in Cincinnati in 1990, and now has locations in major cities all over the U.S. and internationally. The event will feature the traveling version of HATM, which is Howl2Go.
Tickets are $35 per person, $60 per couple and $250 for a table of eight. The pasta dinner is included in the ticket price.
Corporate sponsorships for the event are also being accepted. Levels range from $300 to $2,000 sponsorships with tickets to the show and varying degrees of publicity.
Tickets and sponsorships can be purchased online at http://bidpal.net/concert2022. For more information, to purchase tickets by phone, or for detailed sponsorship information, visit sic.edu/howl or call 618-297-9611.
###