SIC Holds Employee Recognition Ceremony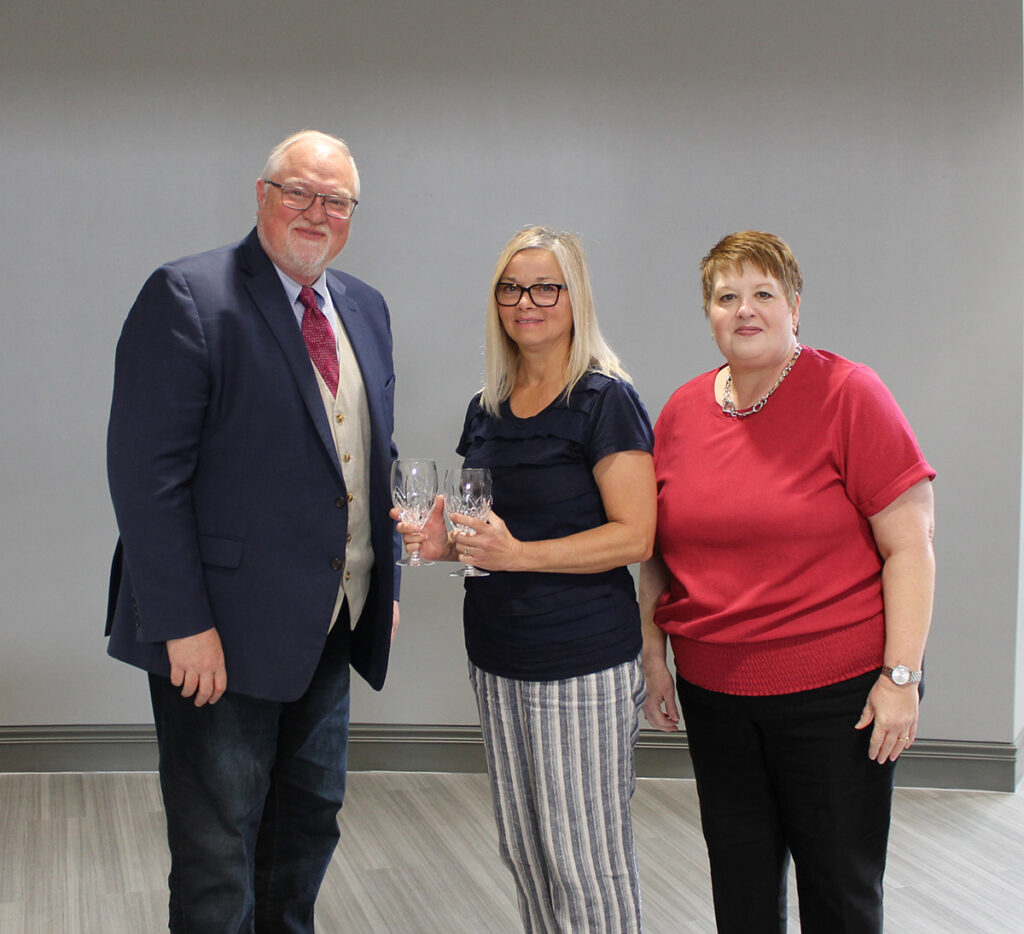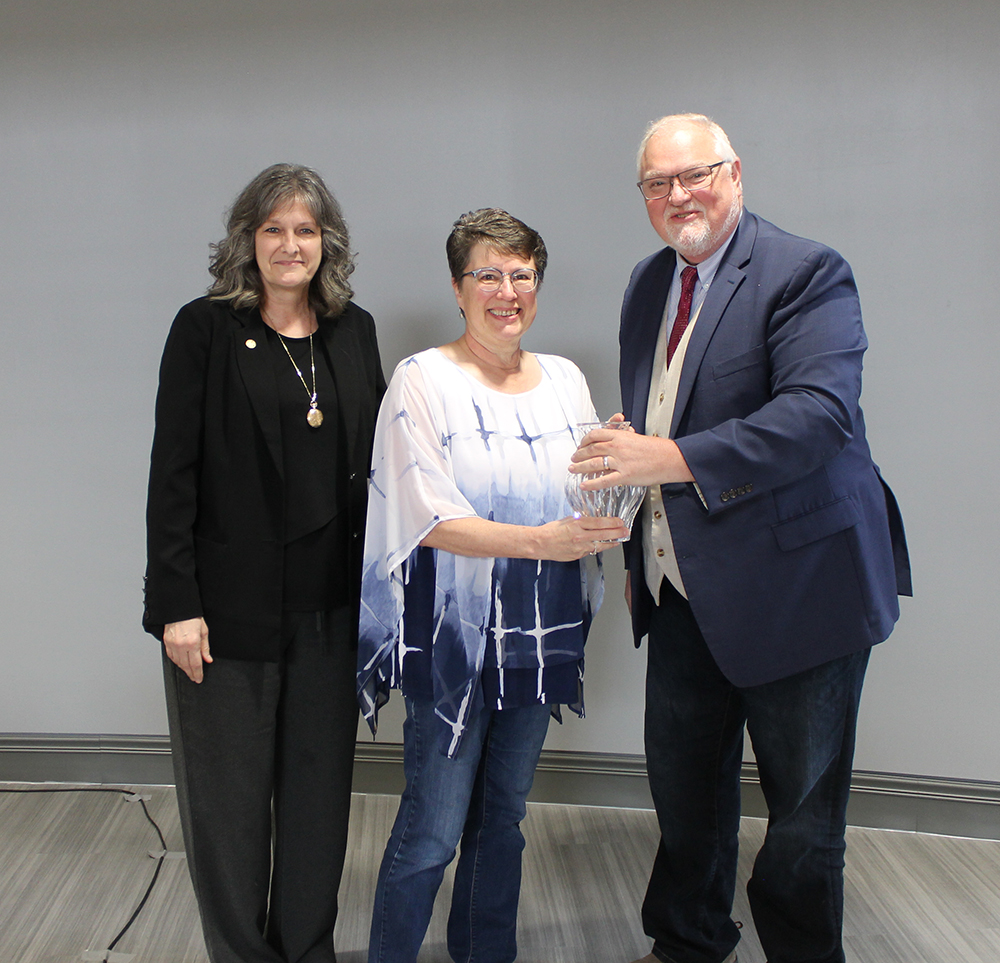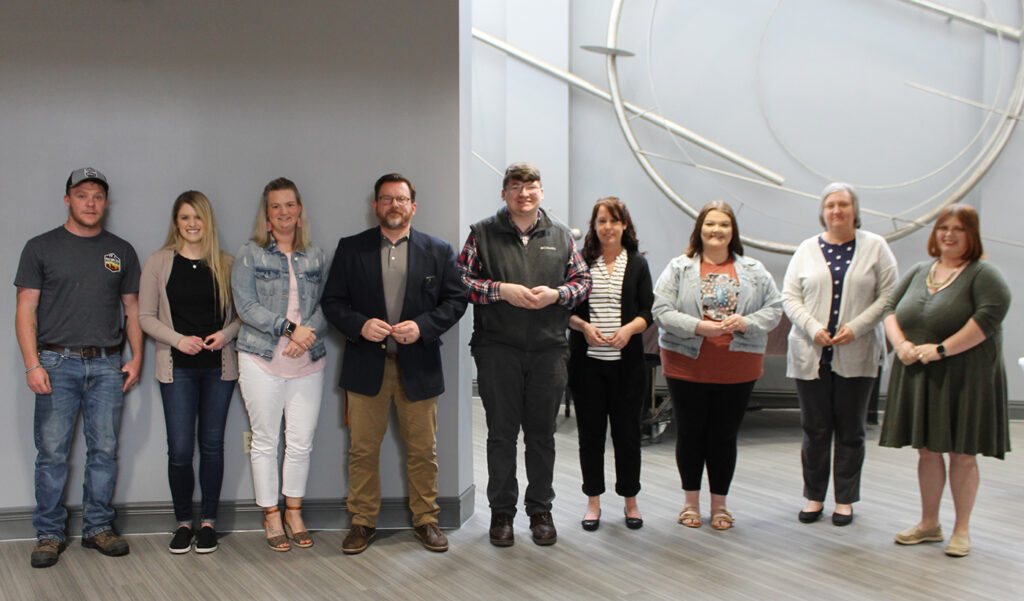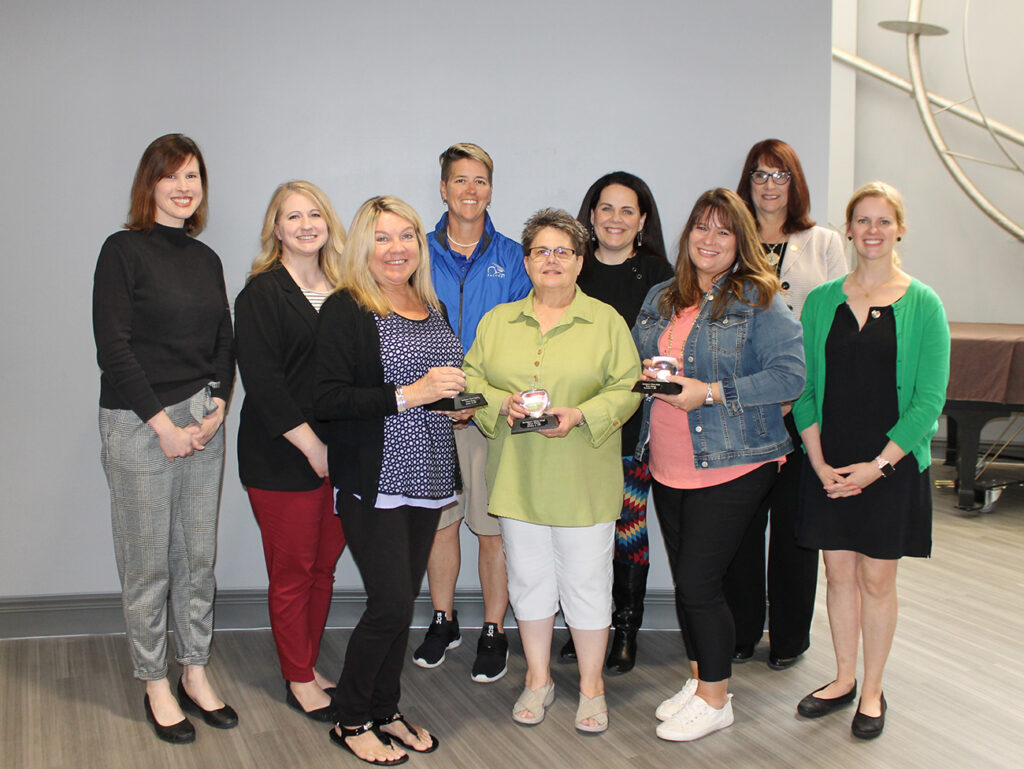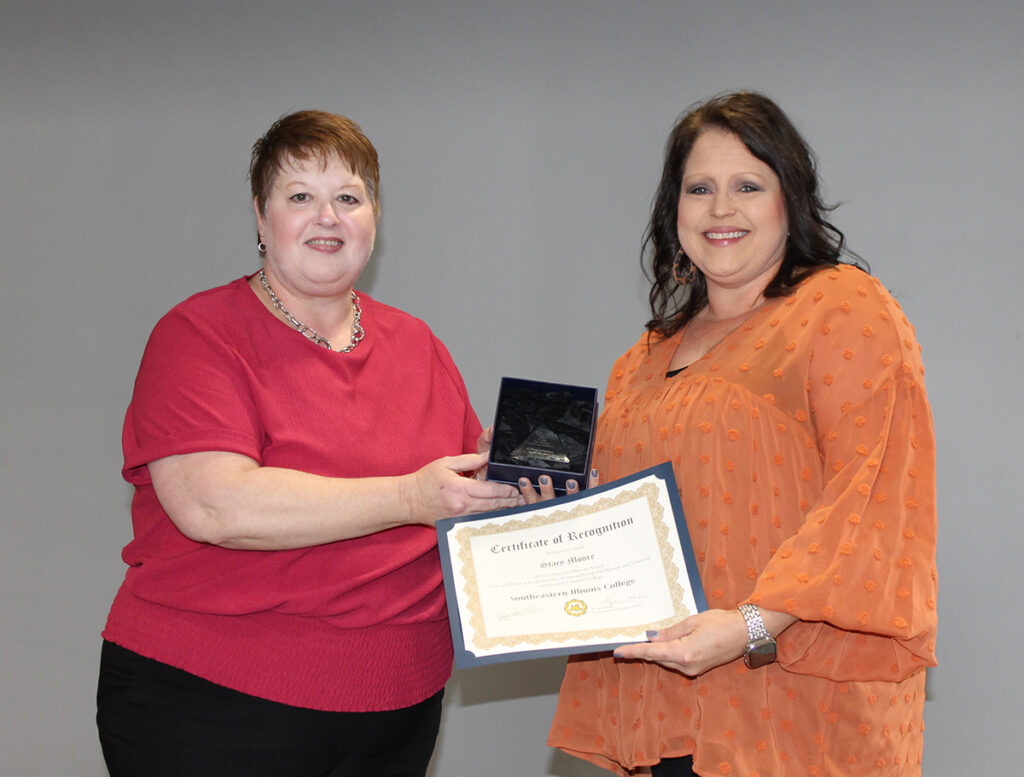 Southeastern Illinois College held its annual recognition event to honor employees for special awards, full-time milestone service, and retirements April 21 in the George T. Dennis Visual & Performing Arts Center. Dr. Tyler Billman, Executive Dean of Academic Services was the emcee for the event.
Awards began with special recognition of the state, regional, and national award-winning Forensic Falcons coaches, Jenny Billman (director), Paul Cummins, and Dr. John Corum – all of Harrisburg. Model Illinois Government coach Matt Lees of Marion was also recognized for taking his team to the top victory allowable at the state competition again this year with numerous top individual student awards.
Two employees were recognized for earning the top degrees in their fields. Dr. Chris Barr of Marion (Executive Dean of Institutional Effectiveness) achieved his Doctor of Education Degree from Missouri Baptist University, and Dr. John Corum of Harrisburg (veterans and international students advisor and Forensic Falcons coach) earned his Doctor of Philosophy Degree in Literature from University of Indiana at Pennsylvania.
Stacy Moore of Johnston City, Director of Auxiliary Services, was awarded the Living the Mission Award for her service and leadership in activities that demonstrate and capture the spirit of SIC's mission and vision. She was touted as one of the most helpful, hard-working people on campus, as well as one of the most creative and talented. She has been with SIC for 16 years.
Greenies, or those who are in their first year of full-time employment at SIC include Paul Camaione of Mt. Vernon (network technician), Melissa Comstock of Kirksville, Missouri (tutoring initiative grant coordinator), Kimberly Hambleton of Carrier Mills (administrative assistant to the executive dean of institutional effectiveness), Morgan Jones of Harrisburg (toddler room teacher), Gina Montes of Laguna Vista, Texas (tutoring initiative grant support staff), Joe Pond of Marion (CDL instructor), Katelyn Prince of Carrier Mills (toddler room teacher), Brian Rick of Marion (CTE navigator), Tracey Smith of Rosiclare(administrative assistant to the executive dean of academic services), Todd Spellman of Evansville (student success coach), Audrey Talbott of Harrisburg (adult education program support specialist), Erik Wolf of Carrier Mills (assistant to director of environmental services), and Kendra Zirkelbach of Marion (communications and relations specialist).
Those serving SIC in a full-time capacity for five years include Lisa Dye of Harrisburg (executive assistant to the president) and Rachel Parish of Harrisburg (high school recruiter and dual credit coordinator).
Ten-year veterans of SIC include Jenny Billman of Harrisburg (English and communication instructor and director of forensics), Maggie Calcaterra of Marion (psychology instructor and head softball coach), Jeremy Irlbeck of Harrisburg (athletic director and head baseball coach), and Cara Lehman of Harrisburg (assistant director of financial aid). Jenny Billman was also recognized formally for the Loren P. & Velma Dallas Outstanding Teacher of the Year Award, and presented a $500 check.
In their 15th year with the college are Amy Murphy of Harrisburg (director of nursing) and Jennifer Roehm-Scheffer of Marion (Spanish instructor).
Anita Lowery (TRIO/SSS program education and technology coordinator) is celebrating 20 years with SIC. Three are celebrating 25 years with the college: Tonya Johnson of Harrisburg (child study teacher), Tammy Kearns of Carrier Mills (Pre-K teacher), and Kellye Whitler of Harrisburg (events coordinator).
Lastly, two employee retirements were announced this year. Jerri Harbison of Harrisburg (math instructor) and Marcey Martin of Carrier Mills (former administrative assistant to SBDC).
Math instructor Kim Martin spoke on behalf of Harbison to tell of her achievements and accolades from students over the course of a 34-year teaching career during which she touched the lives of thousands of students. Harbison is a graduate of Harrisburg High School (HHS) and SIC. While at SIC, she not only earned the June Rice Malan Memorial Math Award for the top calculus student, but she also won the Speaker of the Decade award for her achievements in impromptu and extemporaneous speaking as a member of the speech team.
She later taught at HHS for 20 years before taking a position at Isadore Newman School in New Orleans, a private college prep school, and finally returning to southern Illinois to teach at SIC. Harbison was also awarded the Outstanding Assessment Award at the ceremony.
Marcey Martin has been with SIC for 23 years as the administrative assistant to the Small Business Development Center, in addition to other responsibilities such as team lead for spotlight days and coal mine competitions, various committees, campus tour guide, etc. Vice President Dr. Karen Weiss said she was always ready to step up and do whatever was needed.
Several SIC retirees also came back to honor this year's award-winners and newly announced retirees. The event included a pasta buffet for those in attendance by Chef Michael Intravaia of the Falcon Bistro.
###