Southeastern Illinois College Basketball Players Earn National Honors for Athletic and Academic Excellence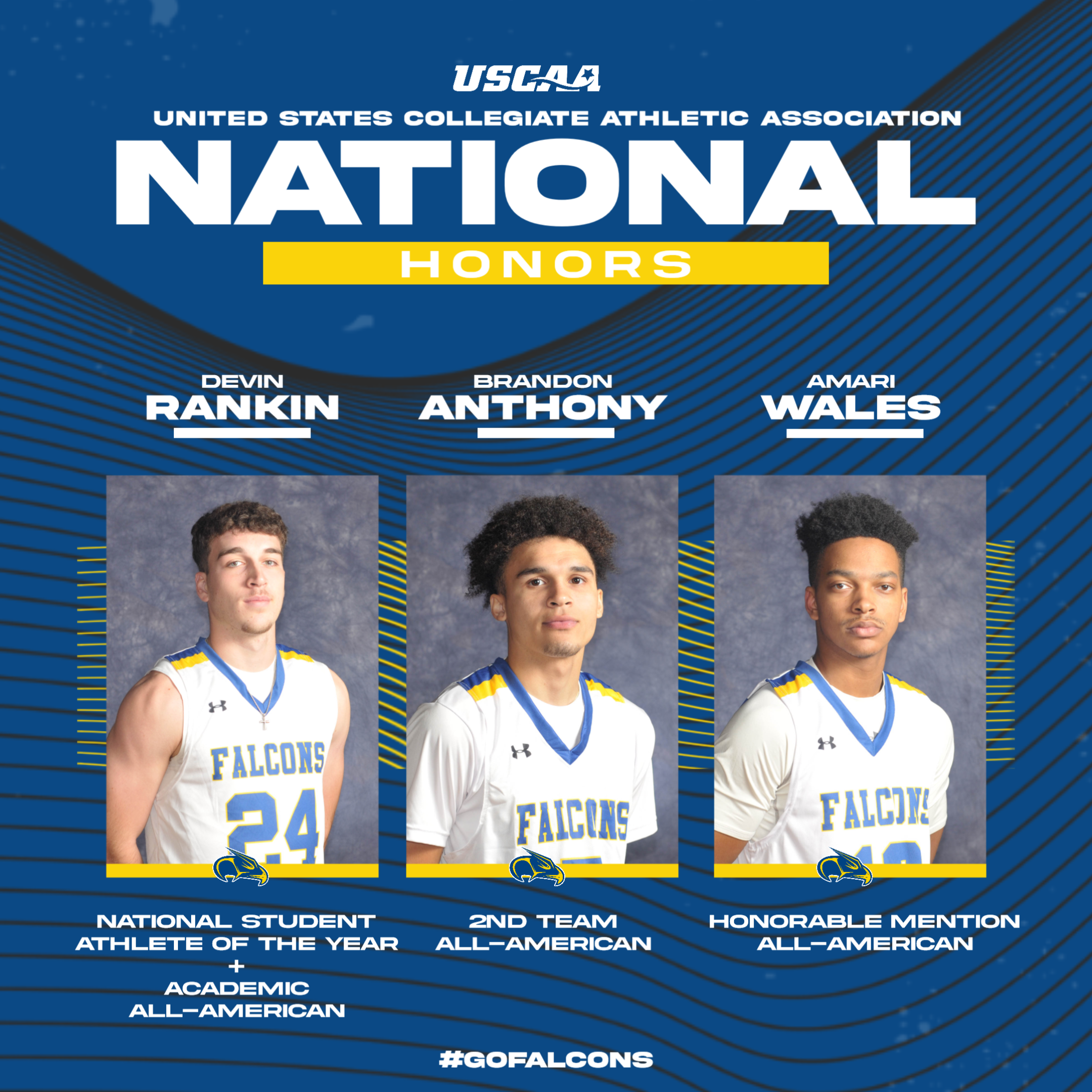 The Southeastern Illinois College men's basketball team capped a successful year with three players receiving post-season honors from the United States Collegiate Athletic Association. The awards were announced at the Small College National Awards Ceremony at Virginia State University on March 12th.
Brandon Anthony, a sophomore from Herrin, Illinois, was named to the USCAA All-American 2nd team for his outstanding performance on the court this season. Anthony, the starting point guard for the Falcons for two seasons, averaged 14 points, 5 assists, and 4 rebounds per game. He notched a career high 31 points and 11 assists in a game against Kaskaskia College on November 18th which earned him National Player of the Week honors for the week of November 14th-18th.
Amari Wales, a freshman from Owensboro, Kentucky, was also honored as he was named to the USCAA All-American Honorable Mention team. The high-flying guard was the leading scorer for the Falcons this season, averaging 17 points per game and adding 4 rebounds per game.
In addition to their on-court achievements, SIC also had a standout academic performer in Devin Rankin. Rankin, a sophomore guard, was named to the USCAA Academic All-American Team. This honor is given to student-athletes who maintain a 3.50 or higher GPA and have completed at least 24 credit hours. Rankin exceeded this with a 4.00 GPA through 57 credit hours. These academic achievements also earned the Carmi, Illinois native the National Student-Athlete of the Year award at the awards ceremony.
Anthony, Wales, and Rankin are joined on the All-American and All-Academic teams by student-athletes selected by the USCAA National Committee from a range of two-year and four-year institutions including NJCAA, NAIA, and NCAA programs from across the country.
Coach Sam Swinford expressed his pride in the player's accomplishments. "These honors are a testament to the hard work and dedication of our players, both on and off the court, said Swinford. "These three didn't chase these awards, instead they bought into our goals as a team and their teammates and now are honored as individuals. I am so proud of each of them."
He also congratulated Devin Rankin on his academic achievement, stating that "Devin has been an outstanding student-athlete and a true leader on our team. We are proud of his accomplishments and I look forward to his continued success in all that he does."