Two Prestigious Honors Bestowed on Southeastern's Allan Kimball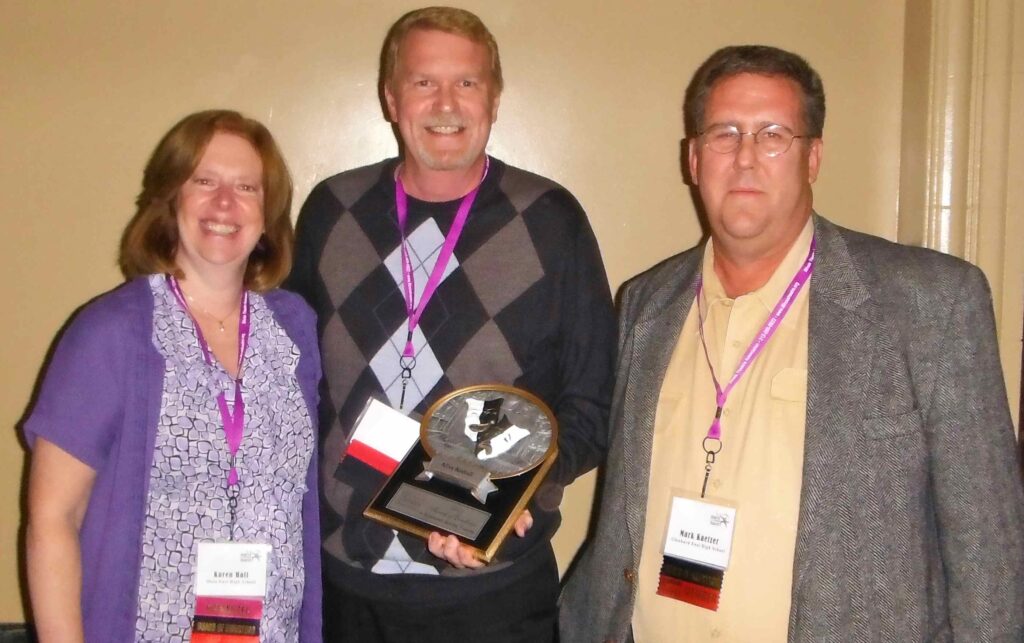 Allan Kimball, theatre director and humanities co-chair at Southeastern Illinois College, is the recipient of two highly coveted honors, the WP Sandford Award for Service to the Illinois Speech and Theatre Association (ISTA) and the Illinois Theatre Association (ITA) 2012 Award of Excellence in Secondary School Theatre.
The Sandford award was presented at last year's Illinois Speech and Theatre Association Convention, and the ITA award was presented in September at the Illinois Theatre Association's 39th Annual Convention, Ignite Your Creative Spirit, held at the Irish American Heritage Center in Chicago.
"Each year, the Illinois Theatre Association (ITA) recognizes both individuals and organizations for their significant contributions of promoting quality theatre throughout the state of Illinois. Allan Kimball was nominated by the Illinois theatre community, approved by ITA's divisional representatives, and accepted by ITA's board of directors. We are thrilled to provide this much-deserved recognition to Mr. Kimball," said Aimee-Lynn Newlan, ITA's executive director.
"My time in this organization has been the best experience of my professional life. Working with these amazing mentors from across the state has given me the rare opportunity to learn from and work with the best in the field. I am truly appreciative of the recognition," said Kimball.
The WP Sandford Award recognizes Kimball for his outstanding work with the Illinois Speech and Theatre Association, now the Illinois Communication and Theatre Association, and is the equivalent to a lifetime achievement award. It is given to individuals who have made significant contributions to the fields of speech and theatre over an extended period of time.
Kimball has been a member of the association for over 20 years and has served as its membership chairman, president elect, president, and past president. Over the years, he presented on numerous panels at the state convention, covering subjects as diverse as stage makeup, technical theatre on a budget, contest plays, coaching interpretive events, and many others.
The second achievement, the Illinois Theatre Association Award, is for exemplary work with high school theatre in the state of Illinois. Even though Kimball now teaches at a college, the award focuses on his work with secondary school theatre over an extended period of time. Kimball was the drama coach for DuQuoin High School from 1985 -1998. During that time, he had numerous plays advance to the IHSA state drama competition. He also started working with the Illinois High School Theatre Festival (IHSTF), again presenting workshops on makeup and technical theatre.
After Kimball came to SIC, he continued to volunteer time working with Benton High School and coached several of their contest plays to the state tournament, receiving a second and two third place finishes as well as several top five finishes. Additionally, Kimball was instrumental in bringing the IHSA State Drama and Group Interpretation Tournament to SIC from 2002-2005.
Largely through Kimball's involvement, SIC has continued its relationship with IHSTF since 1998, presenting various workshops and taking students to recruit at the festival. Kimball himself has served on the IHSTF All-State Production Staff as makeup designer for Hairspray, Urinetown, and Into the Woods. Currently, he is a member of the executive board of directors for ITA and is serving as this year's co-producer for college auditions at the festival.
"I think it is essential that we stay connected with high school students across the state and encourage their talents. Working with the IHSTF All-State productions were some of the most amazing experiences of my life. It is awe-inspiring to see the level of talent and commitment that these young people have," Kimball said.
The Southeastern Illinois College humanities division has added dance to its schedule of classes this year, rounding out the course offerings for those interested in fine arts. Students can sign up now for beginning tap and beginning jazz, which start in January. Visit www.sic.edu or call 618-252-5400, ext. 4120 to register.
###
Written by Archie Blair, SIC Public Information