War Vet Ralph Harriman Is Keynote Speaker at SIC Veterans Day Event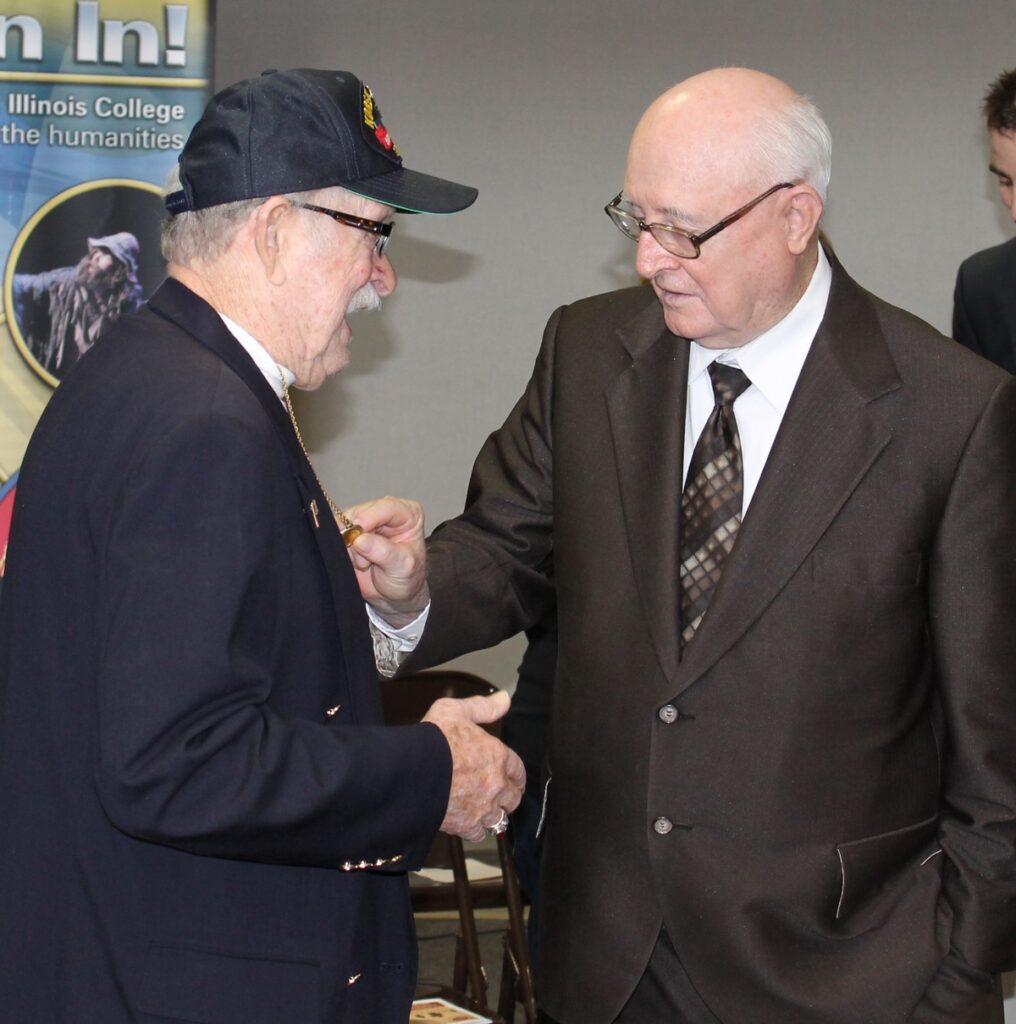 When war veteran Ralph Harriman arrived home from Korea over 50 years ago, he didn't have many of the benefits available to today's veteran, but he is glad that returning soldiers now have the support and educational opportunities afforded to them through community colleges like Southeastern Illinois College.
Harriman, who served during the Korean War as a corporal technician in the 135th medical detachment to the 84th Company of Army Engineers, was the keynote speaker at Southeastern's Veterans Day recognition ceremony and reception held earlier this month to pay tribute to those who have served the United States in foreign wars.
Harriman was joined by fellow members of the Eldorado VFW Post 3479, Eldorado American Legion Post 169, and the local chapter of Daughters of the American Revolution to remember those who died defending their country and to support those who have returned home from service or who are currently serving in the military.
November has been full of activities at Southeastern to honor veterans. During the entire month, the college's cosmetology program is offering free haircuts to all veterans and active military. Earlier, the college's Veterans Services Office hosted a chili cook-off to raise money for the Eldorado VFW to help the organization provide services to local veterans. Proceeds of $400 from the cook-off were matched by the SIC Foundation to bring the total donation to $800.
In addition, the college participated in National POW/MIA Recognition Day in September to remember the more than 83,000 American soldiers who are still missing in action. In the same month, SIC was named, for the third year in a row, a Military Friendly School by Victory Media Inc.'s GI Jobs magazine, a national publication devoted to veteran affairs.
Some 90 veterans currently attend SIC and most enjoy the benefits Harriman didn't have a half century ago. Certifying and recertifying educational benefits, special recognition events, discounts, free access to the fitness center, care packages, assistance with grants and scholarships, college credit for military experience, and an outreach program designed to help with accessing local resources, employment information, medical benefits, and health care benefits for the disabled are just some of the additional things the college and its Veterans Service Office have provided its veterans over the years.
###