TENNESSEE WILLIAMS' "STREETCAR" COMES TO SIC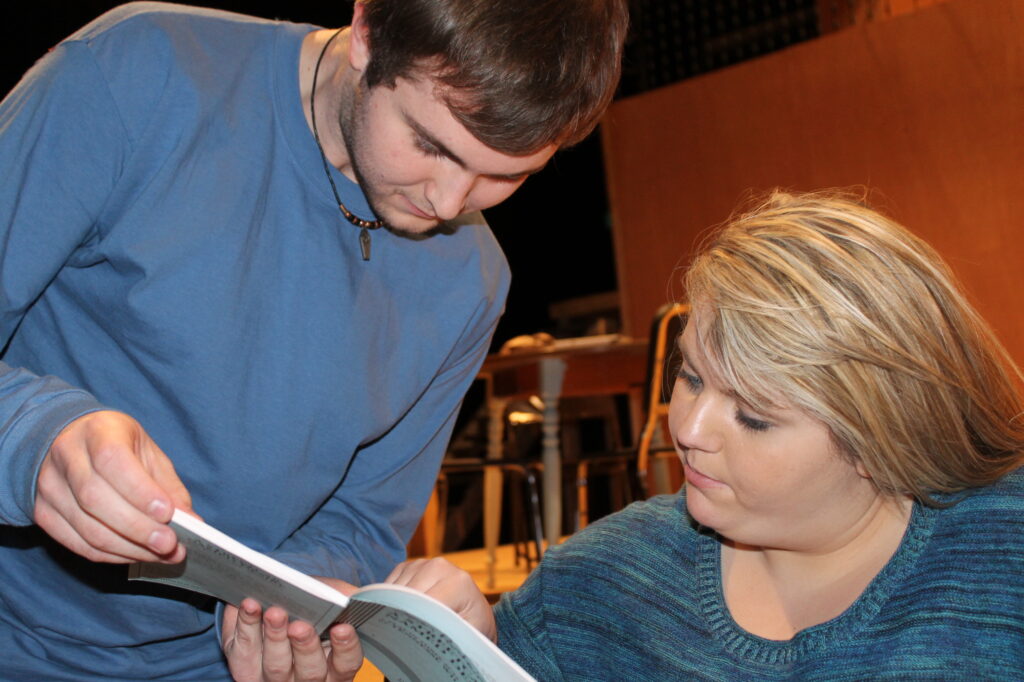 A classic tale of rejection and the struggles of marriage comes to life on the campus of Southeastern Illinois College Saturday and Sunday, Feb. 16-17, as the SIC theater department performs Tennessee Williams' "A Streetcar Named Desire."
Told in the rich southern tradition, the play, presented in two acts, reveals to the very depths the character of Blanche DuBois, a woman whose life has been undermined by her romantic illusions, which lead her to reject—so far as possible—the realities of life with which she is faced and which she consistently ignores.
The pressure brought to bear upon her by her sister, Stella Kowalski, with whom she goes to live in New Orleans, intensified by the earthy and extremely "normal" young husband of the latter, leads to a revelation of her tragic self-delusion and, in the end, to madness.
The supporting cast includes Skai Tso of Galatia, Allie Austin of Gallatin County, Travis Horton of Eldorado, Jordan Aud of Carrier Mills, Lane O'Brien of Eldorado, Rachel Stearns of Carrier Mills, and Dakota Ray Fry of Galatia.
Performing the lead role of Blanche DuBois will be Ashly Gwaltney of Eldorado. Salena Russell will play the role of Stella Kowalski, while Justin Leinenbach of Eldorado will play her husband, Stanley.
The set for the play was created by the stagecraft and technical theater class at SIC.
Under the direction of Sean Partain, Harrisburg, and assistant director Nathan Burns, Marion, "A Streetcar Named Desire" is presented by arrangement with Dramatists Play Service, Inc. on behalf of The University of the South, Sewanee, Tennessee.
Partain, a theatre student at SIC, is thrilled to have the chance to direct "Streetcar."
"The play has been a favorite of mine since I first read it in high school," said Partain. "Having the opportunity to direct such a powerful show with this amazing cast is indeed a dream come true."
Allan Kimball, director of theatre and co-division chair of humanities at Southeastern, is impressed by Partain's directing abilities and energy.
"I am extremely proud of the work that Sean has put in on this project. He started working on this last spring when he designed the set in the scenic design class. He spent a major part of the summer and fall semesters working on his production book," said Kimball.
He went on to say that Sean, his assistant director Nathan Burns, and the cast have put a tremendous amount of time and effort into bringing this classic tale to life. "I hope area communities come out and support the outstanding talent we have here at SIC," added Kimball.
"A Streetcar Named Desire" had a long and successful run on Broadway and ranks as one of the greatest tragedies in American theatre.
Saturday's performance begins at 7 p.m., and on Sunday, show time is 2 p.m. Both performances will be in the George T. Dennis Visual and Performing Arts Center.
General admission is $6. Cost for students, staff, and seniors is $4. Tickets may be purchased at the door or by calling 618-252-5400, ext. 2486 or 2487 or by going to boxoffice@sic.edu.
###