Ellis Donates Historical Pieces to SIC — Story Behind Them Gives Testament to What a College Education Can Do —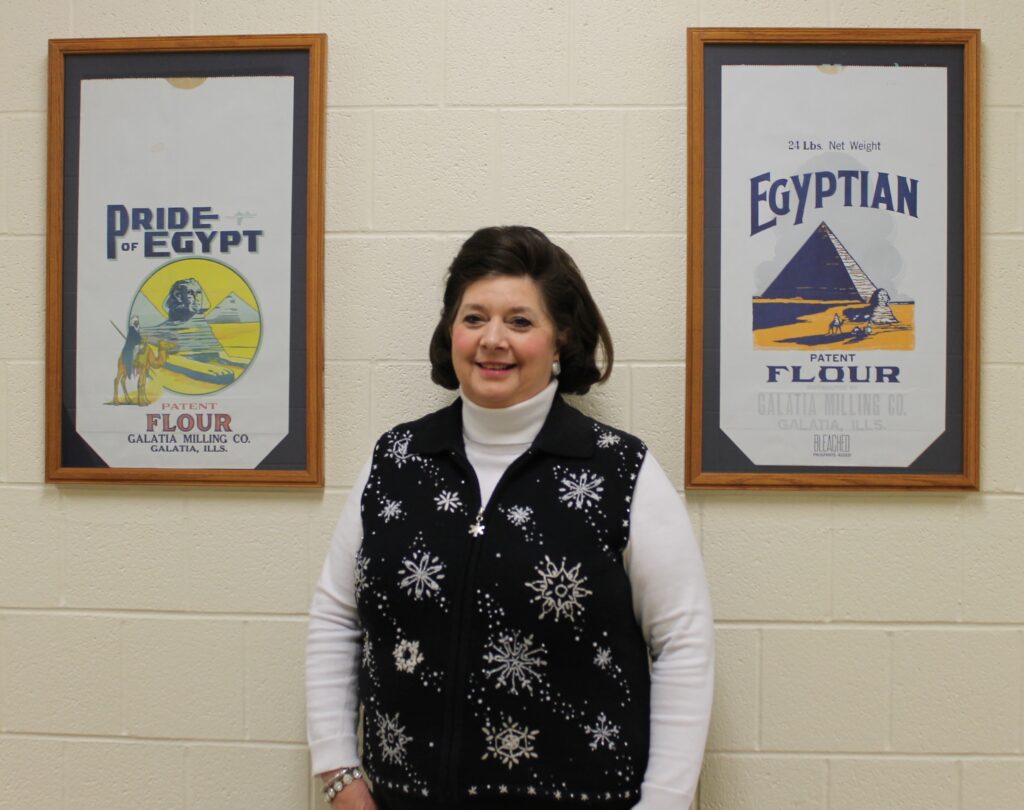 Marilyn Evans Ellis is known by many Southeastern Illinois College (SIC) Alumni for her diligent work and compassion as a counselor and advisor for the college over the past 30 years. Her retirement last July marked a sad day for the many employees and students who know and love her.
"Even on the last day of her career at SIC, Marilyn was answering emails and returning voicemails to students that needed her help," said fellow advisor, Tyler Billman. "Marilyn based her career on the attitude that people mattered above all. If that required her to stay late on campus for hours after everyone went home, she would do it."
Billman continued to say, "The positive impact Marilyn Ellis had on students is one that should be recognized. She was remarkable at her job and her students knew it!"
Marilyn has left Southeastern with more than memories, however. Upon her retirement, she donated two pieces of local history — framed Galatia Milling Company bags. The rich history behind Marilyn's story about the bags coincides with the history of Little Egypt.
There are many tales behind the area's nickname that go back as far as the 18th century, as told by John Musgrave in his detailed account published in American Weekend on Jan 6, 1996. The Egyptian Area on Aging, Inc.'s narrative in The History of Southern Illinois says, "The most likely reason this region is known as Little Egypt is because settlers from northern Illinois came south to buy grain during years when they had poor harvests in the 1830s just as ancient people had traveled to Egypt to buy grain (Genesis 41:57 and 42:1-3)."
The local story, as told to Ellis by her father, dates back to the Great Depression. Her story begins with a young man who understood the importance of a college education.
George Miflin Dallas Barnes, was an educated man from Maine who attended Bowdoin College in Maine and DePauw University in Indiana before moving to the farmlands of Southern Illinois and starting Barnes Lumber Company in Harrisburg in 1898.
His son, and the focus of Ellis' story, Harold P. Barnes applied and was accepted to the closest college that offered a business degree at that time, McKendree College in Lebanon — the oldest college in Illinois some 100 miles away. In 1903, he obtained his degree and came home to work in his father's lumberyard. Soon thereafter, he opened Galatia Milling Company.
During his years at McKendree, H. P. Barnes (as he is remembered) made an important connection with one of his classmates that would affect the future of his business in a big way. That classmate opened a printing press in St. Louis. The company, Lilipack, was later affiliated with the Chase Bag Co. out of Buffalo, N.Y.
As the transition was being made from burlap bags to paper, H. P. Barnes commissioned his college friend to print the bags for his grain and flour. His friend suggested the bags needed a logo to "brand" the company. Taking his friends' advice, H. P. Barnes worked with Lilipack to create some colorful Egyptian scenes of pyramids, sphinx and camels that said Pride of Egypt and Egyptian Flour, capturing the local heritage of the area.
When the region experienced severe drought during the 1930s, Galatia Milling Company had some of the only grain in the area, and people travelled for miles from the North to buy from H.P. Barnes.
As historian, Barbara Burr Hubbs wrote in the first issue of the Egyptian Key in 1943, "caravans of eight and ten wagons formed, to go south and buy bread stuff, grain for the cattle and seed for the next crop."
And as these pioneers, familiar with their Bibles, met other travelers on the road, the greeting commonly used was "We are the sons of Jacob, going into Egypt to buy corn." *
By painstakingly gaining a business degree and starting a local business, H.P. Barnes helped farmers and other businesses to make progress, and no doubt caused his father's lumber business to thrive. His son, George D. Barnes, continued in his father's footsteps, earning a college degree, as well. He graduated from University of Illinois and later took over Barnes Lumber Company.
Ellis' interest in the Barnes' family is personal as their families have been long-time friends and early business associates. Her father, Warren Evans, managed George D. Barnes' 1800 acre cattle and grain farm between Harrisburg and Galatia. And George D. Barnes's wife, Alice Hancock Barnes, a member of the Harrisburg District library board for more than 50 years, helped the Evans sisters gain part-time jobs at the public library while in high school and at SIC.
H. P. Barnes' granddaughter, Lynda Barnes Clemmons, graduated from Vassar College in New York and taught English at Harrisburg High School. Her husband, David Clemmons, who earned an engineering degree from University of Utah, managed Barnes Lumber Company for many years.
The framed Galatia Milling Co. bags, donated by Marilyn Evans Ellis, now hang in the Galatia Corridor of A building at Southeastern Illinois College. They serve as a historical reminder of the progress a college education can create.
"Just as Pegasus' Portal, the iron sculpture outside (at the entrance to AB building) represents the vehicle to progress, a college education is also a vehicle to progress," said Ellis. "H. P. Barnes' story of a young man determined to get a college education, is an example of what college can do for a student's life, for their family, and for their community."
###
*Historical information from www.illinoishistory.com. Barnes family and business history from testimonies of Marilyn Evans Ellis and David and Lynda Clemmons.
Written by Angela Wilson, SIC Marketing Coordinator