Bundren Sisters Continue a Family Tradition at SIC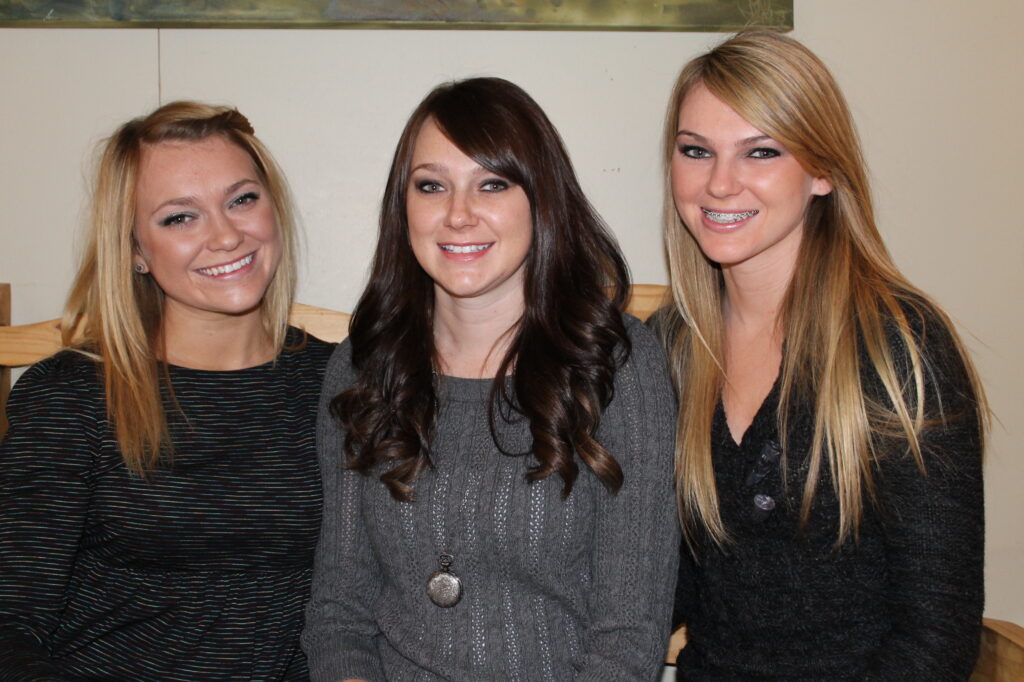 Little did Steve and Janet Bundren know when they attended Southeastern Illinois College years ago that daughters Maegan, Larra, and Blaine would follow in their footsteps.
The Bundrens, who live just outside of Harrisburg, couldn't be prouder of their children, as they have watched the family's SIC tradition come full circle.
The entire family agrees that the quality of education at SIC has been excellent. Steve and Janet point out that to have such a highly rated school so close to home and so conveniently located are big pluses, not only for them but also for all the students in the surrounding communities. They are both very pleased that their daughters decided to begin their college education at SIC.
"Maegan was a quiet but astute student," remembers Archie Blair, English instructor at SIC. Given her mild demeanor, I wasn't sure what caliber of student she was until I read her first essay. What I found was an extremely intelligent student whose writing mirrored her intelligence," expressed Blair.
Blair went on to say that what he remembers most about Maegan was her eagerness to learn and her observant eye, something many students had yet to develop. "Not much got past Maegan. And when she did speak, it was with conviction and underlined by a keen understanding of the topic."
Maegan currently attends SIC and is taking general studies and science courses to prepare for the radiologic sciences and ultrasound programs at Southern Illinois University. "I really like the faculty at Southeastern and the personal touch that they provide. It's a very supportive and reassuring atmosphere there," she said.
Paul Cummins, communication instructor and forensics coach at Southeastern, had similar things to say about Larra.
"Larra is a dynamic and energetic student. It is obvious that she is invested in her education, and through her class input, other students benefit from her insights and enthusiasm. She has an infectious, positive personality and is truly a 'glass half full' type of person. Her attitude and disposition are qualities that a teacher wishes for in a student," said Cummins.
Cummins has seen a strong drive and determination in Larra while at SIC. "She is focused on achieving her academic goals and will no doubt be very successful in her pursuits after Southeastern," he added.
Larra is now enrolled in Southeastern's occupational therapy program, which is taught through the Southern Illinois Collegiate Common Market (SICCM), a consortium comprised of five local community colleges and Southern Illinois University at Carbondale and Edwardsville. "What I love most about SIC are the staff and nurturing atmosphere and the quality of coursework in my career field," she said.
Dr. Mila Maring-Sims, anatomy and physiology instructor at SIC, had the pleasure of teaching Blaine, the first Bundren sister to graduate from SIC.
"Blaine was a student in a human anatomy and physiology course that I teach," said Sims. "As a student, she was engaged, interested, inquisitive, and motivated–what we as instructors hope for in students!"
"Her interest in physical therapy as a career goes hand-in-hand with her interests as an active student-athlete and the physical aspects of wellness that are directly relevant to the field of physical therapy," Sims added.
"Blaine possesses a comfortable demeanor, and I feel that patients will feel at ease with her caring for them. Amazing family, the Bundrens!"
Blaine graduated from Southeastern this past May as an honor student, earning both an associate in arts degree and an associate in science degree. She plans to join her sister Larra this fall in the occupational therapy program at SICCM. Blaine agrees with her sisters that the atmosphere at SIC is very supportive and the staff nurturing and friendly!
The health care fields are important to all three sisters because of their experience caring for their cousin who has cerebral palsy. Each wants to play a role professionally in helping people, especially children, who suffer from mental and physical disabilities.
Location, low tuition, financial aid, quality of instruction, and the right programs created the perfect opportunity for Maegan, Larra, and Blaine to begin their college education at SIC.
And even though it's been a while since their parents attended Southeastern, the college continues to fill their needs as well. The elder Bundren is taking a math class this summer to help him better serve the students in his resource classes at Murphysboro High School, where he works as a special education teacher.
In the Bundren family, the apples truly don't fall far from the tree.
###