SIC Alum Tells Students to Get Involved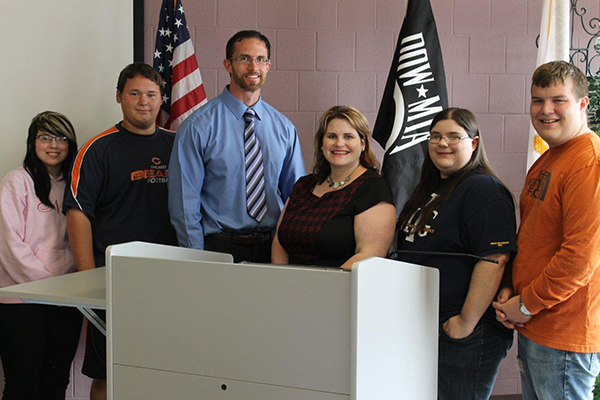 Eldorado native and former Southeastern Illinois College student Liz Brown, who is beginning her 14th session at the Illinois State Capitol, knows something about state politics. Recently, Brown visited her alma mater and spoke to students as part of the college's constitution week activities.
Brown's remarks centered on people getting involved and asking questions. She told students they didn't have to be lawyers to make a difference in state government. "Legislators need to know the needs and struggles of their constituents, and those of us who work at the Capitol help our elected officials make informed and meaningful decisions affecting the people they represent," said Brown.
Brown's background in state government is quite impressive. She served as a member of Illinois House Speaker Michael Madigan's staff for nearly a decade. In that capacity, she worked as Legislative Director, running floor operations and overseeing committees, including the executive and revenue committees and analyzing legislation. Brown also worked as the labor liaison for Speaker Madigan, dealing with hundreds of Illinois labor unions.
Later, as the Director of Redistricting for the state, Brown helped craft the 2001 legislative map, judicial sub circuits, and various community college districts, all of which are current law. In addition, she was assigned as the staff person and media coordinator for over thirty of the current sitting House Members, including House Majority Leader Barbara Flynn Currie. During that period, Brown was voted by Capitol Fax readers as "Best Legislative Staffer."
On the political side, Brown has served as campaign manager, candidate recruiter, and media advisor on dozens of legislative races throughout the state, including those of many incumbent state representatives. She also managed the highly successful Get-Out-The-Vote efforts of the Democratic Party of Illinois and the Illinois Attorney General. In 2000 and 2004, she served as staff to the Democratic National Conventions.
Brown, who holds an associate degree from Southeastern and bachelor's degree in political science from Southern Illinois University at Carbondale, currently runs her own governmental affairs consulting firm, Liz Brown-Reeves Consulting, Inc., representing the needs of a variety of clients in Illinois state government.
Matt Lees, government instructor at SIC, knows the rich tradition of public service the college's alumni represent. "This small school located in the middle of a cornfield has produced three state representatives and a member of congress," said Lees.
"I am proud to say that Liz Brown is part of this tradition and represents the growing number of SIC graduates choosing to work in state and federal government, including the Illinois Governor's Office, US Senate, and White House," remarked Lees.
Brown told students that they can be anything that they set their mind to. "Growing up in rural southern Illinois, I dreamed of life working in Illinois politics. By actually spending time volunteering in my field of choice, interning, and studying hard, I was able to make my dreams come true," said Brown.
"When Massachusetts congressman and US House Speaker Tip O'Neill said that all politics are local, he was right on the money. Local to me means Southeastern Illinois College. SIC helped train me with its excellent speech and government departments. It gave me solid footing to make my way in the political world. I am proud of my roots and am honored that SIC is a big part of my personal journey to success," added Brown.
SIC President Jonah Rice remembers Brown quite well. Then a classroom instructor and forensics coach, Rice points out that Brown stood out immediately because she was especially gifted at research and argumentation. In fact, he was so impressed he even tried to recruit Brown to join the college's nationally ranked speech team.
"I could tell Liz was a student who was driven to do great things — and did indeed go on to do great things," Rice said.
"Liz is tenacious, bright, and has a keen insight into how human relations work, especially in political settings. She is a true Southeastern success story. We are proud of her. And we are delighted that she shared her experience with our students during constitution week," added Rice.
###