SIC's Award-Winning Model Illinois Government Team Suits up for State Competition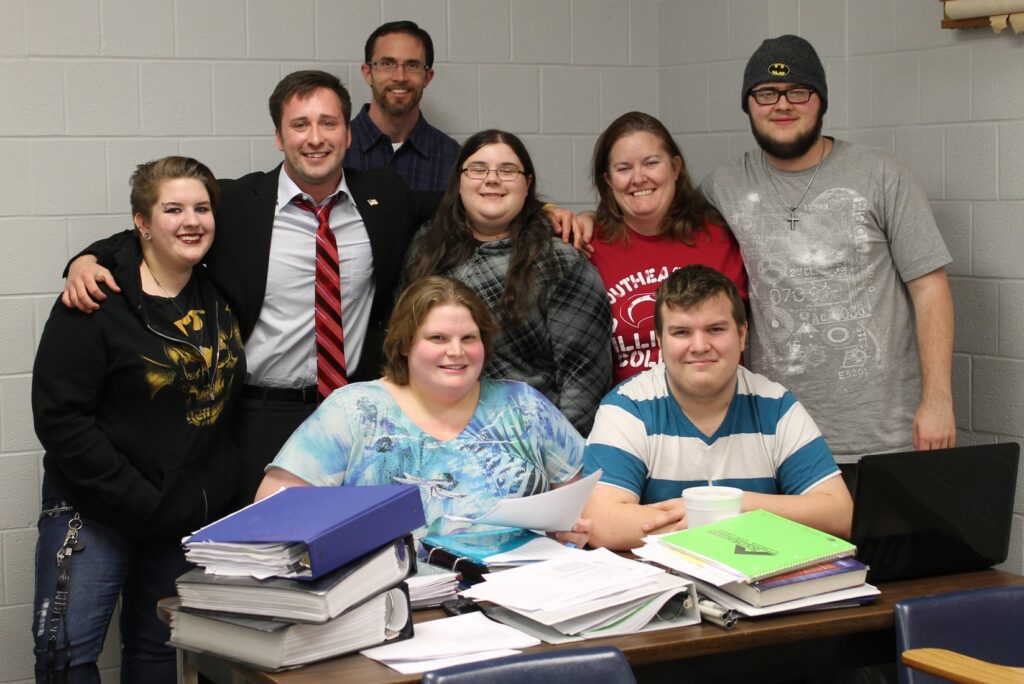 It's no secret that Southeastern Illinois College competitive teams like to run with the big dogs. The SIC Model Illinois Government (MIG) team is no exception.
MIG is a legislative simulation and moot court held at the state capitol with students filling roles as legislator, lobbyist, journalist, attorney, judge and party positions of committee and leadership. Each spring, the SIC team travels to Springfield amongst nearly 200 other competitors from across the state armed with the intellectual weapons they need to conquer the competition, many of whom are much larger institutions.
"I am especially proud of our students because we are the smallest school in terms of enrollment at the simulation," said coach and political science instructor Matt Lees. "We compete with much larger community colleges along with four-year institutions including the University of Illinois at Springfield, SIU, Eastern, Western, Northern, and Benedictine."
The SIC team has won more Outstanding Delegation Awards in the last decade than any other institution – six championships in the last 10 years. The team also led their division in total points three of the four years when they were ineligible to win, since MIG rules prohibit any team from winning consecutive Outstanding Delegation Awards. SIC has also won more individual awards during that time than any other institution across the state.
According to Lees, every college and university has their own strategy for preparing their delegates, but SIC stands out among the crowd because of all the research and prep work – two large binders full each, collected and organized in less than two months' time. However, SIC students also stand up in a classroom setting and debate many of the bills ahead of time, which allows the students to refine their arguments before they ever have to use them at the main simulation.
"Practicing debate helps to ease nerves, because if you get up and debate bills for several hours a week, your mind and body start getting accustomed to the stress you feel, and your words start to flow easier," said Cassie Rea, a sophomore team member from Harrisburg.
Many alumni students are also loyal to the SIC delegation, returning year after year and helping new team members get the hang of things, like Eldorado's Joe Debose, who was the Outstanding Member of the Senate last year on SIC's team. He will be competing on the Southern Illinois University-Carbondale team this year. MIG students are also usually vetted by coach Lees, who seeks out individuals who have qualities necessary for MIG. These include skill in public speaking, passion for politics and government, or intelligence and aptitude for researching and compiling information.
"It's incredibly helpful and rare that the MIG team has an advisor like Mr. Lees, who is actively involved in preparing students and in helping them reach their full potential," said Rea. "I've heard that many advisors use a very hands-off approach, and I think SIC's impressive track record speaks for how much better our approach is."
For basic legislative roles, which are primarily focused on the individual's debate, and for the "chair" positions (running a small committee of students), students apply for their preferred role before the simulation. They are then placed according to real-life legislative distribution.
There are also roles to be won at the simulation in positions such as majority or minority leader and positions on the organization's executive board. These roles are gained by election. For debate leadership, students are split into their respective chambers and parties (House/Senate, Republican/Democrat) and are then asked to give a brief speech. The other members of their group then elect their leadership. For organizational leadership, such as governor and treasurer, students must get a petition and acquire signatures. If they get enough signatures, they are allowed to run for office, and may campaign. These positions are voted on by everyone in the organization.
The team that scores the most points wins outstanding delegation. Points are won by having team delegates elected to leadership positions or by having delegates win personal awards (Best Person on the House Floor, Best Original Legislation, Best Journalist, etc.)
The SIC team heads to Springfield for the 2014 state Model Illinois Government simulation Feb. 27-March 2.
###