SIC Theatre Presents The Addams Family April 24-26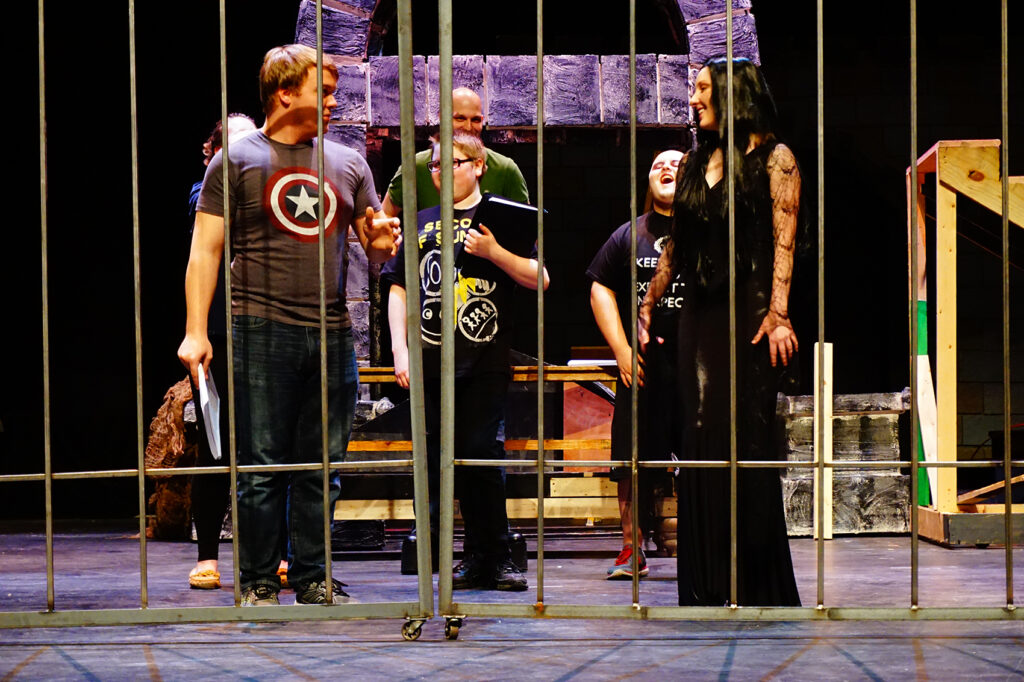 A well-known, spooky family is brought to life onstage during Southeastern Illinois College's production of The Addams Family. The show will run April 24-26 in the George T. Dennis Visual and Performing Arts Center.
The Addams Family features an original story where Wednesday Addams (played by Cassandra Watkins of Harrisburg) has grown up and fallen in love with a 'normal' young man, Lucas Beineke (played by Kyle Upchurch of Benton). After promising to keep Wednesday's secret, father Gomez Addams (played by Dylan Comer of Carrier Mills) must lie to his beloved wife, Morticia (played by Meredith Wolf of Harrisburg). Everything changes for the whole family when they host a dinner for Wednesday's "normal" boyfriend and his parents.
Additional cast includes TJ Condon (Ridgeway) as Cousin It, Bradley Frailey (Harrisburg) as Pugsley, Shary Logan (Galatia) as Alice Beineke, Aaron McRoy (Harrisburg) as Thing, Sean Partain (Harrisburg) as Mal Beineke, Cassie Richerson (Eldorado) as Grandma, Jayden Roper (Harrisburg) as Uncle Fester, Donovyn Valdez (Carrier Mills) and Alex Watkins (Harrisburg) as Gargoyles and Gareth York (Equality) as Lurch.
The ensemble, who are all the Addams ancestors, will include Steven Crawford (Benton), Braden Cummins (Carrier Mills), Jason Green (Golconda), Sierra Harrell (Opdyke), Jeff Keasler-Bird (Eldorado), Collins Lambert (Harrisburg), Ira Logan (Galatia), Auston Mahan (Harrisburg), Brendan Mann (Harrisburg), Alex McRoy (Harrisburg), Jillian Miller (Harrisburg), Corrina Poole (Eldorado), Kale Rister (Carrier Mills), Rachel Stearns (Anna) and Shay Wood (Harrisburg).
"For those of us who grew up with the TV show The Addams Family, this musical is a trip down memory lane," said Allan Kimball, director of theatre and co-division chair of humanities at SIC. "The Addams Family the Musical asks the hilarious question, 'what would happen if a normal family and the Addams Family were trapped together in the same house. This production features all the beloved Addams Family characters we all knew and loved from the TV show and introduces us to the Beineke family. Add to the mix all the ancestors from the Addams Family past, and you have an evening full of laughter and surprises."
The show's set design is the product of Aaron McRoy and Kimball's stage theory and design class at SIC. Music Directors for the show are Tiffany Kesler and Tim Green and choreography is by Cassandra Watkins and Kyle Upchurch. Lighting design is by Kyle Upchurch, and original costumes will be designed by Janet Hart and Gareth York. John Hart of Hart's Music in Harrisburg will once again provide the sound equipment.
As a sophomore, Wolf (playing Morticia Addams) is excited to be a part of this musical, as it will likely be her last show with SIC.
"The Addams Family is probably the best show with which to end my SIC theatre career," said Wolf. "It truly is a hilarious production. There is definitely something for everyone in this show. Not to mention the audience will be in awe at some of the really neat effects happening. This is not your average family; they're certainly mysterious and spooky, but a little whimsical and magical as well. We are all having a blast, and we cannot wait to share it with others."
The Friday and Saturday performances will begin at 7 p.m., and Sunday's performance will begin at 2 p.m. All performances will be in the George T. Dennis Visual and Performing Arts Center. Seating is reserved. General admission is $10. Cost for students, staff, and seniors is $8. Tickets may be purchased at the door or in advance by calling 618-252-5400, ext. 2486 or 2487, or 618-841-4649.
###