Mine Rescue Teams Compete at SIC, Memorial Award Given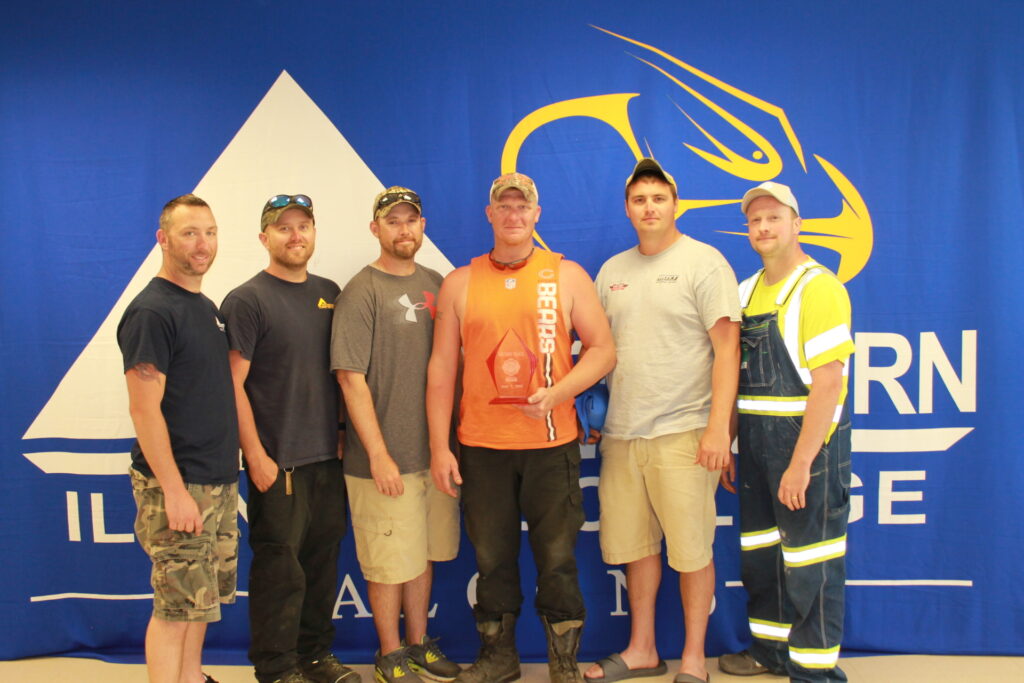 Twelve teams convened June 7-8 for the fifth Mine Safety and Rescue Skills Competition in Illinois at Southeastern Illinois College in partnership with Illinois Eastern Community Colleges (IECC).
"We had another successful competition this year," stated Dr. Karen Weiss, vice president for academic affairs. "The weather was perfect, the rotations went well, and the teams were outstanding." She added that "It takes a great team of people to plan an event this size, and this wouldn't be possible without the great partnership between SIC and IECC and our faculty and staff working together to provide skills training for the local and regional mines."
Over 100 miners from Illinois, Indiana and Kentucky competed in six rounds of exercises that included fire training in the burn tunnel, smoke training and mapping in the burn tower, hose management, gas testing, field rescue, first aid, as well as written testing.
This year's teams that competed on Tuesday, June 7 were American Coal Company of Galatia, Illinois; Foresight Energy from MaRyan/Patton Mine in Hillsboro, Illinois; Gateway Mine in Coulterville, Illinois; Hamilton County Coal, LLC in Dahlgren, Illinois; Knight Hawk Coal in Cutler, Illinois; and Prairie State Generating Company in Marissa, Illinois.
Those who competed on Wednesday, June 8 were Foresight Energy from MaRyan Patton Mine in Hillsboro, Illinois; Foresight Energy South from Mach, M-Class and Viking Mine in Macedonia, Illinois; Kentucky Coal Academy's Madisonville Community College Mine Rescue Team from Madisonville, Kentucky; Pattiki Mine in Carmi, Illinois; Sunrise Coal Mine Rescue Team from Oaktown, Indiana; and Wildcat Hills Mine in Harrisburg, Illinois.
During the two day competition trophies were awarded to the top two teams on each day, as well an award for the overall winner of both days honoring the late Tim Kirkpatrick, who worked in the coal industry for over 41 years, a member of the Illinois State Mining Board and was a long-time advocate of mine safety.
"When we lost Tim, we lost a very strong supporter for mine rescue," said Kim Underwood, associate dean for IECC. "Tim was involved hands on and raised the standards for the mine rescue competition. He continually made the competition better and he is greatly missed."
On the first day of competition Hamilton County Coal, LLC took first place, led by team captain Justin King. Earning second place was Gateway Mine, led by team captain Dustin Patterson.
On the second day of competition Foresight Energy South Team, comprised of three mines; M-Class Mine, Viking Mine, and Mach Mine, led by team captain Ben Dailey. This team also won high overall for the entire competition, receiving the new award honoring the late Tim Kirkpatrick presented by his wife and son, Patti and Kris Kirkpatrick. Sunrise Coal LLC, led by team captain Cory Baker, came in second for the last day of competition.
"Tim Kirkpatrick was the team leader for the Foresight South team for numerous years before his passing," said Weiss. "It was a moving experience to see his team win the award in his honor. It was a fantastic way to end a great competition."
The purpose of the event was not only to provide an extra opportunity for mine safety training in an exciting and competitive environment, but also to increase awareness regarding training opportunities in the area and encourage utilization of that training to keep our local miners prepared and safe on the job.
###