SIC Women Capture Division I National Archery Championship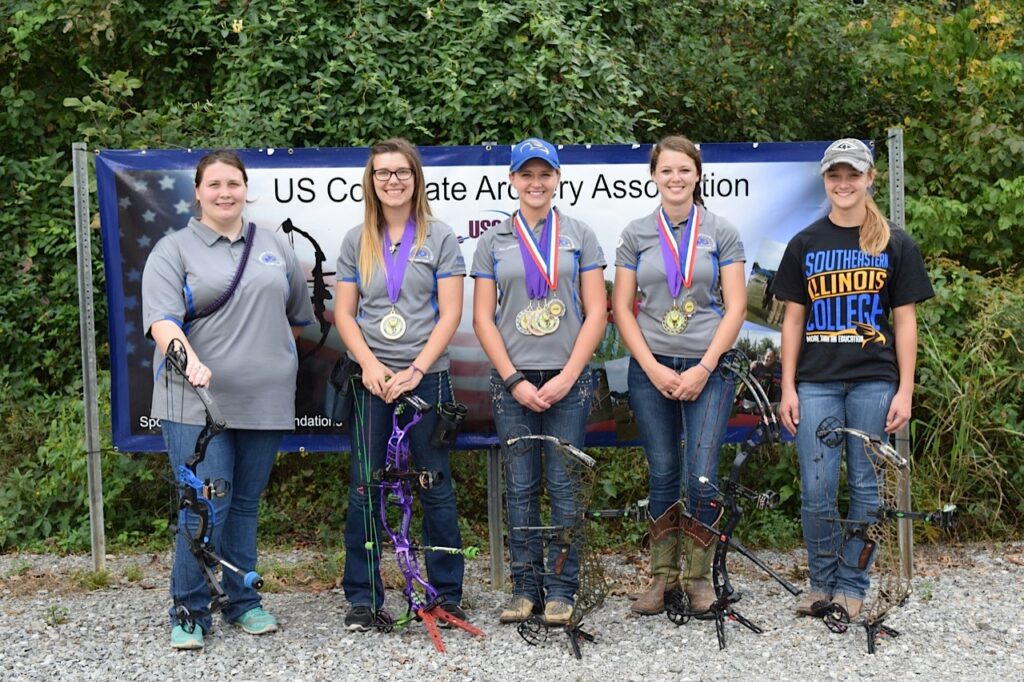 –Armstrong, Morris, and McCalip win gold. Four falcons crowned All-American —
In a Division I showdown that attracted 18 varsity teams and some 200 collegiate archers from across the nation, including University of Wisconsin, University of California, University of Nebraska, Liberty University, and Mississippi College, Southeastern Illinois College's women's bow hunter team consisting of Alli Armstrong (Elizabethtown, Ill.); Jessica Morris (Golconda, Ill.); and Kira McCalip (Rantoul, Ill.) was crowned national champion after a grueling two days of competition.
The 2016 US Intercollegiate Archery Championships (USIAC) were held over the weekend at Sahara Woods State Fish and Wildlife Area located between Carrier Mills and Harrisburg. Collegiate archery is governed by the US Collegiate Archery Association, a California-based group.
SIC's women have dominated Division I varsity archery over the past five years. As a team, they have to their credit three national championships, one second place finish, and one third place finish. In individual competition, Southeastern's Alli Armstrong won the national title in 2015.
In this year's overall competition, four Falcons were named All-American as a result of their individual top ten national finishes: Armstrong 2nd, Stephani Poe (Arthur, Ill.) 6th, Morris 6th, and Casey Poe (Arthur, Ill.) 5th. These four will carry equivalent national rankings for 2016-17.
Armstrong and Stephani Poe also were named to the USIAC Academic All-American team. Academic All-American honors are bestowed on those archers who finish in the top ten at nationals and carry an overall grade point average of 3.5 or higher.
In the open compound division, the mixed team of mother and son Stephani and Casey Poe finished third to take home bronze honors, while the duo of Armstrong and Elijah Bond of Thompsonville, Ill. garnered bronze medals in the mixed team bow hunter division.
Other members of Southeastern's archery team include Rhett Bullard (Iuka, Ill.); Jeffrey George (Shawneetown, Ill.) Makayla McKenzie (Carmi, Ill.); Matthew Horton (Thompsonville, Ill.); Garrett Lane (Elizabethtown, Ill.); Kenny Raigner, Jr. (Carmi, Ill.); Tyler Cheek (Shawneetown, Ill.); and Adriana Armstrong (Elizabethtown, Ill.).
Armstrong, who is a freshman at Hardin County High School and a participant in Southeastern's developmental archery program, finished with a score that would have earned her 8th place in the nation and All-American honors in collegiate competition.
Southeastern's archery program now boasts of 13 national Division I titles, 24 All-Americans, and six Academic All-Americans.
###