BOND FINISHES 4TH IN NATION AT INDOOR ARCHERY NATIONALS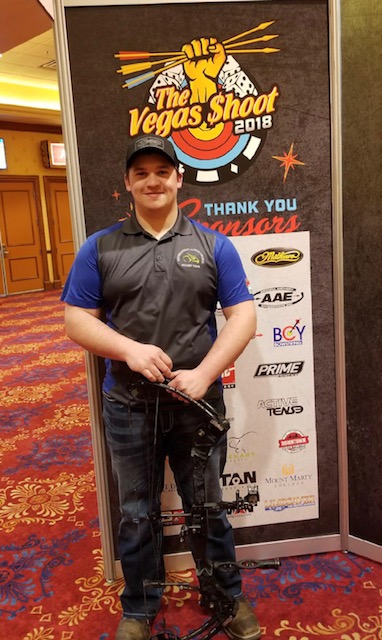 Competing for the first time in the US Collegiate Archery Association's (USCAA) National Intercollegiate Indoor Archery Championships held on Feb. 9 in Las Vegas, Nevada, Southeastern Illinois College's Eli Bond missed advancing to the gold medal round by just one point.
Bond, from Thompsonville, Illinois, started the day in 7th place. In the quarterfinals of the championship round, he defeated Aaron Adams, the #2 ranked indoor archer in the nation from University of the Cumberlands. From there, Bond advanced to the semifinal round against Lewis Boyd from Liberty University.
After losing to Boyd by a single point, Bond went to the bronze medal round against Caleb Dixon from University of the Cumberlands, where they found themselves in a tie after regulation play. In a best arrow tiebreaker, Bond finished the tournament in 4th place. Boyd went on to win the gold medal.
Bond's 4th place national ranking by USCAA in indoor archery stands alongside his #1 ranking in 3D archery by USA Archery. He will begin his 2018 3D archery season later this month at the Archery Shooters Association (ASA) Pro-Am competition in Foley, Alabama.
For more information on SIC's archery program and Indoor Archery Center, visit www.sic.edu/archery or contact head coach Alli Armstrong at alli.armstrong@sic.edu or (618) 252-5400, ext. 2104.
###