Powell Brings Depth to SIC Women's Bowling Team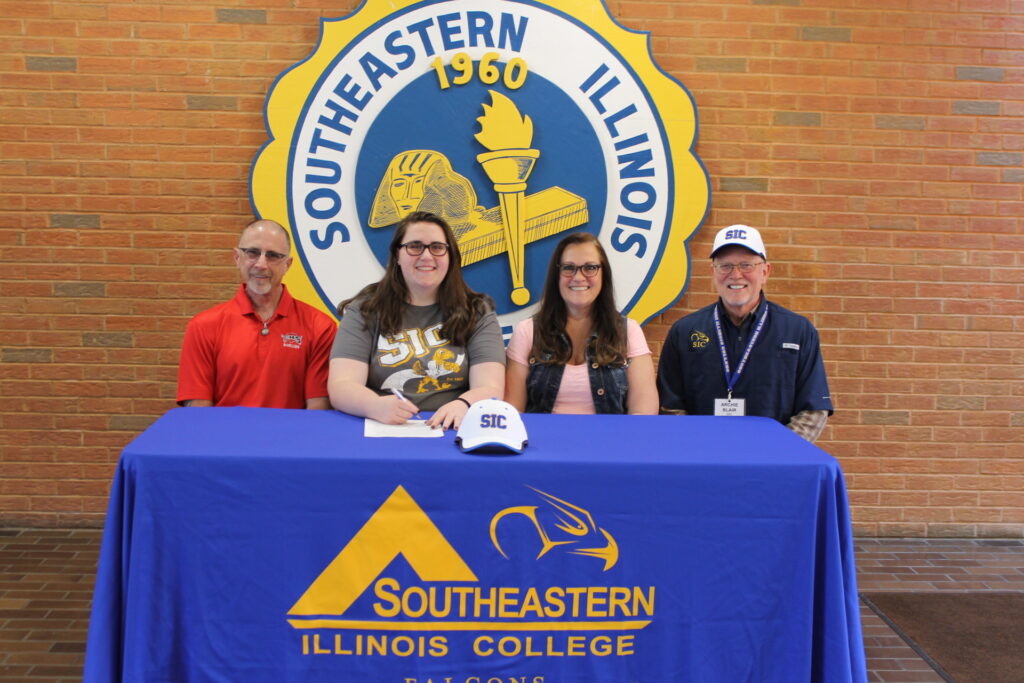 —Triad's Lizzie Powell Signs with Southeastern's Bowling Falcons–
It's shaping up to be an exciting year for Southeastern Illinois College in the world of women's bowling in the United States Bowling Congress (USBC) collegiate division, according to head coach Archie Blair.
Adding to that feeling is the college's recent acquisition of Lizzie Powell, veteran bowler for Triad High School, home of the Knights.
"Powell's record speaks for itself," says Sara Bell, girls assistant bowling coach at Triad.
While on Triad's team, Powell received three tournament awards and one conference award, finishing 5th for high series at the Elite 6 Tournament, 5th for high average at the Lincoln Tournament, and 10th for high game at the Southern Illinois Challenge. Her crowning achievement was 4th for high average in the highly competitive Mississippi Valley Conference.
Triad's head coach, Francesca Kolesa, echoes Bell's praise for Powell.
"Lizzie is a one of a kind athlete! She is a leader on the lanes that knows the meaning of hard work and dedication. She is already a great bowler and an even better student. Lizzie is going to be such a great addition to the SIC family."
SIC's lead bowling coach, Doug Cottom, is excited as well by the prospects Powell brings to his team.
"Although we didn't see a lot of Lizzie throughout her high school bowling seasons, we certainly knew of her and her ability to bowl competitively.  She comes from a wonderful family and solid program at Triad. Once again, we feel very fortunate to get her at SIC and are confident she will transition to the collegiate game very easily."
Kolesa agrees. "As her head coach for the past three years, I have seen Lizzie adapt and overcome a myriad of obstacles. She has won many awards during her tenure in high school, and she is ready to take the next step in her bowling career. Get ready SIC. Lizzie is ready to go!"
Men and women interested in trying out for Southeastern's bowling team, which begins play in August, should contact Coach Doug Cottom at 618-253-8417 or dcottom1@gmail.com.
Tuition waivers and other incentives are available to those qualifying for team membership.
###