Career Cruising now available at SIC for CTE Students!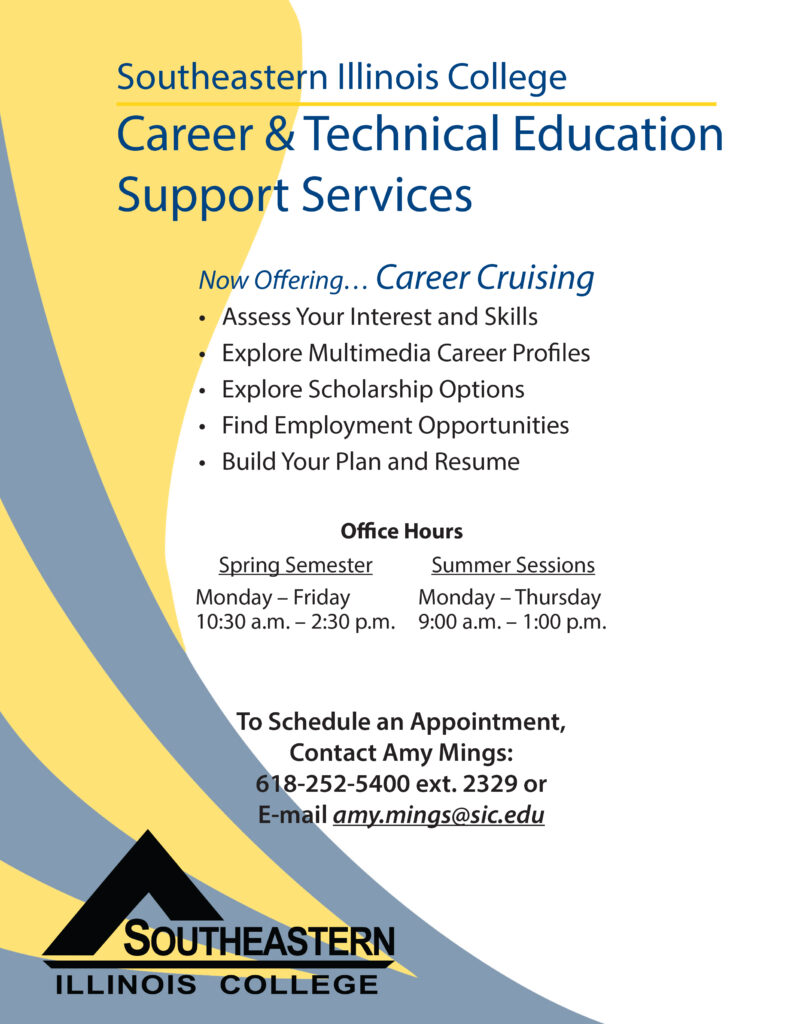 College is an important decision in anyone's life. It is the prerequisite to the next important decision you will make in your life and that is the decision of what career path upon which you will embark. Our new Career Evaluator, Amy Mings, hopes to help students bridge the gap between those two decisions by offering new Career Cruising services available to SIC's Career & Technical Education (CTE) students.
Career Cruising consists of many elements:
Assess Your Interests and Skills
Find careers that match your interests using Career Matchmaker, the world's best online career assessment tool. Take your results a step further by also taking the My Skills and Learning Styles inventories which will show you how your matched careers align with your skills.
Explore Multimedia Career Profiles
Get the inside scoop on hundreds of different careers through our career profiles that all include audio, video interviews and a photo feature to give you a deeper understanding of the role and requirements.
Explore Higher Education Options
Are you considering transferring to a university after SIC? Find the education options available to you based on your career interests using the education database. You can search for options by location, school type, or major, or use the School Selector to search for schools based on tuition, admission difficulty, enrollment, and other important factors.
Find Employment Opportunities
Whether you are searching for a job now or looking to see what qualifications employers are looking for, use the Job Search Tool to help relate the career planning you have completed to jobs actually available in your area.
Build Your Plan and Resume
Create a roadmap to achieve your aspirations by using the My Plan tool that allows you to save and document your goals, interests, plans, activities, and accomplishments all in one spot. Then use the integrated Resume Builder to take your saved information and create a professional-looking resume.
Schedule your appointment today with Amy Mings, Career Evaluator, to explore Career Cruising! Call 618-252-5400 ext. 2329 or email amy.ming@sic.edu