SIC Foundation Honors Donors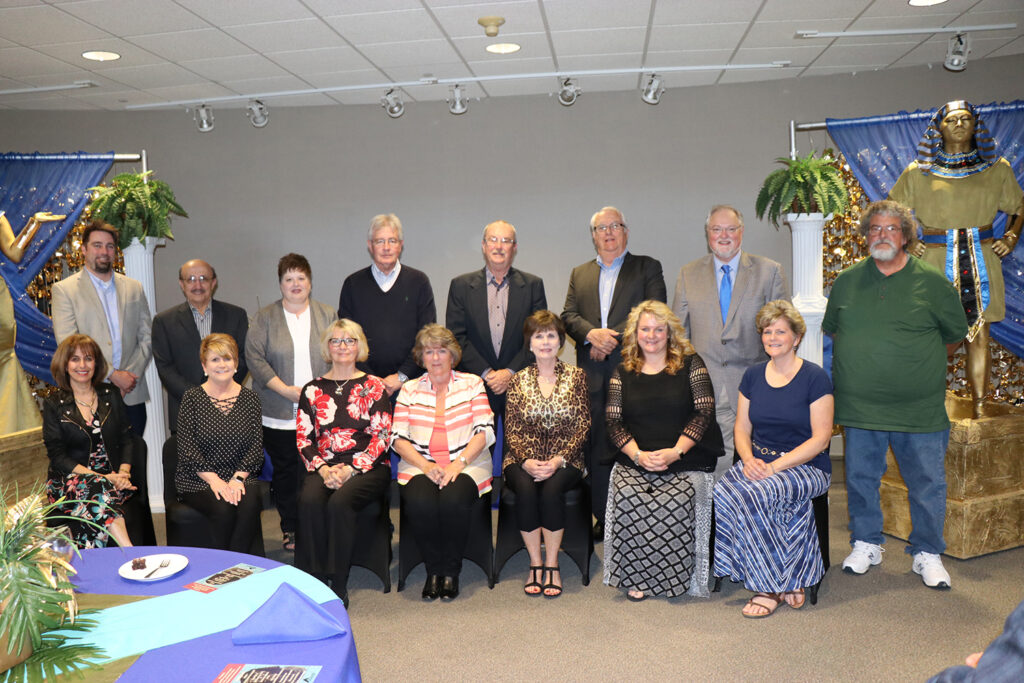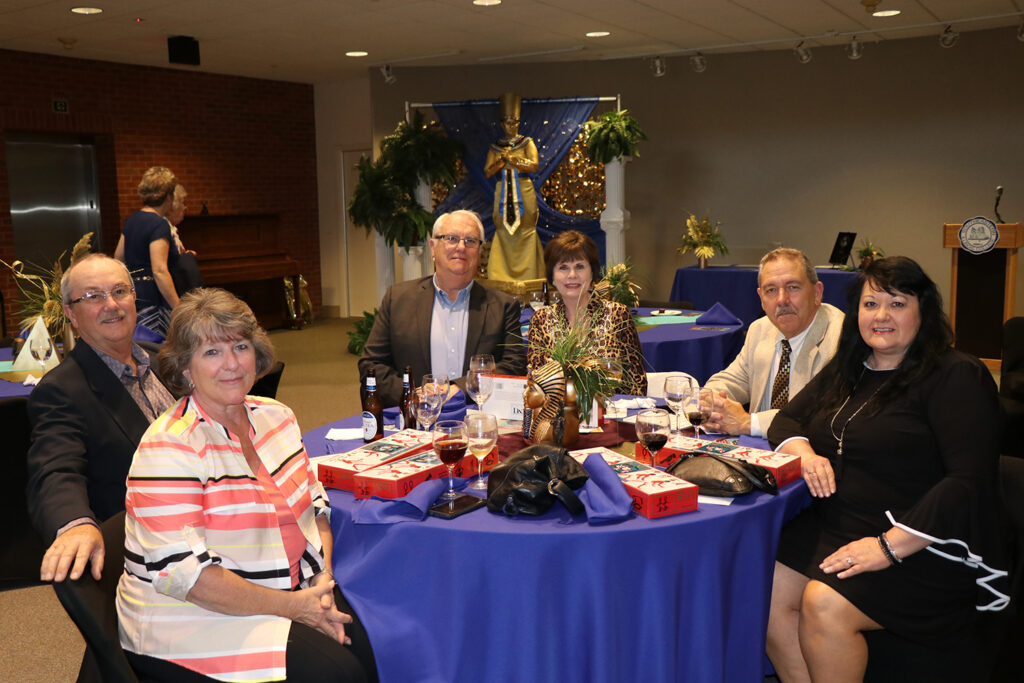 The Southeastern Illinois College Foundation held its annual donor appreciation event April 26 in the George T. Dennis Visual & Performing Arts Center.
The theme for the event was Egyptian to correlate with the show in the theatre on the same night, and included living statues as entertainment by SIC nursing student Kayla Crowder and SIC alumnus John Suh. Joyce Hesketh of LeJarden Studios in Carbondale provided music on her harp. Decorations were provided by SIC auxiliary services director Stacy Moore. Hors d'oeuvres and drinks were provided by Morello's Catering.
Alex McRoy, student trustee, student government executive officer, Circle K officer, president of Phi Theta Kappa, student worker, scholarship recipient and veteran SIC actor spoke to the group about what donor support means to him and other students from the local community.
"The diversity of scholarships you have available to students is something to be proud of. I have seen students receive scholarships to attend SIC, who, without the scholarship, would be unable to attend college at all," said McRoy. "The opportunity to work for an institution and attend an institution that supports students of all backgrounds and all walks of life is an honor."
Ella York, secretary for the SIC Foundation spoke about the many contributions and fundraisers held over the past year, including the Holiday Dinner, Breakfast with Santa, Bow Fishing tournament, Bass Fishing tournament and the new dueling pianos event held with Ferrell Hospital. She also noted that work on the Ella Elizabeth Hise Museum of Regional Art (the largest gift in college history of nearly $3 million) is expected to be completed for a grand opening event Aug. 23 at 10 a.m.
York then introduced SIC Foundation Chair Brian Surprenant, who discussed some funding drives in progress such as the Learning Commons expansion and sponsorship opportunities, the veteran memorial brick structure which will begin sales this fall, and a new sign planned for the North side of campus to replace the marquee taken out by the 2012 Leap Day tornado.
SIC President Dr. Jonah Rice then thanked those in attendance and announced awards.
"This has been a great year, and we couldn't have done it without all of you," Rice said. "It is wonderful to see the new and exciting opportunities available to students of this region because of the generosity of supporters like yourselves."
Falcon Society members were recognized as those who have pledged to give $1,000 per year for 10 years. They included: Jeff Dunn, Gary and Paula Gerling, Bill and Dr. Dana Keating, Dennis and Lynn Murphy, Chuck and Maureen Murphy, James and Kristy Porter, Zilla and Thomas West, Dr. Patrick and Mary York, Dr. Jonah and Megin Rice, Mike and Gina Sirach, Scot and Dr. Karen Weiss, David and Sherry Wright, Lisa Hite, Chad Flannery, Phyllis Kay Whitlock, and Pat Priebe.
Dream Makers, or those who have surpassed Falcon Society Giving with continued support of the Foundation were recognized:  Bo Clark, Carl Reynolds, Debbie Reynolds, Michael and Gloria Tison, Robert Wilson, David Port, and Frank Garret.
Additionally, Linda and Gordon Graves, though not present, were recognized for their yearly contribution of a $40,000 scholarship for a single SIC freshman from Harrisburg or Carrier Mills that continues with the student to their transfer university.
Each guest received an Egyptian Senet board game ordered special for the event and tickets to see the SIC Theatre's production Aida on the Allan G. Kimball Stage.
Those interested in giving, should visit www.sic.edu/foundation or contact Alli Armstrong at 618-252-5400 ext. 2104.
###