SIC TRIO Celebrates National First-Generation College Student Day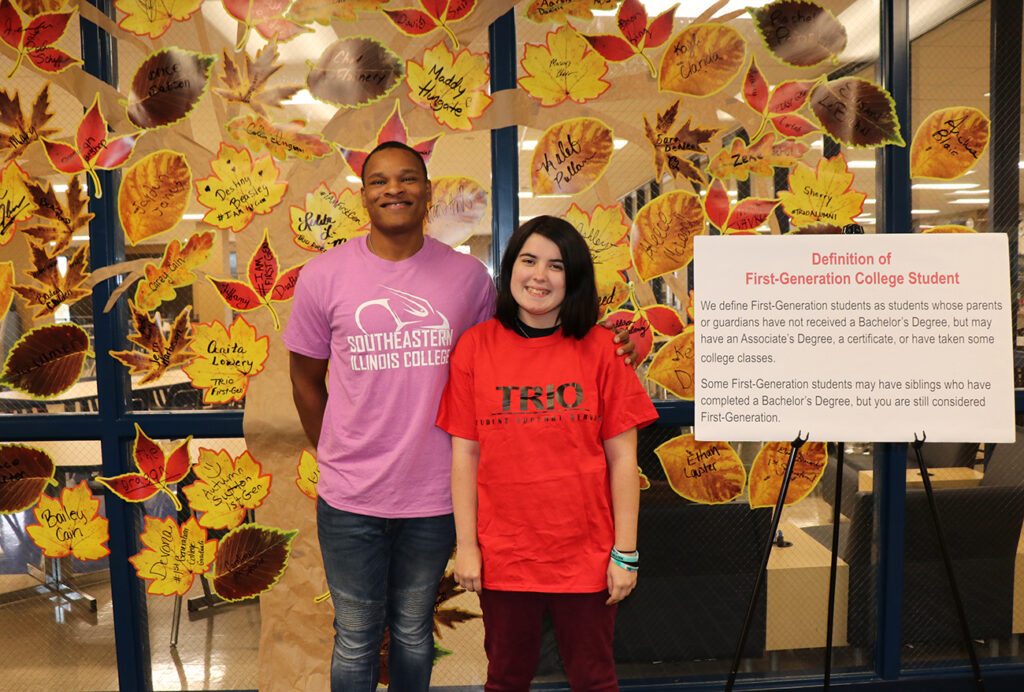 "Life-changing" and "family" are how students in TRIO at Southeastern Illinois College described the program as they celebrated National First-Generation College Student Day Nov. 8.
Activities included a First-Generation Honor Luncheon and a First-Generation Tree Project. The tree project was created in collaboration with the SIC Diversity Committee and was open to all SIC faculty, staff, and students. The tree was provided and designed by the SIC Art department under the leadership of art instructor Sara DeNeal. Students and staff signed their names to leaves throughout the week as a symbol of being proud of being a first-generation college student. TRIO student mentors worked at the tree display table throughout the week to greet staff and students.
Student Toocoby Irving from Chicago had a lot to say about the benefits of TRIO.
"TRIO helps me be the best I can be," said Irving. "My goal is to empower others who have been where I was. TRIO is a family within the school. It helps me improve my academic and social skills …to help me be successful. TRIO has changed my life. It is very beneficial to me in so many ways."
Destiney Beasley of Shawneetown, a second-year student and TRIO member, believes TRIO to be life-changing, as well.
"From the day I found out about TRIO, I felt like I always had someone in my corner. TRIO to me is a family. They taught me to be unique and outgoing and break academic barriers," said Beasley. "I have had so many fun, educational opportunities with TRIO – the museums we visit are educational and always a good time. We continue to make great memories in TRIO, but what I love most is no matter what you're going through, the staff makes sure it gets fixed. I'm so grateful for the TRIO staff for changing my life and giving me a chance to be empowered."
Students can qualify for the TRIO program based on being a first-generation student, low income based on federal guidelines, or students with disabilities. TRIO defines a first-generation student as a student whose mother and father did not obtain a four-year college degree before the student turned 18. TRIO is funded by the U.S. Department of Education, and got its label during the first reauthorization of The Higher Education Act in 1968. It provides students with a variety of study skills, career and personal development workshops; cultural enrichment opportunities; group university visits; career exploration and development; mentoring opportunities; academic and financial counseling, and much more.
For more information about the SIC TRIO program, visit www.sic.edu/trio, or contact Director Lolita Mack at 618-252-5400 ext. 2432 or lolita.mack@sic.edu.
###