Lake of Egypt Fire District Donates Firetruck to SIC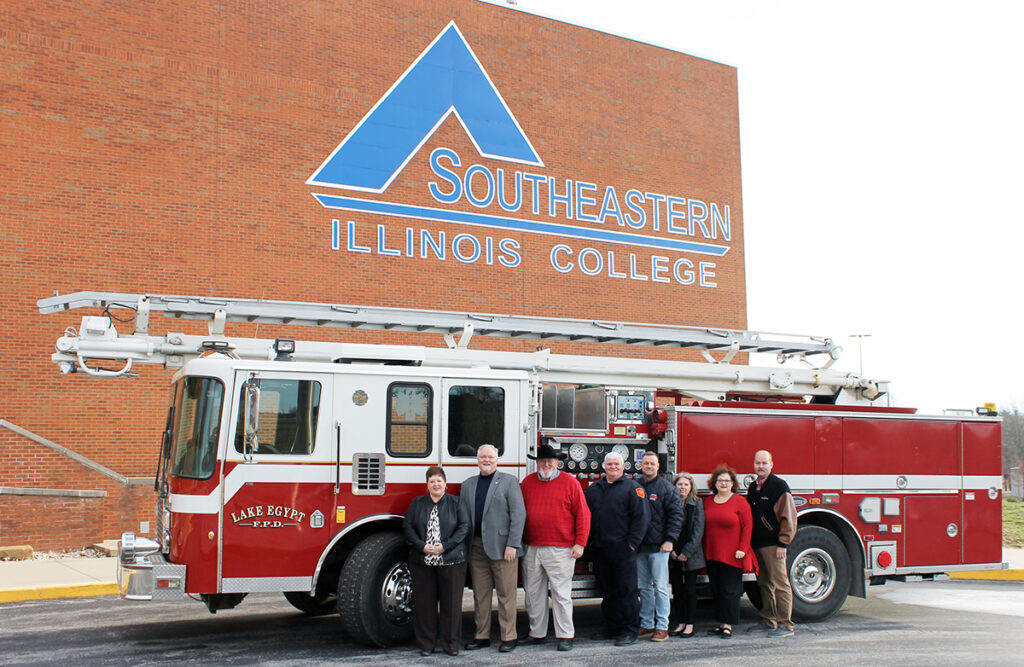 Southeastern Illinois College's Fire Science Program has a new fire engine, thanks to Lake of Egypt Fire District.
The ladder truck is a 1996 HME Luverne originally obtained from Springfield by Lake of Egypt Fire District about 10 years ago. Assistant Fire Chief Frank Huffstutler said the board decided to cut down their fleet, and rather than trying to sell it, they found it more worthwhile to donate the truck.
"We knew the college could use it for training, and we want to be a part of that future fire training," said Huffstutler.
This is the second time Lake of Egypt Fire District has donated a fire engine to SIC to help with training. This truck, which is likely worth more than $25,000, will be used in SIC's fire brigade training, fire science classes, and coal mine training events.
College officials said gifts of property like this truck serve valuable needs that the college can't afford to do on its own, and such gifts provide hands-on learning for students in the region.
SIC President Dr. Jonah Rice said, "We appreciate Lake of Egypt Fire District and their board, for always considering SIC and providing vital equipment that makes such a big impact on the training of our next generation of firefighters. In today's environment of limited finances, it's imperative to have partners like Lake of Egypt Fire District."
For more information on SIC's programs, visit sic.edu or contact an advisor at (618) 252-5400 ext. 4120 or advising@sic.edu.
###
Pictured (L-R) are Dr. Karen Weiss, SIC Vice President of Academic Affairs; Dr. Jonah Rice, SIC President; Jim Ellis, SIC Board of Trustees Secretary; Frank Huffstutler, Lake of Egypt Assistant Fire Chief; Bobby Williams, SIC Fire Science Instructor; Lisa Hite, SIC Executive Dean of Administrative Services; Lori Cox, SIC Associate Dean of Workforce & Community Education; Ricky Sauls, SIC Career & Technical Education and Special Projects Coordinator.