Martin Named SIC 2020 Outstanding Teacher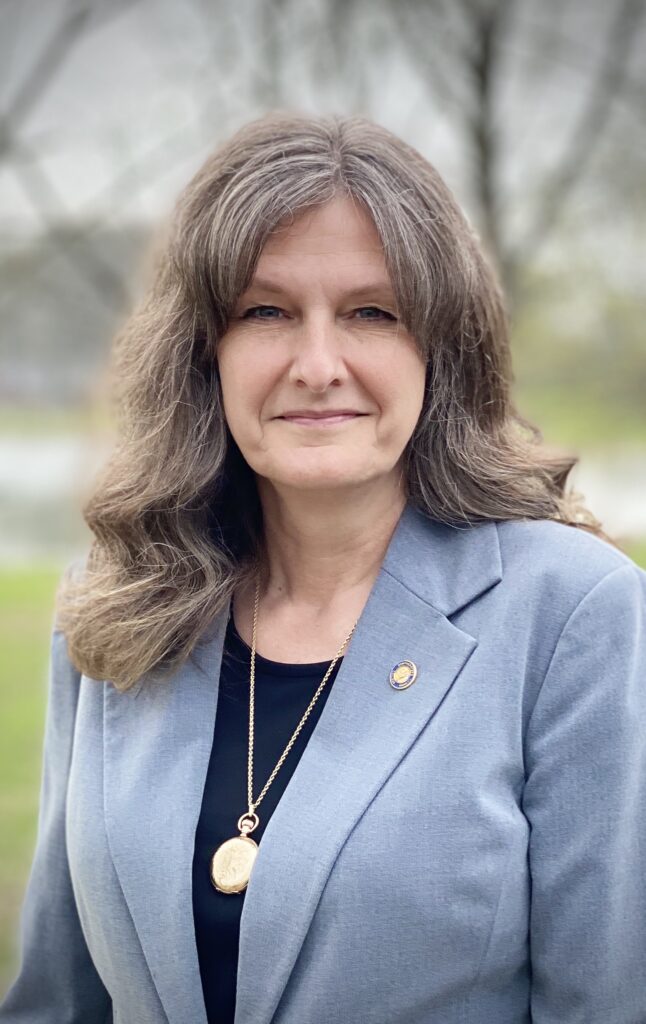 Kim Martin, Southeastern Illinois College mathematics instructor, has been chosen by a vote of her peers as the Loren P. and Velma Dallas Outstanding Teacher of the Year for 2019-2020.
The award's criteria include at least three years of full-time employment; participation above and beyond classroom assignments; competence in one's field or discipline; continuing one's education and participating in professional development activities; rapport with students; personal commitment to higher education and the transfer of knowledge to students; upholding and encouraging ethical behavior of self and students; and giving freely to prepare students for their chosen careers.
Salutatorian of her graduating class at Ridgway High, Martin spent the next portion of her education learning at Southeastern before advancing to Southern Illinois University Carbondale, where she earned both her bachelor's degree and her Master of Science in Mathematics. She was hired by SIC in 1995 to teach mathematics courses such as College Algebra, Applied Calculus, Mathematics for Elementary Teachers, and Statistics. Twenty-five years later and still with SIC, she currently teaches Pre-Calculus, Calculus I, II, III, in which most STEM majors enroll, and a variety of other service courses including College Algebra, Heart of Mathematics (a course Martin developed for SIC), and Applied Calculus.
"Kim is a phenomenal instructor who is constantly looking for ways to give SIC students the best experience they can get. She represents SIC well by speaking at and attending different conferences and by keeping in contact with local high schools and transfer institutions," applauds Jason Fitzgerald, SIC Chair of Math, Science and Technology.
A former pre-engineering student, Kyle Wise, believes that SIC got him going in the right direction.
"My Calculus sequence was the single most beneficial set of classes in my entire undergraduate curriculum. It was the structure of these courses that turned me into a good student and good problem solver, able to tackle the upper level engineering curriculum. The daily class discussions, demonstrations, discovery work at the boards, and quizzes meant I had to keep up with the material or fall behind quickly. I learned during Pre-Calculus that I just had to keep up each night and then it wasn't that difficult to do well."
Martin added, "Kyle 'got' math and he learned advanced problem-solving gradually over the two years here. He was a solid student when he started SIC and worked to become a very good problem solver by the time he left SIC."
Martin expresses, "I so enjoy this challenge of providing my best mathematics instruction, including engaging lessons and challenging assignments and assessments. However, my most challenging role is that of motivator—impelling students to work hard advancing their mathematics, problem-solving and study skills."
Working toward these outcomes, Martin has found precise strategies to most benefit student learning. The mathematics instructor assigns daily quizzes that motivate students to do the required two hours of study and homework for every hour in class.
"Students work at boards that line my classroom, helping each other and getting help from me as they engage in activities designed to discover new concepts or practice teacher-demonstrated techniques. These promote understanding and retention," says Martin.
Martin holds that out-of-class support is important, too. The instructor holds group help-sessions, mandatory student-instructor meetings and extended office hours.
"I give students my cell number and answer questions every evening, arrange peer tutoring, connect them with graduates working in their field of interest, post success stories on my Facebook page 'SIC Math & Science Majors and Alumni', and host speakers for my 'Grad-Talk' series," elaborates Martin.
"She was the best teacher I had in my college career, from the beginning to the end," remarks Dr. Jared Mitchell, a former student of Martin's and medical doctor at Deaconess Hospital of Evansville, Indiana. "Upon transferring to the University of Illinois and thriving in my classes after Calculus III, I was so proud of Mrs. Martin pushing me to do my homework every day, and not only the math skills but the study skills Mrs. Martin taught me. I am forever grateful to her. I have told her, and I will tell you, she made a real and important difference in my life."
Former SIC student Cody Cusic is the principal at Eldorado High School.
"I use problem-solving every day, at work and with our 3-year-old. Mrs. Martin at SIC taught me that…and I love everything about education, all aspects of teaching and learning, just as she does. She is one fine lady," he says. "You know The Starfish Story? The one with the man who told the lady that it was no use trying to throw the starfish back in the ocean that there were too many, and she respectfully replied, 'It made a difference to that one.' That is who Mrs. Martin was for me."
Her dedication and commitment to the success of her students has been recognized across the region. In 2004, she was awarded the NISOD (National Institute for Staff and Organizational Development) Excellence Award, and was Southeastern's nominee for that year's ICCTA (Illinois Community Colleges Trustees Association) Outstanding Faculty Member Award following Martin's 2004 endowment of the Loren P. and Velma Dallas Outstanding Teacher Award. Kim Martin's 2020 Loren P. and Velma Dallas Outstanding Teacher Award makes her eligible for the 2020 ICCTA Outstanding Faculty Member Award, as well.
Lorna Dallas-Brown, who lives in New York and England, and the late Ellen Wiggins, daughters of the late Loren P. and Velma Dallas of Carrier Mills, established the Loren and Velma Dallas Outstanding Teacher Award in honor of their parents in 1996. Their father, a founding member of the Southeastern Illinois College Board, was passionate about education. Loren and Velma Dallas gave tirelessly to young people and wanted to provide opportunities for higher education in southern Illinois. Each year the Dallas endowment through the SIC Foundation awards $500 to the Outstanding Teacher of the Year.
###