Forensic Falcons Open Season with Online Debate Scrimmage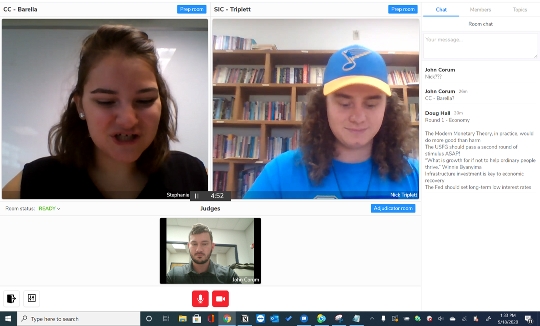 Southeastern Illinois College's Forensic Falcons opened the 2020-21 season Friday, Sept. 18, with an online scrimmage against Wyoming's Casper College. The online event marked SIC's first virtual forensics experience. Two sophomore debaters, Galatia's Nick Triplett and Norris City's Collin Sexton, represented the Falcons.
"The team is off to a strong start," noted Coach John Corum. "They worked hard, and they went to the tournament prepared. I was a little nervous about using the remote communication technology to facilitate the debates with each person alone in a different room, but the digital tournament went off without a hitch. As it turns out, you don't always have to choose between extra-curriculars and public safety."
SIC students voiced positive reviews of the online tournament platform. "I think it worked extremely well," adds sophomore Collin Sexton. "There was hardly any lag and it was very user-friendly."
The full team will compete virtually Oct. 21 with the Region four Area Forensic League (RAFL) "Minute to Win it" Tournament. Despite the pandemic, the Falcons have a full roster of competition slated for the season. However, competition will look different this year: Tournaments are hosted online on specialized forensics platforms, which means that instead of traveling to compete, team members will perform at SIC. To comply with social distancing protocols, each team member will perform alone in a separate space. Competitors, judges, and audience members will view the performances online in real time.
"SIC is a remarkable place because it provides life-changing opportunities to perform, compete, and connect," explains Director of Forensics Jenny Billman. "Even in the middle of a pandemic."
Friday's virtual tournament also presented an opportunity to connect with an alum of the speech team. The Director of Forensics at Casper College, Doug Hall, was a member of SIC's 2005 Phi Rho Pi National Champion team. Hall is one of many forensic team alumni who have gone on to become leaders in education, law, medicine, and many other fields.
"It's a different kind of season, but the heart of speech and debate remains the same," explained coach Paul Cummins. "SIC has a long history of excellence in forensics, and we are excited to continue that tradition this year.
The Forensic Falcons are coached by Jenny Billman, John Corum, and Paul Cummins.
Team members include Bradley Frailey (Harrisburg), Addie Hanks (Harrisburg), Addie Mays (Mount Vernon), Alex Peebels (Carrier Mills), Shainna Ralston (Eldorado), Hunter Rechsteiner (Benton), Haley Rice (Marion), Kale Rister (Carrier Mills), Collin Sexton (Norris City), Nick Triplett (Galatia), Tiffany Turner (Galatia), and Javen Wendler (Harrisburg).
###