SIC Softball Visits Eldorado Rotary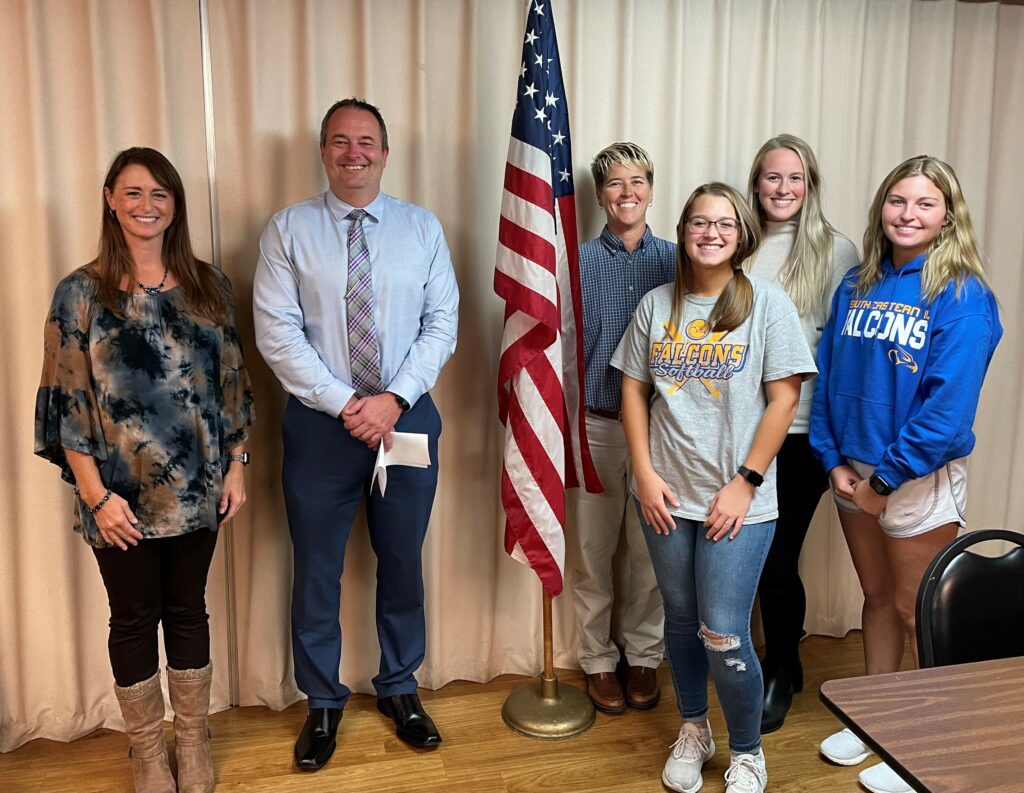 Head softball coach of the Southeastern Illinois College Falcons, Maggie Calcaterra, visited the Eldorado Rotary Tuesday, Oct. 26, along with three of her players.
The Falcons finished the fall season with a 9-2 record. They are currently conditioning in the offseason and will open the spring season Feb. 12 at Dyersburg State College in Tennessee. The first home games on Falcon Field are scheduled for March 3 at 2 p.m. and 4 p.m. against Olney Community College.
Calcaterra has been at SIC in a variety of roles for about 10 years. She currently teaches psychology courses in addition to coaching. She says she recruits regionally and boasts that she recruits strong academic players that generally represent SIC well. Currently, four of her 17 players are from Harrisburg and 12 of her players are freshmen. Seven of her athletes last year were recruited at the university level. Some, such as her nursing majors, end their softball careers at SIC.
There are 15 scholarships set aside for softball players, but Calcaterra says some of her recruits have such strong academics that they come in with academic scholarships and "just want to play for the love of the game." That leaves softball scholarships open to additional students.
Additionally, Calcaterra told the Rotary members about improvements being made to Falcon Field, such as the new infield last year, outfield updates this year, and bathrooms and a parking lot will soon be installed.
The team also gets involved with community service projects, hosts fundraisers to help defer travel costs, accepts sponsorships, and just accepted a donation of a much needed van for team travel from Jim Hayes, Inc.
Southeastern's softball team is an NJCAA Division I team that competes in the Great Rivers Athletic Conference. For more information or to sponsor the team, contact Maggie Calcaterra at 618-252-5400 ext. 2212 or m.calcaterra@sic.edu. The spring schedule will soon be posted to sic.edu/softball.
###