Two SIC Students Awarded SIU Provost Scholarship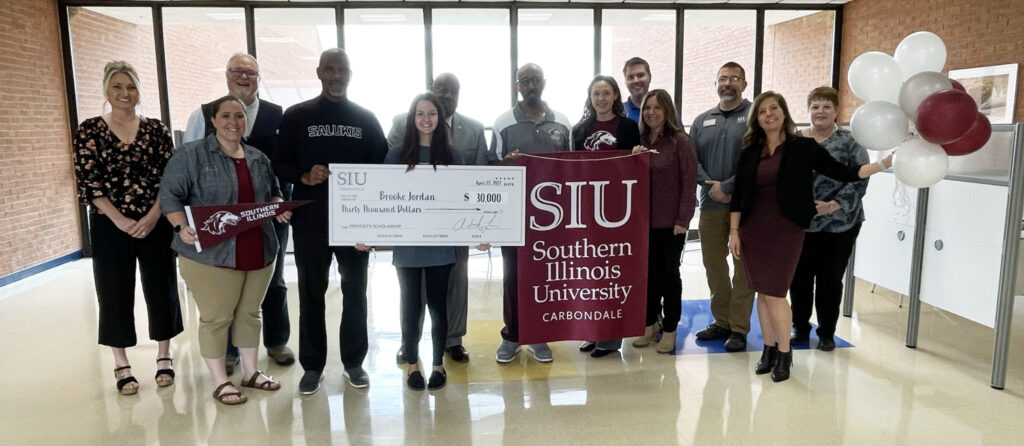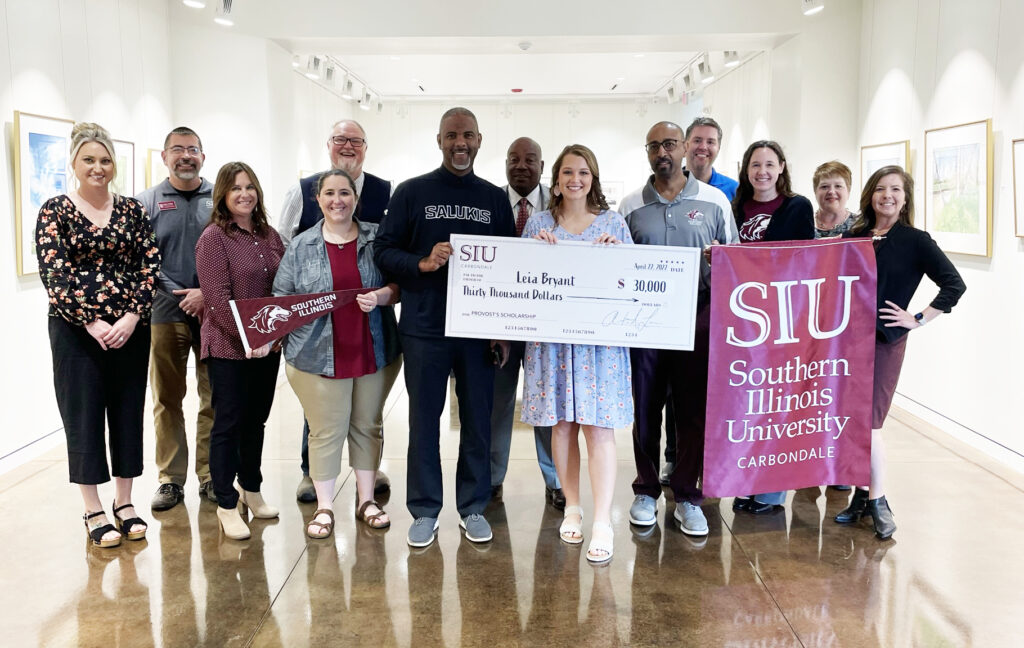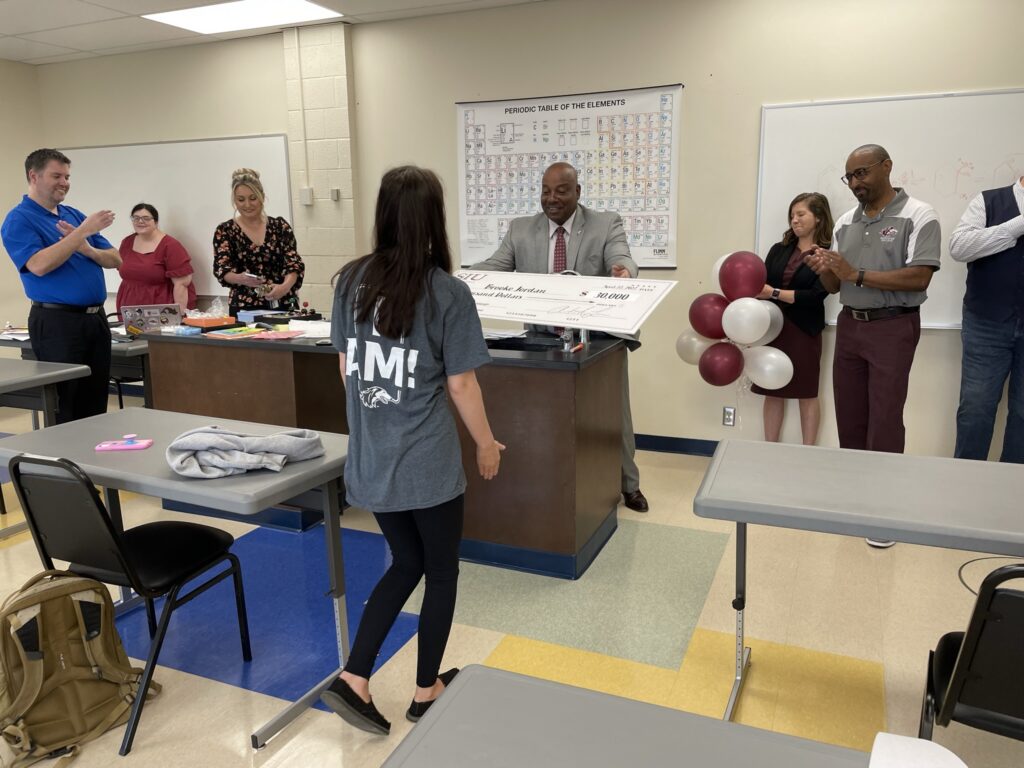 Leia Bryant of Harrisburg and Brooke Jordan of Galatia, both soon to be graduates of Southeastern Illinois College, have earned a full-ride scholarship to Southern Illinois University Carbondale.
SIU Carbondale officials stopped by SIC May 3 to deliver the good news personally that both students have won the Provost Scholarship bringing with them banners, balloons and SIU swag. Representatives from SIU Carbondale included: Assistant Director for Transfer Relations Josi Rawls; Chancellor Dr. Austin Lane; Associate Chancellor of Enrollment Management Wendell Williams; Associate Provost for Academic Administration Dr. Marc Morris; Director of Admissions Amanda Everett; Director of Financial Aid Elyse Weller; Admissions Coordinator Jason Nugent; and Academic Scholarship Coordinator Amber Rivers.
Those in attendance for the big surprise from SIC were President Dr. Jonah Rice; Vice President Dr. Karen Weiss; Executive Dean of Academic Services Dr. Tyler Billman; and Interim Dean of Student Services Kyla Burford.
"The Provost's Scholarship is SIU Carbondale's most prestigious award for transfer students," Lane said. "It is our pleasure to visit Leia and Brooke in person and to see their joy as we announce this honor. Scholarships like this fit in well with our Imagine 2030 strategic plan, which includes a pillar for student success and engagement. We look forward to seeing Leia and Brooke this fall."
The Provost Scholarship covers all tuition and mandatory fees for two years. The monetary value is approximately $30,000.
Both students qualified for SIU Carbondale's entry level scholarship (Dean's Transfer – $4,000 – 3.5+ GPA), then interviewed and were chosen to receive the upgrade to the full ride scholarship.
SIU awarded only 11 Provost Scholarships this year, with recipients from all over the state.
"We were thrilled to have such an abundance of SIU administrators on campus to surprise Brooke and Leia with their Provost Scholarships. The visit was not only a heartwarming presentation for two such well-deserving ladies, but also served as a thoughtful gesture for regional camaraderie between both of our institutions," said SIC's Burford. "We look forward to continuing to build on our partnership with SIU."
Bryant, a native of Du Quoin, was valedictorian of her 2021 Carrier Mills-Stonefort High School. While there, she was on the softball and volleyball teams, art club, book club, college and careers club, mentor club, Brighter Futures club, Scholar Bowl, and was a member of the Saline County CEO Program. She also took dual credit classes and entered SIC in the fall of 2021 as a sophomore.
She is an honor student at SIC, Phi Theta Kappa (PTK) treasurer and winner of the PTK All-Illinois Academic Scholar Award for 2022, president of Circle K, treasurer of student government, a mentor for the TRIO program, and a utility player on the Falcons' softball team. She plans to pursue a career in secondary education and hopes to become a high school English teacher. She graduates from SIC on May 14.
"Going to SIC before a 4-year really makes for a graceful and much needed transition from high school to college," said Bryant. "I'm extremely grateful for my time here. My professors have been wonderful, and I have thoroughly enjoyed my extracurriculars including clubs and organizations I'm in and being a part of the women's softball team. Also, TRIO has been a great program for me, and I've really appreciated having that resource."
While being a very active and involved student at SIC, Bryant also held down some outside jobs including office assistant to Robert C. Wilson Accounting Office and intern to Sen. Dale Fowler's office.
"As an independent paying for my livelihood, necessities and college myself, this scholarship takes an unmeasurable weight off of my shoulders," said Bryant. "Now I can focus on school and become the best teacher I can possibly be because I won't have to worry about the financials other than providing for myself."
Jordan was among the top five in her Galatia High School graduating class of 2021, where she was a Beta member for four years and took dual credit classes at SIC. She is currently a member of the National Society of Leadership and Success and will be graduating with honors from SIC in May. She plans to major in criminology at SIU and minor in accounting. Her goal is to complete law school and become an attorney.
"I am very glad that I chose SIC instead of going straight to a university after high school. I have had some amazing instructors during my time here that really helped me solidify my future career choice," said Jordan.
She said she feels well prepared for the next step in her education.
"I am very excited to see what my future brings at SIU. I have always known that I was going to attend SIU… I am very excited to call SIU my home for the next five years," continued Jordan.
Registration at SIC for summer and fall classes is going on now. Email advising@sic.edu to set up an appointment with an advisor or stop by the first floor of the Abell Administration Building (E) during regular hours of operation. For more information, visit www.sic.edu.
###