SIC Foundation Hosts Jazz Under the Stars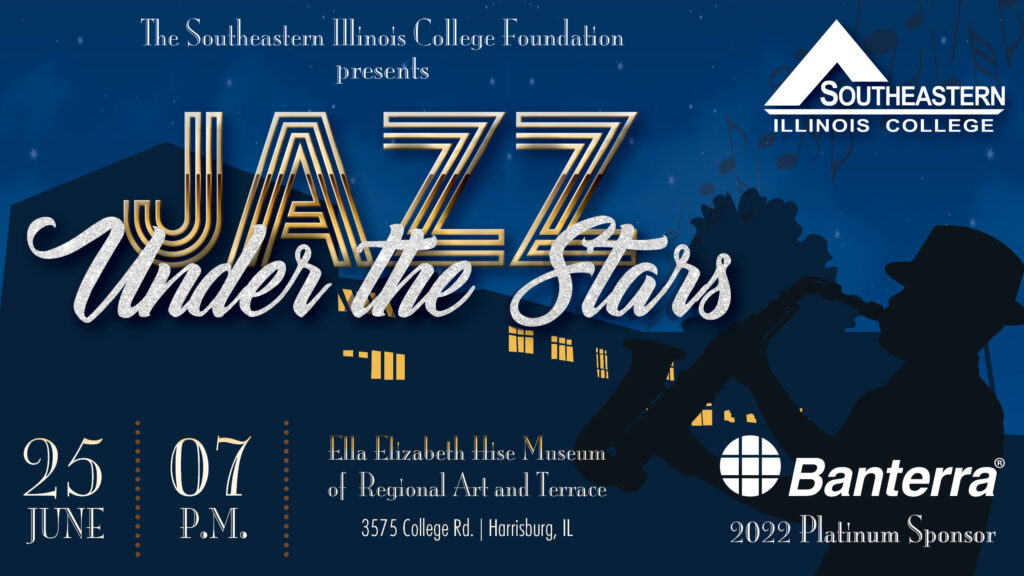 –Banterra Bank is the Platinum Sponsor for the Event —
The Southeastern Illinois College Foundation in coordination with the Ella Elizabeth Hise Museum of Regional Art will host a new summer event June 25 – Jazz Under the Stars.
Jazz Under the Stars will be held in the Hise Museum and on the Terrace, beginning at 7 p.m. Two jazz bands are slated to perform. The opening band is Bulldog Blues led by SIC alumni Landon Gates of Harrisburg on trumpet (and maybe saxophone). Other members of the band include Zach Mitchell of Harrisburg on keyboard, Seth Martineau of Harrisburg on drums, and Austin Fones of Marion on bass. Mitchell and Martineau also attended SIC.
Taking the stage at 8 p.m. is the headliner – the Louis Pettinelli Jazz Quartet – consisting of vocals, keyboard, upright bass, and drums.
While jazz music will be enjoyed on the Hise Terrace, guests will have the opportunity to enjoy the finale of two exhibits in the Hise Museum: Works of Nature in the Main Gallery and The Works of Sarah Capps in the West Gallery. Works of Nature showcases 35 works by more than 25 artists, including photography, paintings, sculptures and various other mediums brought in by artists from the region. The Works of Sarah Capps are 32 watercolor pieces glorifying the beauty of Southern Illinois, as well as her family.
Major sponsors at the time of this announcement are Banterra Bank – the platinum sponsor, and gold sponsors Expressway Chevrolet Buick GMC, Southern Illinois Healthcare, and Pepsi Mid-America.
Heavy hors d'oeuvres to be served by the SIC Falcon Pointe Bistro include shrimp cocktail shooters, Antipasto skewers, roast beef muffuletta sliders, pinwheels, chocolate covered strawberries, fruit skewers, vegetables skewers, bruschetta, and desserts shooters.
The evening will include wine tastings and a cash bar by Morello's Restaurant & Catering. Guests must be 21 to attend the event.
A silent auction will also be available not only to guests, but to anyone online. The auction will be opened a few days before the event. To register and bid, participants should visit one.bidpal.net/sicjazz2022. A credit or debit card are required to enable bidding, and the card will be charged at the end of the evening for any items won. Winners who are not present at the event will need to arrange a day/time to pick up their items by emailing give@sic.edu.
"We are excited to try this fun new cultural event melding jazz with two regional art exhibits in the Hise Museum," said Dr. Jonah Rice, SIC President. "Every dollar we raise right now will be doubled by a federal grant, so come out, have fun, purchase auction items and know that every dollar you spend is multiplied toward helping our students!"
Tickets are $50 per person, and food and wine tastings are included in the ticket price.
Tickets and sponsorships can be purchased online at http://bidpal.net/concert2022. For more information, to purchase tickets by phone, to see auction items, or for detailed sponsorship information, visit one.bidpal.net/sicjazz2022. For questions, call 618-252-5400, ext. 2106 or email giving@sic.edu.
In the event of inclement weather, the outside portion of the event will be moved to the George T. Dennis Visual & Performing Arts Center next door.
###