SIC's Landon Gates Wins 2022 ICCTA Paul Simon Essay Contest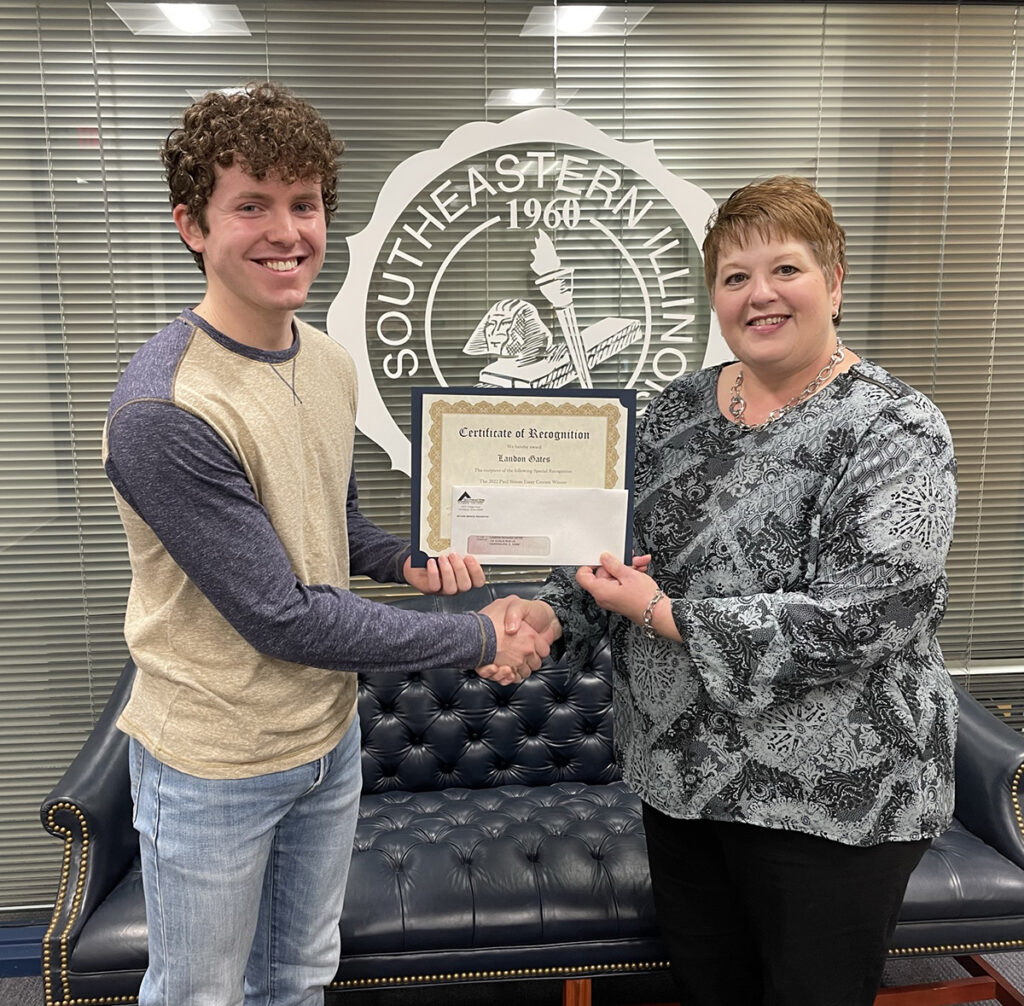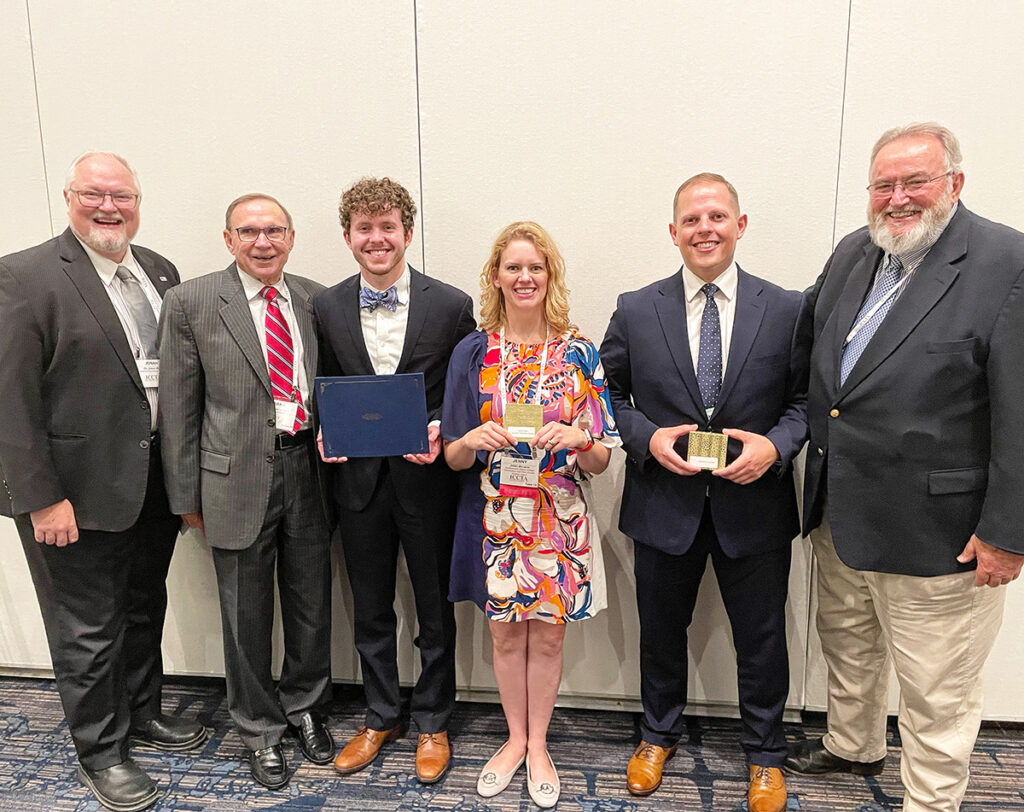 A student essay reflecting on how community college has been pivotal in enabling him to pursue his engineering path and move closer to "…solving complex challenges with real-world rewards and impact," earned Landon Gates of Harrisburg the 2022 Paul Simon Essay award first at Southeastern Illinois College and then for the state of Illinois.
Gates is only the second state winner SIC has seen since the Illinois Community College Trustees Association (ICCTA) started the contest in 1990. Callie Smith of Eldorado was SIC's first winner in 2017. Gates attended the ICCTA's annual awards luncheon with SIC board members and administrators June 10 in Chicago to accept his award.
An electrical engineering major, Gates graduated with honors from SIC in May. While at SIC, he joined the Forensic Falcons, became president of the Math & Science Club, was a member of Phi Theta Kappa Honor Society, and acted as keynote speaker at the annual STEM day, where he spoke to around 100 high school students sharing his experience as a pre-engineering major at SIC. In August, he will begin pursuit of his bachelor's degree at University of Southern Indiana, with plans to continue his education toward a graduate degree.
When asked what SIC means to him, Gates said, "Preparation… SIC has so many great resources and faculty members that are absolutely dedicated to student success…as I'm getting ready to transfer to a university, that's when it really starts to shine… If I didn't come to SIC, I wouldn't be on the engineering track."
He went on to explain, "The STEM program is so well-developed here and specifically with instructors like Mrs. Martin with math – she's just so enthusiastic and invested in teaching students, and within six weeks, I knew I was going to do engineering."
Kim Martin, math instructor at SIC said, "Landon's impressive combination of logic and critical thinking ability, self-discipline, optimism, and passion for learning were evident from the very beginning of his studies in the Calculus sequence. He took advantage of every opportunity available to learn as much as he possibly could during his time here at Southeastern. Always working to understand the "why" of all the mathematics he was learning, not just the 'how,' this natural collaborator regularly sought out additional related topics to study and discuss with me and with some fellow students. All these habits will take him as far as he chooses to go in electrical engineering and in other endeavors he will undoubtedly pursue."
During this year's Scholarship Night at SIC, Gates was presented with the June Rice Malan Mathematics award for the highest performance in the sequence of Calculus I, Calculus II, and Calculus III by Martin. Additionally, he received the Catherine Oldham Memorial Scholarship Award for forensics from coach Paul Cummins, an award given only occasionally to a speech team member who shows the best qualities of leadership and team spirit.
Gates related that some of his most rewarding moments at SIC are related to being a part of the SIC Forensic Falcons, which provided him with a talent scholarship for his sophomore year, during which time he became an international champion with top speaker awards from multiple tournaments and acted as captain of the debate team.
"Landon produces excellence in all his endeavors through his tenacity and critical mind," said Cummins. "He is an outstanding leader because he lifts others while succeeding himself."
Gates said of the team, "It's not the medals or dressing in the suit, it's getting to work with such a great group of people… Just being part of such a supportive and encouraging group of people; we made a lot of good memories that I'll never forget – just lifelong friends."
At Harrisburg High School, he was involved in theater, band, speech, choir, and directed the jazz band, going to state for band, theater, and speech. His hobbies include 3D printing and playing pool.
One of Gates' major interests is music. He plays trumpet, base, piano, and sings. In fact, he's the leader of his own jazz band, Bulldog Blues, which will be playing at the upcoming Jazz Under the Stars scholarship fundraiser at SIC June 25, at 7 p.m. Tickets can be purchased online at one.bidpal.net/sicjazz2022, or call Kendra Zirkelbach at 618-252-5400, ext. 2106.
For more information on the contest, call 217-528-2858, ext. 1 or visit the ICCTA website: communitycolleges.org/.  For more information on SIC, visit sic.edu.
Landon Gates' ICCTA Paul Simon Contest Essay (shared with his permission):
How My Community College Has Changed My Life
Most people in my small town aren't familiar with the Arduino, the nexus of programming, math, and logic. However, the Arduino revealed to me how one with a creative mind, a heart set on solving real-world issues, and curiosity could make a serious impact in the places which need it most. It showed me the possibilities to creatively and scientifically express myself were endless. However, I also understood I would need the help of my community college to fulfill this dream.
After being introduced to the seemingly infinite world of calculus my first semester at Southeastern Illinois College, I realized I would not be satisfied pursuing any other career besides electrical engineering. Along with my discovery of the Arduino, I began to absorb knowledge pertaining to circuitry, coding, and the struggles of marginalized people most impacted by climate change. However, to truly learn about these topics, one must be immersed in an environment that supports such behavior. Simple tools like whiteboards and an Arduino have allowed me to work side-by-side with other students to compute equations, sketch complex graphs, and proudly display work to demonstrate the power of teamwork.
Not only do I desire to work with electronics and mathematics to design solutions to issues, I want to work with others in the process. My leadership role within an internationally acclaimed speech and debate team has provided lessons fundamental to working with others, especially of different backgrounds. This is a direct result from observing the phenomenal leadership my speech coaches demonstrate on a daily basis. Thanks to my institution's inspiring faculty, I have been able to develop this crucial skill in preparation to my role as an engineer.
Although uncertainty is a common variable in our lives, the level that it was brought to was historical during the COVID-19 pandemic. Challenges raised for collegiate students, staff, and administrations across the world. I am proud to say my community college stood firmly in the face of the pandemic, adjusting educational operations as necessary for public health while simultaneously optimizing those operations to maintain academic progress among students. Because of my community college's commitment to excellence, pandemic or not, I have been able to acquire a higher level of critical thinking, analysis, and communication.
As one who consistently desires new experiences, the appeal of working on complex problems with many unique and intricate components is attractive. My community college has been pivotal in enabling me to pursue my path as a young adult, even in the midst of a pandemic and its impact on educational procedures. Thanks to my community college's superb professors and lab equipment, speech and debate coaches, and integrated learning commons, SIC has been a foundational step in getting me closer to solving complex challenges with real-world rewards and impact.
###