New Local Entrepreneur Gets Start with Help of SIC PowerSports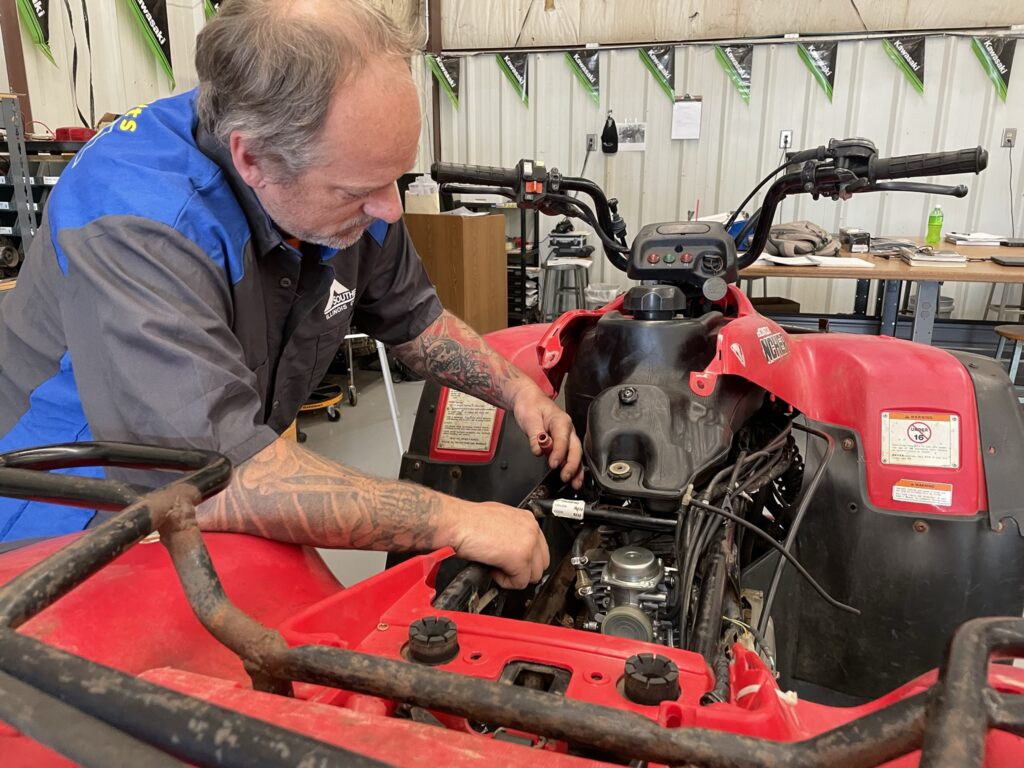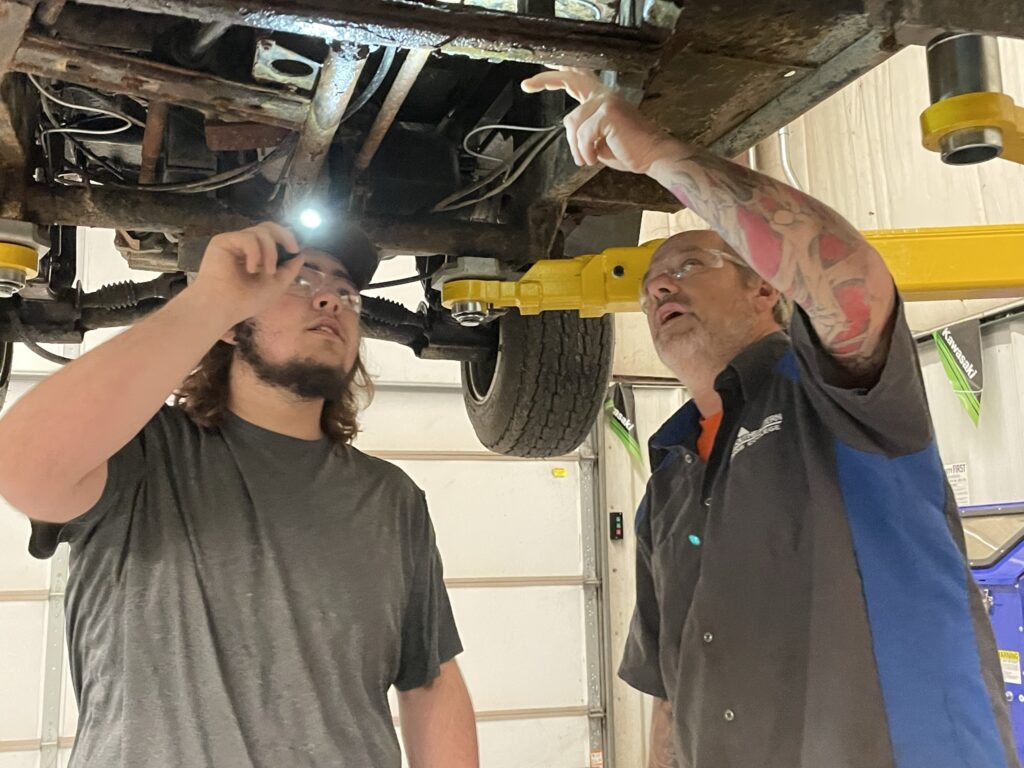 After more than a couple of decades of being a union carpenter, Dave Smith of Harrisburg decided it was time for a change. He had a new baby (Ryleigh Gene) and wanted to be home more, so he decided to become an entrepreneur. He quit working as a carpenter, got a job at Outlaw Motor Sports, and started his business in the evenings out of his home.
Thus, Dave's Small Engine & Power Sport Repair shop was born about seven months ago. Smith's work includes custom lighting and repairs on four-wheelers, motorcycles, boats, jet skis, mowers, weed eaters and more. He currently works out of his home.
One thing he lacked was a small engine certification, and he wanted that certification to make him stand out in the industry for the area. So, he enrolled in the PowerSports program at Southeastern Illinois College – a nine-month certificate program taught by ASE-certified (Automotive Service Excellence) instructors that includes bonus Polaris certifications through a partnership with the University of Polaris.
SIC's two-semester PowerSports program is one of just a few programs like it in the country. It prepares students for maintenance and repair of side-by-sides, four-wheelers, gators and other recreational vehicles. A number of motor sports dealers and small engine/ lawn and garden equipment repair shops have interest in hiring students straight out of the program, and some also offer internships for students during the program.
"We have some great community partners that help guide the curriculum for the classes, and there are jobs available in this booming industry," said SIC PowerSports instructor Ralph Boots. "Additionally, we'd love to see more hobbyists come out to take the class and learn more about working on their own machines."
SIC's PowerSports training includes the diagnosis and repair of gasoline and diesel engines, transmissions, electrical/electronic systems, brake systems, steering systems and suspension systems. Students have the opportunity to work on top brands including CAT Utility Vehicles, Honda, Arctic Cat, Kawasaki, John Deere, and more, in addition to Polaris.
Even though Smith was a bit older than many of the students, having graduated from Marion High School in 1993, he said aside from a bit of age-related banter, he fit in well and they worked well together.
Boots said of Smith, "As a nontraditional student already having his own business, he's been helping me along the way (in the class) as an assistant with the other students because of his vast knowledge in the field already."
Boots would like to see more students like Smith coming into the program with the intent to start or grow their own businesses.
Smith finished the SIC PowerSports program in May. He hopes to expand his small business to a shop in town in the near future. He may work with the Workforce in Illinois Small Business Development Center at SIC for assistance. The WISBDC helps give entrepreneurs the tools they need to get their businesses off the ground with experienced business counselors, and many of their services are at no charge.
A native of Rosiclare, Smith has called Southern Illinois home his entire life. He enjoys scuba diving and spending time with family outside of work and the classroom. He also enjoyed helping the SIC diesel club this spring by creating trophies for a competition.
To reach Smith about having some custom lighting or repair work done on a variety of small engines and power sports equipment for a reasonable rate, call 618-499-5431.
For additional information about the SIC PowerSports program, visit www.sic.edu/PowerSports or contact Career & Technical Education Recruiter Brian Rick at cte.recruiter@sic.edu or 618-252-5400, ext. 2325. Registration is underway for fall classes that begin Aug. 15, and some seats for this program are still available.
To learn more about how the WISBDC can help small businesses, email arla.murphy@sic.edu or call 618-252-5400 ext. 2312.
###